Kelly and Ashley's African-style groundnut soup
Explore traditional African-style cuisine in the comfort of your own kitchen. This groundnut soup is budget-friendly and loaded with flavour.
Hi I'm Kelly.
I'm Ashley
We're team Cameroon from Plate of Origin.
Tonight we're cooking one of the most popular dishes in Camaroon called Groundnut Soup or in Australia, Peanut soup with our little Australian twist. It's only $5 a head for 4 people.
So it's really realy easy, what I'm gonna do is blend all the herbs, garlic, ginger.
Your Favorite chilli.
It's going in. Herbs go in. We're gonna go in with some oilive oil. I'm gonna take some of this, put it with the chicken. About 2 to 3 big tablespoons. That's gonna cook with the chicken. 1 Coles chicken stock cube, salt & pepper and a bit of water to cook.
I'm gonna add in the tomatoes and the onion, salt and I'm gonna leave in the pot to cook.
I'm adding 250g grams of Coles unsalted peanuts a bit of water, just to help the blender blend to a nice thick, smooth paste. Add the peanut paste, cook for about 10 minutes.
So now we are going to add this garlic to the rice and some herbs and some oil as well and a pinch of Salt. Now I'm gonna take the rice and put it on the heat.
MMM smells amazing. 
The rice is boiling, give it a quick mix and then turn the heat down.
We're going to pour the chicken in hear and a bit more water to loosen it up. Make sure the chicken cooks through.
That rice is cooked.
And that what? Only took 10 minutes. Yum, gonna give it one mix, look at the colour of all those herbs come through.
I'm gonna add Coles frozen vegetables, dash of water, pinch of salt and let it steam.
Our veggies are steamed, that's pretty good. That is delicious. 
Let's go have some dinner!
Hear you have it, our Aussie take on Groundnut Soup, with rice and Coles Steamed Vegetables.
Be watching Plate of Origin tonight to win your share in $25,000 worth of Coles Gift Vouchers.
Wooo! Yay!
For this reciepe and many more, check out Coles & Co for some great recipe inspiration. 
Hi 5
Yum!
Yay!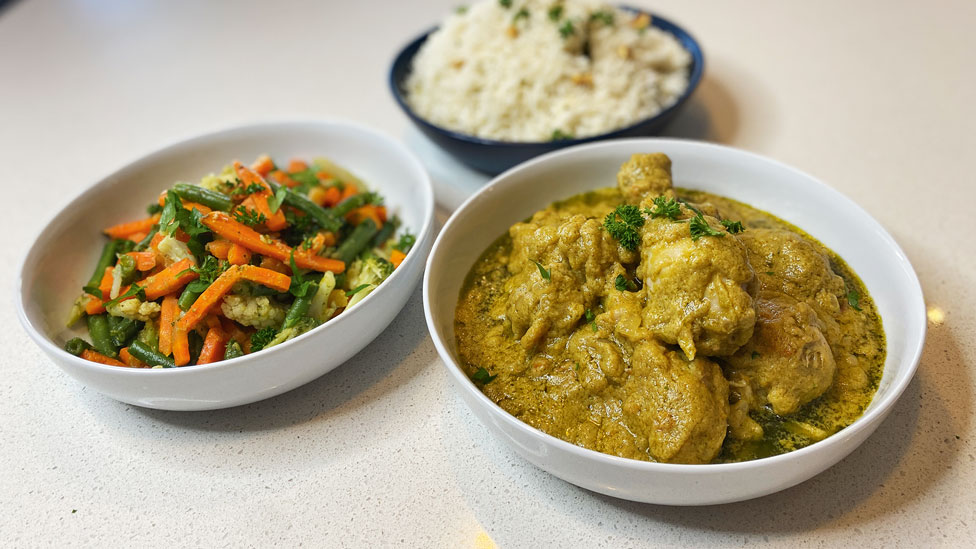 Ingredients
50g garlic (about 10 cloves)
75g ginger, peeled
1 habanero chilli (optional)
1 handful chopped celery leaves
1 handful chopped curly parsley
1 handful chopped flat-leaf parsley
1 handful chopped basil
1 cup (250ml) olive oil
1 3/4 cups (250g) Coles Australian Unsalted Peanuts
800g Coles RSPCA Approved Australian Chicken Drumsticks
1 chicken stock cube
2 medium tomatoes, finely chopped
1 brown onion, finely chopped
2 cups (400g) basmati rice, rinsed, drained
1 garlic clove, extra
500g Coles Frozen Peas, Carrot and Cauliflower
Method
STEP 1
Place the garlic, ginger, chilli, if using, half the celery leaves, half the combined parsley, half the basil and ¼ cup (60ml) oil in a food processor. Process until well combined. Reserve ¼ cup (60g) of the garlic mixture. Add the peanuts and some water (enough to blend smoothly) to the remaining garlic mixture in the food processor and process until smooth and well combined. 
STEP 2
Place the chicken, reserved garlic mixture, stock cube and some water (about 1 cup/250ml) in a large saucepan. Season. Bring to the boil over high heat. Reduce heat to low. Cover and cook, stirring occasionally, for 30-40 mins or until chicken is cooked through. 
STEP 3
Meanwhile, heat ½ cup (125ml) oil in a large saucepan over medium heat. Carefully add the tomato and onion. Season with salt. Cook, stirring occasionally, for 3-5 mins or until the onion softens and the liquid reduces by about a quarter.
STEP 4
Place the rice, extra garlic, remaining celery, remaining combined parsley, remaining basil, remaining oil and a pinch of salt in a large saucepan. Cover with enough water to come 1.5cm above the rice. Bring to the boil. Reduce heat to low. Cover and cook for 7-10 mins or until the liquid has absorbed. Remove from heat. Stir the rice and cover to keep warm.
STEP 5
Add peanut mixture to the tomato mixture in the pan and cook, stirring constantly, over medium-low heat for a further 10 mins or until the sauce thickens.
STEP 6
Add chicken mixture to the peanut mixture in the pan. Stir to combine. Add some water to loosen the sauce, if necessary. Reduce the heat and simmer for 10 mins or until combined and heated through. 
STEP 7
Add frozen vegetables to the saucepan used to cook the chicken mixture with a dash of water and a pinch of salt. Stir to combine. Cover and cook over high heat for 5 mins or until the vegetables are heated through.
STEP 8
Serve the chicken mixture with the rice and vegetables.
Check ingredient labels to make sure they meet your specific dietary requirements and always consult a health professional before changing your diet. View dietary information here.