Khanh Ong's BBQ lamb cutlets
Khanh Ong brings us his Christmas barbecue lamb cutlet recipe. Tender lamb cutlets are topped with coriander and spring onion for an irresistibly fresh tasting dish.
Welcome back, guys. It's us again. Merry Christmas. It's not Christmas. It is Christmas. We're gonna pretend it's Christmas or the night before Christmas. I'm going to show you guys one of my favourite marinades for Christmas barbecues. It's Mum's marinade, some Asian-style marinade but it's so delicious. And we always do a Christmas dinner, that's usually a barbecue. Yeah. And then whatever we have left over, we have it for Christmas lunch and we just have another barbecue. I'm not going to go out into the barbecue today because today while I'm filming this, it's raining so I'm going to cook it on a stovetop for you guys. But, lamb, one of my favourite things. I got these cutlets from Coles. Do you know what we're doing with it? No. Okay, so you're gonna use the Coles Oyster Sauce. I'll have a recipe for you guys down below but for Amy, she's just gonna add it. I think this is enough. Is this enough? More? Yep. Yep. More? Yeah, because there's actually a lot of lamb there babe. I think that's like a kilo and a half. Alright, I think you're good. It's finished. Ah, good. Sesame oil. Give me like two tablespoons. Tiny bit of soy, just a little bit, the Coles Soy Sauce. We don't need too much of it because there's a lot of other sweet and salty ingredients already in there. Chuck it in, since your hands are going to get dirty anyway. Do I need to wash my hands? Yes, I actually do need you to wash your hands. So that's a Coles hand wash, it's the KOi brand, it's award winning. Smells good? Yeah, it smells good. So put them all in? Yes, please. Now with the spring onions, we're just going to use the green part, not the white, really rough in the top. Go for it, my love. A tiny bit of sugar to help the caramelisation along. A dash of oil. The great thing about this is not just the versatility. It's also the fact that you can pre-do this, have it ready to go, have it chilling, and then take it to wherever you're going Christmas Day, so if you're going to a family member's house or a friend's house for Christmas, instead of having it at your own, bring them something gorgeous. Get your hands in there. Mix it up. So usually Christmas, I'm in charge of the barbecue. You are. I'm outside, right? Yeah. And I also have to make the salads.
Yeah, you just do everything. I feel like you've done it. Just give it a nice little toss for me. Just one more. Just get your hands in there, I'll hold it for you. Gorge. All right. Smells yum. Oh, I forgot. Pepper? Pepper and also, sesame seeds. Sesame seeds. And Amy is totally correct when she says pepper. See? You do know how to make this! Kind of. What's your favourite thing about Christmas? What do you usually like? What do you like eating with us? What do I like eating? Yeah. The barbecue? Right? It's always the barbecue, isn't it? Or, oysters? Oh yeah. Or prawns. Oh but you hate peeling. But Mum usually peels them for me. Yeah, so this is the thing we have like the prawns and the fresh prawns and the ones that you can just get straight from Coles and the other thing we also get are prawns that we put on the barbecue. And when we barbecue them, they come in and Amy literally sits there and just waits until Mum offers her prawn and does the peeling for her. Like, how old are you now? Um, twenty-two. So, you can peel your own prawns! No, I don't want to. I just want to eat them. So usually I would let that marinate for a little bit. But we're not going to do that today because I'm just showing you how to cook it. Also would usually have it on a barbecue but instead I've got a cast iron skillet here and I'm getting really really hot smoking right now. That's how hot you want it to be. Drop that guy in, you'll probably get three in there. So for our spread, I'm not gonna show you guys how to make a ham and everything else. But I got the whole spread at Coles. I got the ham, I've got all of these desserts, and I've got the proteins, all of the sides, and it too me all of an hour which is pretty convenient. It's pretty quick. Okay, let me just have a look at this guy. Out of all of our barbecued meats, which one do you like the most? Um, I like the lamb chops and pork belly and chicken wings. Well, you're getting all of those things today! Yay. Nice char. So that was, what, two minutes on one side, about two minutes on the other until it's nice and charred, off it goes and then repeat. While we wait do you want to pull one of those Christmas bonbons? Yeah. So, while we wait, white or gold? Um, gold. Of course you're gonna make it harder. Okay you can start, let's cheat. What do you mean start? As in, you can put your finger in first. Okay. So how am I cheating? What are you doing? Ready? One, two, three. No, I thought I was going to win. What did the coral do on January the first? I don't know. Turned over a new reef. Oh my god. Alright. So, I would say that if you want it to look gorgeous and beautiful, then this is all you need to do to get it to that stage. But, for us, we like it when it's this stage where it's like pretty much burnt on the outside, but the inside is still soft. Yum, alright, I'm taking these off. Now I'm just gonna repeat this, the whole plate is going to be full when you come back, so see you guys soon. So our lamb's all cooked. I actually cooked some chicken and some pork belly as well with the same marinade because it's so versatile. We're just going to dust it a little bit of garnish. Now what's your favourite thing? My favourite? All of them! So we're going to sit down, have a bite of this, have a mock Christmas? Like a pretend Christmas, super simple, everything available at Coles, so head out, give this a try for yourself. I'm telling you right now this marinade is heaven. And it will be the star of your Christmas. See you guys soon. Merry Christmas. This? Yeah, yes, please. Thank you. Gorgie. Oh my gosh I forgot. Stay right there. Oh my God the ham. Okay, that's sexy. Cheers! Merry Christmas. Merry Christmas.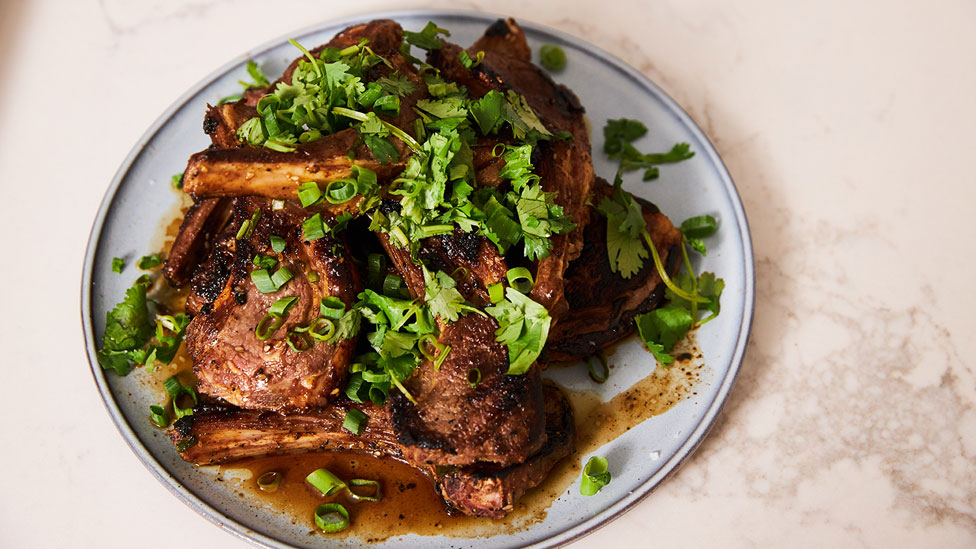 Note: + 1 hour marinating & 30 mins standing time
Ingredients
1.5kg Coles Australian Lamb Cutlets
1/3 cup (80ml) oyster sauce
2 tbs sesame oil
1 tbs soy sauce
1 brown onion, thinly sliced
3 spring onions, green parts only, chopped
1 tbs caster sugar
2 tbs vegetable oil
3 tsp sesame seeds
1 1/2 tsp freshly cracked black pepper
1 tsp sea salt flakes
Chopped coriander, to serve
Thinly sliced spring onion, to serve
Method
STEP 1
Combine the lamb, oyster sauce, sesame oil, soy sauce, onion, chopped spring onion, sugar, vegetable oil, sesame seeds, pepper and salt in a large bowl. Fold to combine. Cover with plastic wrap and place in the fridge for at least 1 hour or overnight to develop the flavours.
STEP 2
Remove from the fridge and set aside for 30 mins to come to room temperature.
STEP 3
Heat a barbecue grill or chargrill over high heat. Drain lamb from the marinade. Cook lamb on the grill for 1 1/2-2 mins each side for medium or until cooked to your liking.
STEP 4
Transfer to a serving platter. Sprinkle with coriander and sliced spring onion.
Check ingredient labels to make sure they meet your specific dietary requirements and always consult a health professional before changing your diet. View dietary information here.