Kudzi's unique fried rice
Cook up a storm for dinner and try this flavour-packed fried rice. It's tasty, healthy and super easy to make.
EMMA: This is Kudzi and she's going to show us how to make her favourite fried rice.
KUDZI: I like making this fried rice because you can use different vegetables from capsicum, to carrot, to peas, to corn. You can mix them up and make it taste really nice
EMMA: OK, where do we start?
KUDZI: So, we're going to start off by boiling the brown rice and the white rice.
EMMA: That's really interesting – why are you using brown rice? 
KUDZI: Well, I like to use brown rice because it has a really nice texture and it's really healthy.
EMMA: So the brown rice takes longer to cook than the white rice, about 25 minutes, so let's get that in the pot. While that's cooking, why don't we get onto the chicken. So you've got one chicken breast there, and what are you going to do with it to make it easier to cook in the fried rice?
KUDZI: We're going to chop it up into 3cm pieces so that it's easy to bite. 
EMMA: When you're cutting, for knife safety, tuck your fingers underneath so that when you're slicing, you can't get the tops of your fingers.
EMMA: Now let's put the white rice on. Let's be really careful because we're going to get some steam from that boiling water. The white rice takes about 15 minutes to cook. We'll bring that back to the boil.
EMMA: We're just going to cook the chicken on medium-high heat. How long do you cook it at home for?
KUDZI: Until it's golden brown and cooked through.
EMMA: So that's about 3 to 4 minutes. That's looking really good. Now, we've got carrots, capsicum and peas to go in there. What other vegetables do you cook with the family? 
KUDZI: Maybe you could use broccoli or corn - there's such a variety of vegetables you can use.
EMMA: While you're cooking that, Kudzi, I'm going to drain the rice.
EMMA: So we've got our drained rice. Kudzi, are you going to add the vegetables to the pan? They're nice and even sized pieces so they cook a bit quicker. 
KUDZI: Yes. We'll cook for 3 minutes. And now we're going to add some peas. 
EMMA: You've got frozen peas there?
KUDZI: You can also use fresh peas. Add some red capsicum.
EMMA: That looks really good. I like how colourful it is. Now do you want to add the rice in? It's been about 3 minutes and the vegetables look nice and tender. 
KUDZI: Yes. So now we're going to add some soy sauce. Using soy sauce is really good because it has a nice salty taste. 
EMMA: It smells so good. 
KUDZI: I think this is ready. I'm going to turn off the heat. Add some spring onion for flavour. It makes it taste really good and look amazing. This makes a great weeknight meal or afternoon snack that you can make in 25 minutes.
EMMA: Let's dig in. It's pretty good!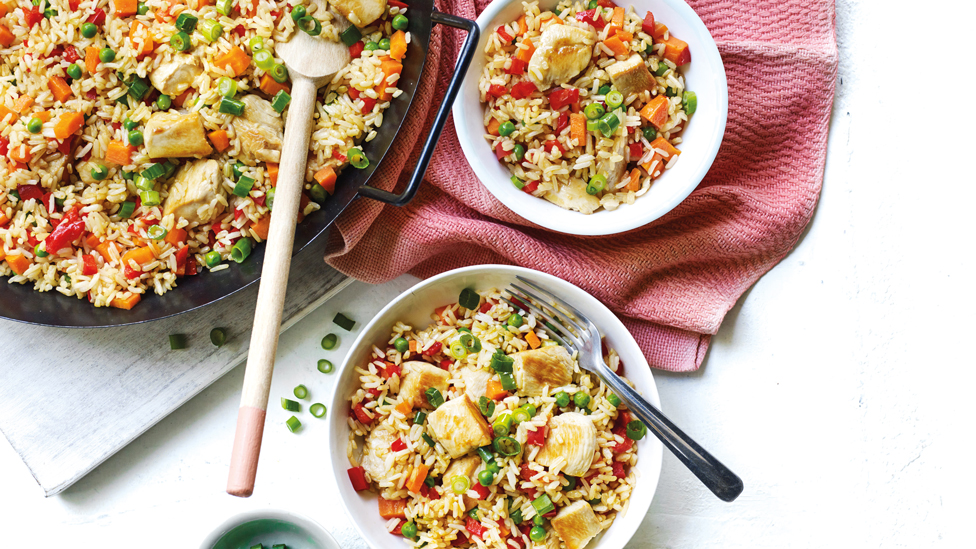 Ingredients
1 cup (200g) brown rice
1 cup (200g) white rice
1 tbs olive oil
300g Coles RSPCA Approved Australian Chicken Breast Fillet, cut into 3cm pieces
2 carrots, peeled, finely chopped
1 cup (120g) frozen baby peas
1 red capsicum, seeded, finely chopped
1 tbs soy sauce
2 spring onions, thinly sliced
Method
STEP 1
Boil the brown and white rice separately following packet directions. Drain well.
STEP 2
Heat the oil in a large frying pan over medium heat. Add the chicken and stir-fry for 3-4 mins or until chicken is browned and cooked through.
STEP 3
Add the carrot, peas and capsicum to the pan. Stir-fry for 3 mins or until vegetables are tender. Add the combined rice to the pan. Stir-fry for 2 mins or until well combined. Remove from heat. Stir in the soy sauce and spring onion.
Check ingredient labels to make sure they meet your specific dietary requirements and always consult a health professional before changing your diet. View dietary information here.