Kylie Millar's roasted pumpkin, spinach and ricotta caramelle pasta
Take dinner to the next level with this warming pasta dish. Packed with pumpkin, ricotta and fresh sage, you can't go wrong.
Hi everyone, Kylie Millar here. Tonight I'm going to share with you a recipe that's going to transport you to Italy and back, without even leaving your own kitchen. 
It's my roast pumpkin, spinach and ricotta, caramelle pasta. 

The first thing we're going to do is make our filling for the pasta. So for the roast pumpkin all I've done is  popped a piece of pumpkin in the oven with the skin and the seeds still in there. A little bit of salt, a little bit of oil and roasted it until it's nice and soft. You leave it to cool and it's really easy to peel so all we need to do is just pull off the skin, taking out the seeds and just using a spoon just break it up. So we're going to season up the salt and some pepper and then that's our first filling ready to go. 

For the next step we've got some ricotta and just some frozen spinach that I've squeezed all the moisture out of there. Little bit of salt and pepper again. And then give it a good mix. We have our two fillings and we're ready to assemble. 

Instead of making pasta at home what I'm using are some fresh lasagna sheets and we're just going to cut them to size. So I'm cutting them into 3 so I'm just going to lay them out. So I can take some of the ricotta filling. Some of the pumpkin. I'm just going to add a little bit of egg wash around the pasta. And then just rolling it up so it's like a little Bon Bon. A christmas cracker. 

The next thing we're going to do is to cook our pasta and make our brown butter and sage sauce to go with it. So all I'm going to do first, whoops, is into a pan. I just pop some butter and let that melt down. At the same time I've got some water just on a really slow simmer and we're going to pop our caramelle pasta's into the water. So probably about 5 to 7 minutes. 

And the butter is starting to smell delicious. It's slowly starting to get a bit of a caramelly colour. I've got some sage and I'm just going to pick the leaves off and throw it in. 

So I've just put all the pasta in the pan. Give it a good swirl around so you're coating the butter with all that beautiful brown butter and sage and I'm just going to finish it with a little bit of lemon juice just to brighten it up. 

So we're ready to plate the pasta. The pasta water and the butter's combined really nicely together to create a really rich creamy sauce and I'm just going to the serving dish. Going to add a little bit of salt on top and there you have it. My roast pumpkin, spinach and ricotta carramelle pasta.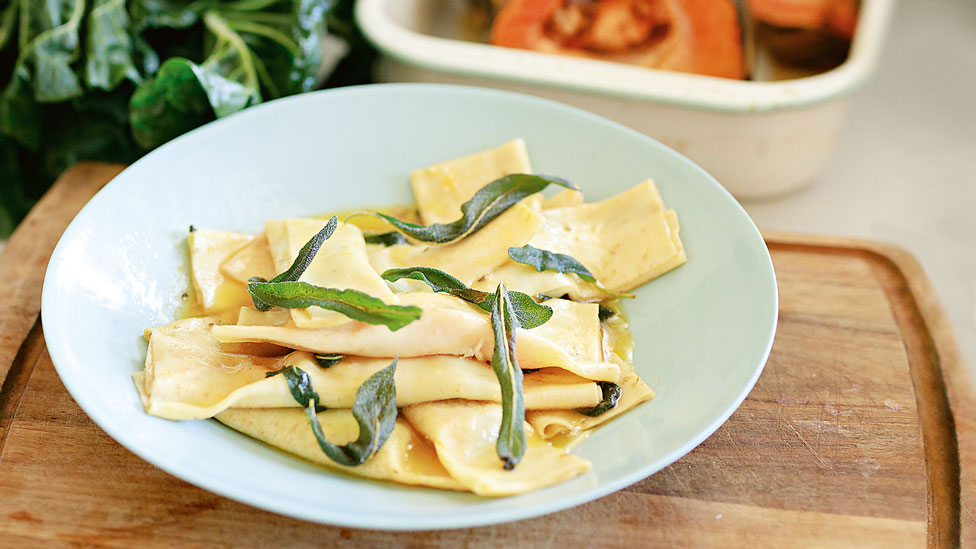 Ingredients
1/4 Jap pumpkin, skin on, seeds in
Olive oil, to serve
Salt, to serve
Pepper, to serve
250g pkt frozen spinach, thawed, excess liquid squeezed out
200g ricotta
1 egg, whisked
250g pkt fresh lasagne sheets
150g butter
Small handful of sage leaves
1/2 lemon
Method
STEP 1
Heat oven to 180°C. Place pumpkin in a roasting pan. Drizzle with oil and sprinkle with salt. Bake for 40-45 mins or until tender.
STEP 2
Use a spoon to scoop out seeds, then remove the skin (it will pull off easily). Place in a heatproof bowl or jug and mash until it resembles mash potato. Season with salt and pepper. In a separate bowl, combine the spinach and ricotta. Season with salt and pepper.
STEP 3
Place the lasagne sheets on a clean work surface and cover with a damp tea towel to prevent them drying out. Cut each lasagne sheet into thirds. Place a small spoon of each of the mixtures on each pasta piece, brush with a little of the egg, and roll up to form bon bon shapes.
STEP 4
Bring a large saucepan of water to a gentle simmer. Season with a generous pinch of salt. Heat a frying pan over medium heat. Add the butter in a pan until it starts to foam, turn down the heat and cook until the butter starts to smell nutty. Add in a few sage leaves and cook until crispy.
STEP 5
When the water is simmering, add the pasta to the saucepan and cook for 5-7 mins or until pasta is al dente. Gently lift out of water and add to the butter mixture in the frying pan. Swirl pasta in butter sage mixture to emulsify the water and butter. Season with a little squeeze of lemon. 
Check ingredient labels to make sure they meet your specific dietary requirements and always consult a health professional before changing your diet. View dietary information here.