Luke Mangan's chicken hot pot
Embrace cosy winter cooking with this tasty chicken dish. It's a family-friendly one-pot wonder that's easy to prep.
Hi Australia. I'm Luke Mangan and from my kitchen to yours.
My beautiful chicken casserole with tomatoes, chickpeas and spices.
Are you ready? Let's get cooking!
To start we need to marinate this chicken.
Good splash of olive oil. Two to Three tablespoons of honey.
Um and I want to put this in a Moroccan spice. So I've got about 3 teaspoons.
A good pinch of salt and some pepper. And that will be marinating for just about 5 minutes or so. Slice a little onion. Love garlic. Just very roughly boom boom boom. Alright sweet potatoes just peeled and then just rough chunks. Bit of olive oil in your casserole dish. I'm going to throw in those onions and garlic and just sweat them down. No colour. Just get them nice and tender. And now I'm just going to add the chicken thigh. And now that chopped up sweet potato. A tin of chickpeas which I've just drained off. Some crushed tomato a tin of that.  And just rinse that tin out and you just get that excess tomato that's been left in there. Just give that a little stir so it hasn't stuck on the bottom.
Going to bring that up to the boil and then I'm going to cover it with tin foil and whack it in a 200 degree oven for about 30 minutes.
Right to make the rice we're going to just slice some onions.
So good splash of olive oil. Medium to hot pan and we're just going to sweat those onions down. Then in you know a few fennel seeds. 2 teaspoons whatever you like.
Love this rice it's really easy to cook with so I'm going to warm it through in the microwave for about 60 seconds and then add it to some sweated onions.
Now I'm going to add about a cup of stock. Some chicken stock or veggie stock whatever you want. We're going to add about a cup of frozen peas.
A good pinch of salt and pepper and you've got the best rice ever.
Let's look at this. Oh that smells amazing.
Just to finish it I get some dried currants and then I've toasted and chopped up pistachios and you want to finish it tear a bit of coriander and that is going to be so amazing with that rice. So there we have it Australia. My chicken one pot wonder with sweet potato and currants and my rice with peas.
You'll love it.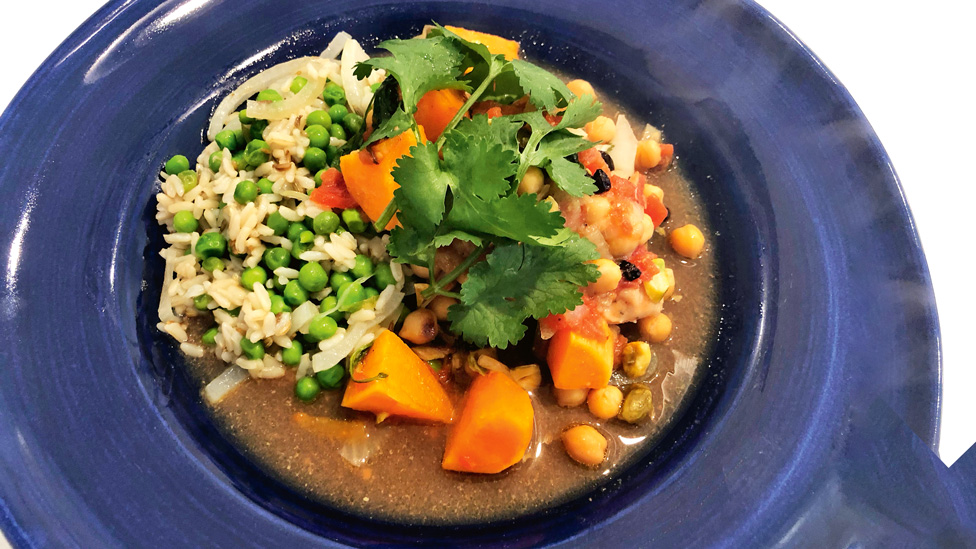 Ingredients
700g chicken thigh fillets
2 tbs honey
3 tsp Moroccan seasoning
1/4 cup (60ml) extra virgin olive oil
1 brown onion, thinly sliced
2 garlic cloves, thinly sliced
2 gold sweet potatoes, peeled, chopped
400g can chickpeas, rinsed, drained
400g can diced tomatoes
1 cup (250ml) chicken stock
50g currants
80g pistachios, toasted, chopped
Coriander, to serve
Rice
250g pkt microwavable brown rice
1 1/2 tbs extra virgin olive oil
1 brown onion, thinly sliced
2 tsp fennel seeds
1 cup (250ml) chicken stock
1 cup (120g) frozen peas
Method
STEP 1
Preheat oven to 200°C. Place the chicken, honey, Moroccan seasoning and half the oil in a bowl. Season with salt and pepper. Toss to coat. 
STEP 2
Heat a flameproof roasting pan over medium heat. Add the remaining oil, onion and garlic and cook for 2-3 mins or until the onion softens. Add chicken mixture, sweet potato, chickpeas, tomato and stock and stir to combine. Bring to the boil. Cover with foil and bake for 30 mins or until the chicken is cooked through. 
STEP 3
Meanwhile, to make the rice, heat the rice following packet directions. Heat the oil in a saucepan over medium-high heat. Add the onion and cook, stirring, for 2-3 mins or until the onion softens. Add the fennel seeds and rice and cook, stirring, for 1-2 mins. Add the stock and peas. Stir to combine. Season with salt and pepper. Cook for 2-3 mins or until heated through.
STEP 4
Sprinkle the chicken mixture with currants, pistachio and coriander. Serve with the rice. 
Check ingredient labels to make sure they meet your specific dietary requirements and always consult a health professional before changing your diet. View dietary information here.