Luke Mangan's chicken parmigiana tray bake
Craving some classic comfort food? Try Luke Mangan's chicken parmigiana tray bake for a dish packed with delicious flavour.
Hi everyone, Luke Mangan here. And from my kitchen to yours, we hope you're enjoying this weeks healthy eating challenge. My heart healthy dish from the Heart Foundation and Coles, Cook with Heart Challenge, is chicken parmigiana. 
This heart healthy dish is  really simple to prepare. It takes about 10 minutes preparation, and about 30 minutes to cook and it is delicious!

Alright we're going to get some chicken breasts and I'm just going to cut these into about 4 pieces. 

Got a pan nice and hot. Now we're just going to sear this chicken off. About 3 or 4 minutes on each side. We're going to set them aside on a plate, cover them with tin foil and let them rest. 

Alright so we just need one onion chopped or diced. One garlic clove. We're going to crush that and then you know crushed or chopped. Finely dice this eggplant. I just love fresh tomatoes and these are beautiful vine-riped ones and they're just going to add some beautiful flavour. 

Just very roughly chop tomatoes. When using fresh herbs, especially basil, I don't even mind if there's some stalk in there. Lots of flavour. About a cup of basil. 

So as this is a really heart friendly dish, substitute fresh herbs, dried herbs and spices instead of using salt. And it smells absolutely beautiful. 

So we use about 3 cups of spinach leaves. And 310g of roasted peppers strips, just drain them off. 

Alright so same pan that we've cooked our chicken in. We're just going to add the onions, garlic, the eggplant. And now just add those peppers. It's going to be a beautiful sauce. 

So that's now been cooking for about 3 to 4 minutes. I'm just going to add the fresh tomato, and the tinned tomato. So we're going to cook this one out for about 4 or 5 minutes until it thickens up. 

I'm going to add the spinach leaves and the basil and that'll just wilt down. And then what I do, put those little chicken cuts in a baking dish, I top that with all this beautiful heart-healthy goodness and just spread that out. 

So we need half a cup of reduced-fat mozzarella cheese and then of course some bread crumbs just to finish it off. And then I'll put that into an oven about 200 degrees. 

That's been in the oven for about 20 minutes and it looks great. I just want to finish that with a few green beans that I've cooked in some water. 

And there you have my amazing, heart-healthy, chicken parmigiana.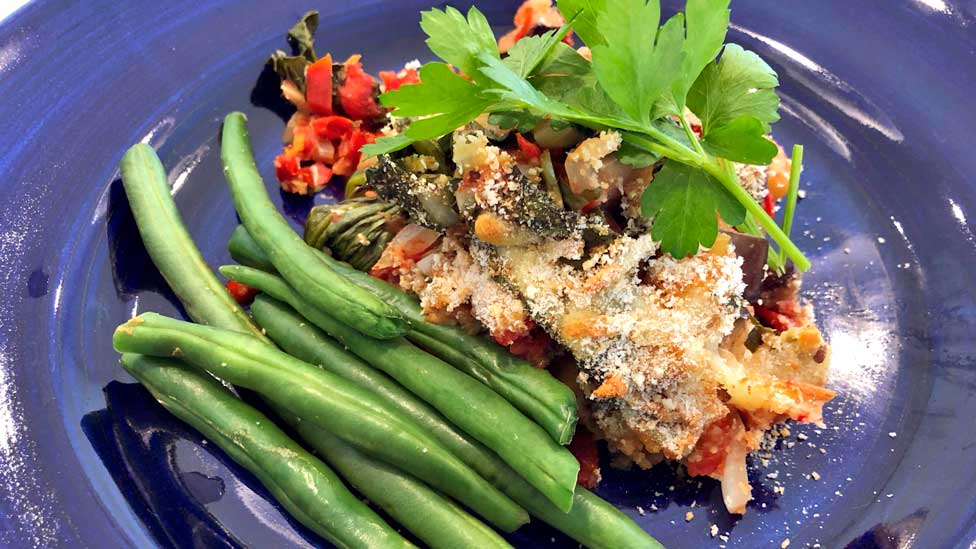 Ingredients
2 chicken breast fillets (about 120-150g each), halved crossways
1 brown onion, finely chopped
1 garlic clove, crushed
1 eggplant, finely chopped
310g jar roasted pepper strips (capsicum), drained
2 tomatoes, coarsely chopped
400g can no-added-salt chopped tomatoes
1 bunch English spinach or 3 cups baby spinach leaves
1 cup coarsely chopped basil
1/2 cup (50g) coarsely grated reduced-fat mozzarella
1/2 cup (40g) breadcrumbs
400g green beans, trimmed
Basil leaves or flat-leaf parsley leaves, to serve
Method
STEP 1
Preheat oven to 200°C. Heat a non-stick frying pan over high heat. Cook the chicken for 3-4 mins each side or until cooked through. Transfer to a plate and cover to keep warm.
STEP 2
Add the onion, garlic, eggplant and capsicum to the pan and cook, stirring occasionally, for 3-4 mins or until the eggplant is tender. Add the combined tomato and simmer for 4-5 mins or until the sauce thickens slightly. Add the spinach and chopped basil. Remove from the heat.
STEP 3
Transfer the chicken to a deep baking tray. Top with the tomato mixture and sprinkle with mozzarella and breadcrumbs. Bake for 10-15 mins or until golden.
STEP 4
Meanwhile, cook the green beans in a saucepan of boiling water for 4-5 mins or until just tender. Drain.
STEP 5
Divide the chicken mixture among serving plates with the green beans. Sprinkle with basil leaves or parsley leaves to serve. 
Check ingredient labels to make sure they meet your specific dietary requirements and always consult a health professional before changing your diet. View dietary information here.