Luke Mangan's cold prawn, mango and avocado salsa
Luke Mangan's no-cook prawn, mango and avocado salsa is perfect for summer entertaining. It's a refreshing, delicious and easy way to start your meal.
Hi guys, Luke Mangan here with another Aussie Christmas favourite. My cold prawn mango and avocado salsa and it's a really great value dish. While we're all thinking about the mains this Christmas, it's often the sides and entrees that can make your Christmas lunch absolutely perfect and how good a mangos this time of the year by the way. They remind me of Christmas, so let's get started.
So I've got a whole avocado nice and ripe cut it in half peeled it and I'm just gonna roughly dice that up. Just like that, really simple. Then I'm gonna add some diced mango so I've got about one whole mango peeled and diced and then I'm just going to add 2 cloves of garlic which I've just chopped, beautiful and then I've got some ginger very finely grate that in.
Ginger and mango is one of those perfect combinations I just love. A bit of white wine vinegar ,about 2 tablespoons of good olive oil and then some salt and pepper and you know what's going to make this absolutely perfect? A little bit of lime juice and that just adds a nice beautiful flavor to it, that Christmas spirit. Alright so that's all in there, mix it well through quite nicely and let it sit aside for about 3 to 5 minutes while we're getting the lettuce and everything else already.
So I've got iceberg lettuce which is absolutely beautiful this time of the year. So just put that on the base, push it down ever so slightly, beautiful, splash of vinegar white wine vinegar. Splash of olive oil. Twist of Salt and then a little secret ingredient is one of the simple, good mayonnaises  that you can get. And then I get these beautiful sweet aussie prawns, beautiful mango avocado salsa, Christmas in a bowl, but wait there's more, I'm gonna finish it, just with a few coriander leaves.
So there you have it my cold cooked prawns with beautiful mango avocado salsa sitting on that iceberg lettuce. This simple great value Christmas dish works perfectly with any Christmas meal. For this recipe  and loads more Christmas inspiration just head to coles.com.au I want you to have the best 2020 Christmas eat well and haven't even been up 2021.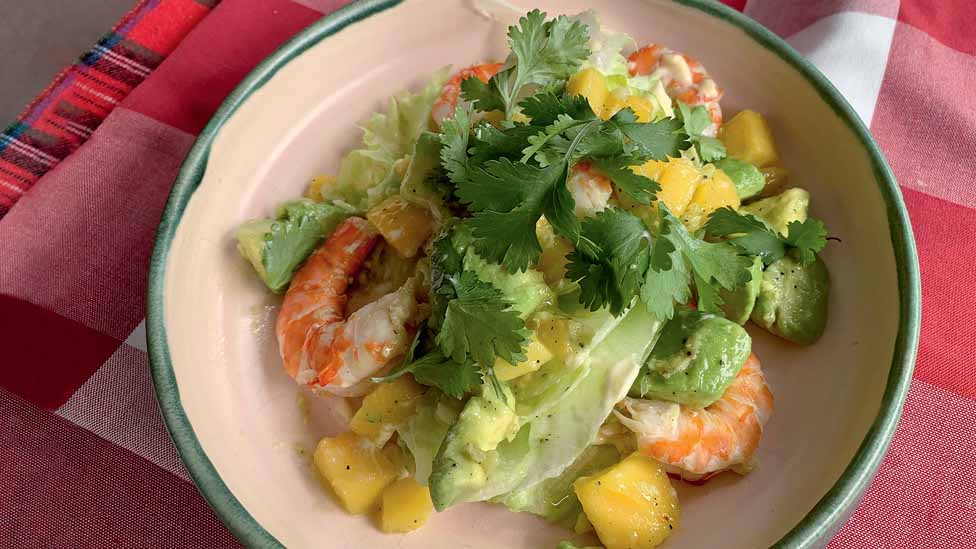 Note: + 5 mins standing time
Ingredients
1 avocado, stoned, peeled, coarsely chopped
1 large ripe mango, stoned, peeled, coarsely chopped
2 garlic cloves, finely chopped
1 tbs finely grated ginger
2 tbs white wine vinegar
2 tbs extra virgin olive oil
1 lime, juiced
1 iceberg lettuce, outer leaves removed, quartered
White wine vinegar, extra, to drizzle
Extra virgin olive oil, extra, to drizzle
1/3 cup (100g) mayonnaise
16 medium cooked prawns, peeled, deveined
1/2 bunch coriander, leaves picked
Method
STEP 1
Place the avocado, mango, garlic, ginger, vinegar and oil in a large bowl. Season with salt and pepper. Add the lime juice and gently stir to combine. Set aside for 5 mins to develop the flavours. 
STEP 2
Meanwhile, divide the lettuce among serving plates. Drizzle with the extra vinegar and extra oil. Season with salt. Drizzle with mayonnaise. 
STEP 3
Divide the prawns among serving plates and top with the avocado mixture. Sprinkle with coriander to serve. 
Check ingredient labels to make sure they meet your specific dietary requirements and always consult a health professional before changing your diet. View dietary information here.