Luke Mangan's honey soy chicken with brown rice salad
Craving a hearty meal? This honey soy chicken is the perfect midweek meal to impress your family. It strikes the perfect balance between sweet and savoury.
Hi everyone, I'm Luke Mangan and I hope you're doing really well. I'm back in the home kitchen where I've been playing with lots of the recipes and I've got this ripper for you, honey soy chicken, brown rice, spring onions and carrots and it's really really tasty and really simple to prepare and you know what? It's going to feed a family of 5 for under $20, so let's get cooking.
Now for the marinade for the chicken about 100mls of honey. And then you get some soy, about 100ml of soy and I use a light soy, umm I find it's not so intense. And then you get the good olive oil, and you add about 100 mls of olive oil and mix that really well together and then you've got these beautiful tasty marinade.
So what we're gonna do is get these chicken thighs and just dip them into that  mix, coat it well and then just put it into a backing dish. Any excess the Marinaid, I like to just pour over to make sure it's all nicely covered. So straight into an oven, 180 degrees about 20 minutes or until it's cooked.
Alright so while that chickens cooking, we're gonna make the base to this beautiful rice salad, so this stuff is really good, so we just open that up and we're gonna heat that in a microwave for a about 2 or so minutes 'till it's really hot.
Next step let's grate the carrots, we're gonna grate them and mix it through the Rice. Then we're gonna slice the red capsicum and we're gonna mix that. Chop the spring onions, chop the coriander, mix it all together. I'm just gonna add a few peas… give that a really good mix. A good pinch of salt. And we just put that on the base, just like that. Look at that, how pretty is that and that's gonna be the base we're just gonna put that beautiful honey soy chicken right on top.
And then my friends, all these beautiful juices left and that acts as our beautiful dressing and there you have honey soy chicken with brown rice coriander to feed a family of 4 for under $20. For more value recipes like this go to coles.com.au 
How good's that.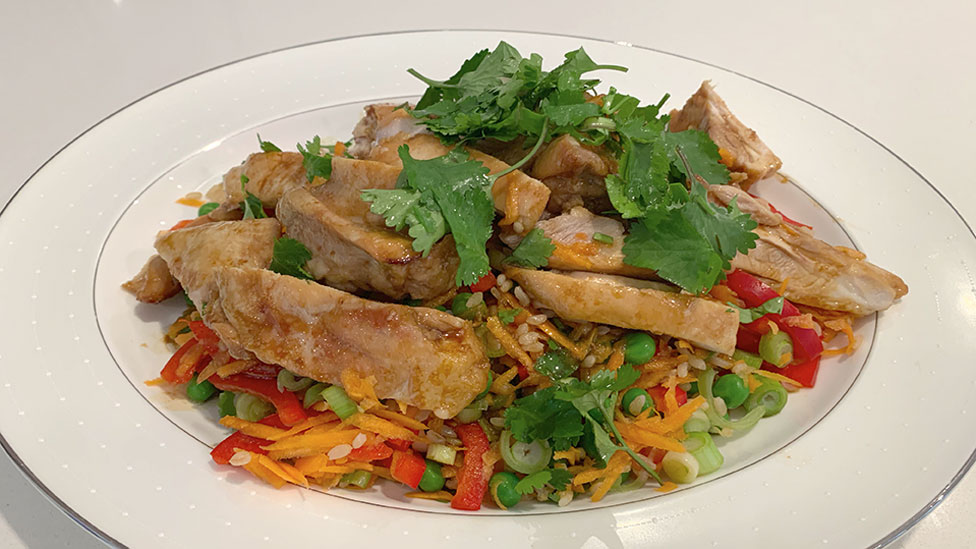 Ingredients
100ml honey
100ml soy sauce
100ml olive oil
4 chicken thigh fillets
250g pkt microwavable brown rice
1 cup (120g) frozen peas, thawed
2 carrots, peeled, coarsely grated
1 red capsicum, seeded, thinly sliced
1/2 bunch spring onions, thinly sliced
1 bunch coriander, stalks chopped, leaves reserved
Method
STEP 1
Preheat oven to 180°C. Combine the honey, soy sauce and oil in a bowl. Add the chicken and turn to coat. Arrange chicken in a large deep baking tray and pour over any remaining honey mixture. Bake, turning chicken halfway through cooking, for 20 mins or until the chicken is cooked through.
STEP 2
Place the rice and peas in a large microwave-safe bowl. Heat in the microwave on high for 2 mins or until heated through. Add the carrot, capsicum, spring onion and coriander stalks.  Season with salt and stir to combine.
STEP 3
Arrange the rice mixture on a large serving plate. Slice the chicken and arrange over the rice mixture. Drizzle with any pan juices and sprinkle with coriander leaves to serve.
Check ingredient labels to make sure they meet your specific dietary requirements and always consult a health professional before changing your diet. View dietary information here.