Luke Mangan's ice cream plum pudding with poached cherries
Luke's summer ice cream plum pudding is perfect for warmer days. With homemade spiced poached cherries, it's a seasonal winner.
Note: + cooling, 1 hour marinating & 6 hours freezing time
Ingredients
1/2 cup (70g) slivered almonds, toasted
1/4 cup (50g) red maraschino cherries or Coles Glacé Cherries, chopped
2 tbs sultanas
2 tbs chopped Coles Dried Mango Slices
1/2 tsp ground cinnamon
1/2 tsp ground nutmeg
1/2 tsp ground ginger
2 tbs Baileys Irish Cream liqueur
1 tbs Cointreau or orange liqueur
1L vanilla ice cream, softened
100g 70% dark chocolate, chopped
SPICED POACHED CHERRIES
500g cherries, pitted
1/2 cup (100g) caster sugar
1 whole star anise
1 cinnamon stick or quill, split lengthways
1/2 vanilla bean, split, seeds removed
Pinch of ground allspice
Pinch of ground ginger
Method
STEP 1
Place almonds, cherries, sultanas, mango, cinnamon, nutmeg, ginger and combined liqueur in a large bowl. Set aside for 1 hour to develop the flavours.
STEP 2
Grease a 6-cup (1.5L) pudding basin and line with plastic wrap, allowing the side to overhang. Add the ice cream to the almond mixture and stir until just combined. Spoon into the prepared bowl and smooth the surface. Cover and place in the freezer for 6 hours or overnight or until set.
STEP 3
To make spiced poached cherries, place the cherries, sugar, star anise, cinnamon, vanilla, allspice and ginger in a medium saucepan with 2 cups (500ml) water. Bring to the boil. Reduce heat to low and cook for 5-8 mins or until cherries soften. Set aside to cool. Use a slotted spoon to transfer cherries to a medium bowl.
STEP 4
Place chocolate in a heatproof bowl over a saucepan of simmering water (make sure the bowl doesn't touch the water). Stir until chocolate melts and is smooth. Set aside to cool slightly.
STEP 5
Turn the ice cream pudding onto a serving platter. Drizzle with melted chocolate. Return to the freezer to set.
STEP 6
Spoon spiced poached cherries over the ice cream pudding and cut into wedges to serve. 
SWAP ME: To make this without the alcohol, swap the liqueurs for hazelnut or caramel flavoured coffee syrup, or just leave it out. It'll still have plenty of flavour.
Christmas at Luke Mangan's place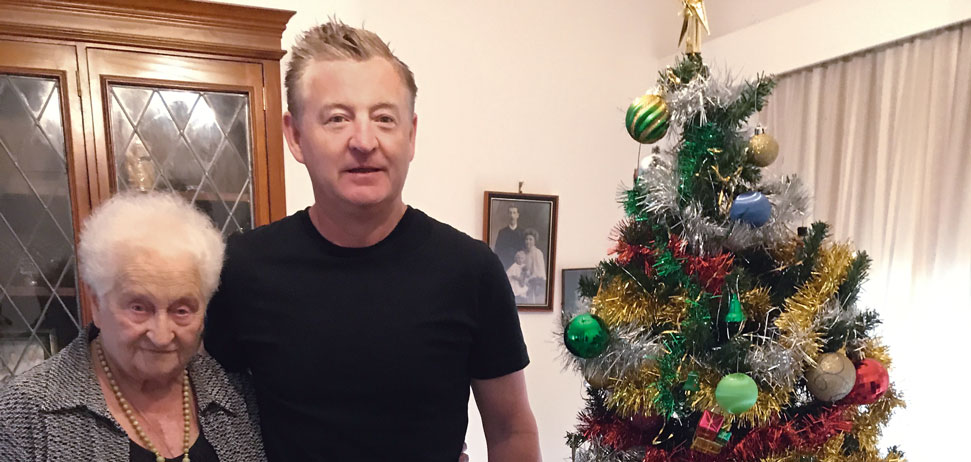 Luke and his mother, Marie, share the cooking responsibilities while celebrating Christmas together.
How do you celebrate Christmas at home?
Generally I'd be working, so I'd have a family meal with my restaurant staff. If I'm not working, I might have friends over and cook up a feast. My mum is a great cook, and as kids we always had a huge variety of food – prawns, baked ham, salmon and lots of different salads because the weather was always warm.
What do you love about this ice cream pudding?
Mum and I would make it together when I was young. She would start preparing it a couple of days before Christmas and I helped her every year.
Tell us your Christmas wish for this year.
I'm hoping for restaurants to be open and full of life again. I also wish I could jump on a plane to see my mum who lives in Melbourne and cook her a great big Christmas feast – she would just love that
Check ingredient labels to make sure they meet your specific dietary requirements and always consult a health professional before changing your diet. View dietary information here.