Luke Mangan's quesadillas
Easy to make, these quesadillas are packed with shredded chicken, mozzarella and served with creamy guacamole.
Hi guys I'm Luke Mangan and from my kitchen to yours, we're heading to Mexico. I'm going to make you the best chicken quesadillas with the famous mangan guacamole. 
So in a pan I've got two breasts of chicken well seasoned with salt and pepper, and a good splash of olive oil. This will go into a hot oven, 180 degrees for about 20 minutes. 
Then we're going to make this amazing guacamole. The best way I like to mash an avocado is just with a potato masher. Add half a red onion, and we're going to add chopped chilli. Ok so now we add the fresh lime juice. Next step some sour cream. 1, 2, 3 and I've added coriander. I've added ground cumin seeds and a good tablespoon of ground coriander as well. 3 cloves of garlic go in. Salt and pepper to taste and to give it a bit more of a kick I like to add just a bit of tobasco. Just a few drops. And then we just mix it all up. 
And there you have it. The famous Mangan Guacamole. Mmm.
So the chicken has come out of the oven, I've let it cool and now I'm just going to add 2 teaspoons of dijon mustard. I'm going to add a good pinch of desiccated coconut. A splash of olive oil and what I do now is get a couple of forks and I just sort of shred all that chicken meat.
And I'm adding about half a bunch of finely chopped springs onions, 2 cup soft grated cheddar cheese and I'm going to add some chopped coriander. And there you have it that mix is perfect. 
So low medium heat just a splash of olive oil. We put that little quesadillas sheet in there. And then what I do is just fill this up with that beautiful chicken mix. And then I'm just tearing up little bits of mozzarella cheese. We put the other lid on top. Press it down. Just for about 2 to 3 minutes on each side. Flip this over. Look at that absolutely perfect. 
Alright now that's been on 2-3 minutes on each side. Cut it in quarters. Have a little look in here. Aww look at that cheese. A bit of this famous, Mangan guacamole. Now I like a lot of it. 
And there you have it. The perfect chicken quesadillas with the world famous Mangan guacamole.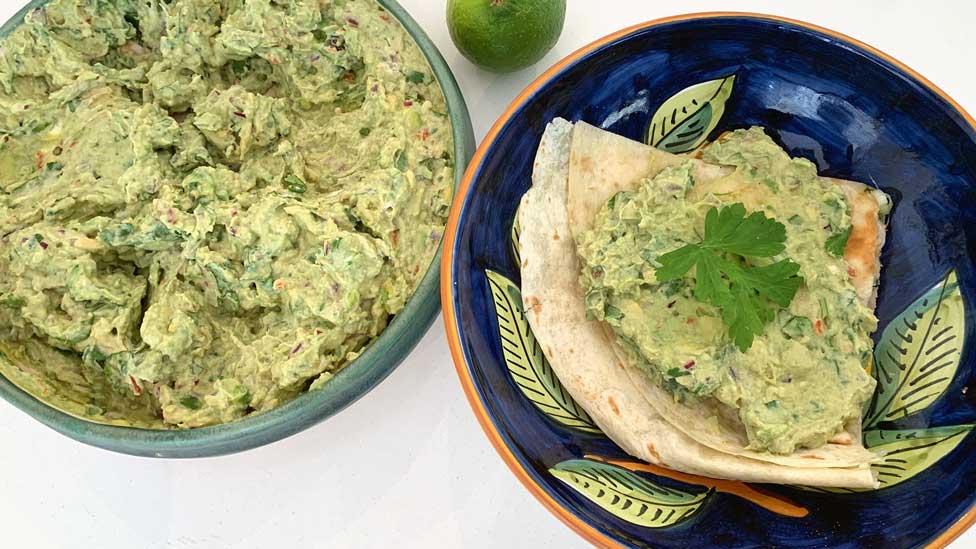 Ingredients
4 jumbo tortillas
2 Coles RSPCA Approved Australian Chicken Breasts Fillets
2 tsp Dijon mustard
1/2 cup (40g) desiccated coconut
2 tbsp (40ml) olive oil
2 cups (220g) grated cheddar
1 mozzarella ball, torn
1/2 bunch spring onion, finely chopped
1/2 bunch coriander, leaves picked
Guacamole
3 avocados, stoned, peeled, roughly mashed
1/2 red onion, finely chopped
1 1/2 tsp finely chopped coriander (leaves and stems)
20g chopped mild chilli, finely chopped
1 tbsp fresh lime juice
3 tbsp sour cream
1 tbsp ground cumin
1 tbsp ground coriander
3 cloves garlic, crushed
Tasbasco sauce, to taste
Sour cream, to serve
Method
STEP 1
Preheat oven to 180°C. Combine the chicken and half the oil in a roasting pan. Bake for 20 mins or until the chicken is cooked through. Set aside to cool slightly.
STEP 2 
Meanwhile, to make the guacamole, combine the avocado, onion, chopped coriander, chilli, lime juice, sour cream, cumin, ground coriander, garlic and Tabasco in a medium bowl. Season with salt and pepper.
STEP 3
In a large bowl, place the cooked chicken, coconut, mustard and remaining oil. Use 2 forks to shred the chicken and mix well. Season. Add the spring onion, cheddar and coriander leaves and mix well.
STEP 4 
Lightly grease a large non-stick frying pan. Add 1 tortilla and spread with half the chicken mixture. Top with half the mozzarella and another tortilla. Press down gently. Place over medium-low heat. Cook for 2-3 mins over medium-low heat. Flip quesadilla and cook for a further 2-3 mins or until heated through. The cheese inside should be stringy. Transfer to a plate and cover to keep warm. Repeat with the remaining tortillas, chicken mixture and mozzarella.
STEP 5
Cut the quesadillas into quarters. Serve with the guacamole and sour cream.
Check ingredient labels to make sure they meet your specific dietary requirements and always consult a health professional before changing your diet. View dietary information here.