Luke Mangan's roast pork chops with caramelised apples and spiced pumpkin
Keep cosy this winter with this tasty pork dish. It's hearty, wholesome and easy to make.
Hi Australia, I'm Luke Mangan. 
Tonight is all about real food, comfort food. My roast pork chop, caramelised apple and spiced pumpkin. Let's get cooking. 

Ok step one you need half a butternut pumpkin, but of salt, some pepper, then you could spice it up with anything you like. Tonight we're going to use some fennel seeds. Get them in there and some good olive oil. That's going to go into an oven of about 200 hundred for about half an hour or so or until tender. 

Alright for the apples. Peeled and we just quarter them. Take that little core out. 

Ok next step we're going to get these two beautiful Aussie pork cutlets. Bit of olive oil, salt and pepper and today I'm going to use some coriander seeds. Ground coriander on both sides that'll give it a nice little bit of flavour and what we do then. A good splash of olive oil to a medium to hot pan. Now we want to get these beautiful pork chops in this pan for about 2-3 minutes on both sides and then we're going to throw in those apples. Just put in about a teaspoon of butter with those apples. And they go in to the oven about 180 or so for about 10-15 minutes, depending on the thickness of the pork. 

So that's just out of the oven about 10-12 minutes. I'm going to add a bit more butter. I'm going to add the sugar, which is going to help caramelise the apples. I'm going to add a little bit of this brandy if you like brandy and then a little bit of vegetable stock. Just bring that to the boil and that will be your beautiful sauce for these pork chops. 

And now a little bit of broccolini with chilli. So in a medium hear pan a little splash of olive oil. I'm going to throw in a few bits of broccolini. I like to just toast or roast this broccolini in a pan. Good pinch of salt. You just gently do that for about 3-5 minutes and I'm just going to add a little bit of chilli in their now and a splash of vegetable stock. 

So we're ready to serve. Look at this pumpkin. Just scoop that out. How good is that? Then we've got the broccolini and a bit of chilli and then to finish... pork chop with those beautiful caramelised apples and that amazing sauce. 

And there you have it Australia. My roast pork chop, caramelised apples, spiced pumpkin. Enjoy!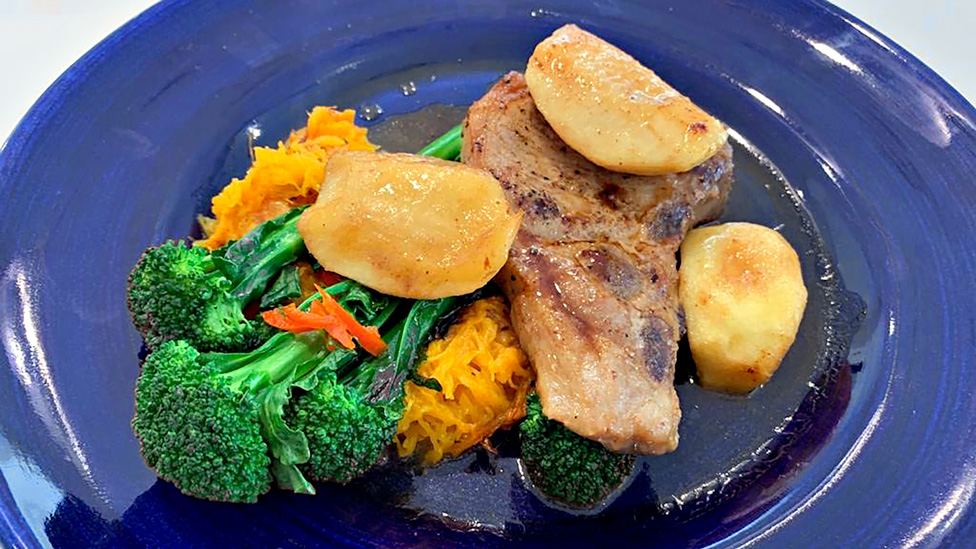 Ingredients
1/2 butternut pumpkin, ends trimmed, seeded
1 tbs fennel seeds
1/3 cup (80ml) olive oil
2 pork chops
1 tbs ground coriander
2 apples, peeled, cored, quartered
50g butter
2 tbs caster sugar
50ml brandy
70ml vegetable stock
1 bunch broccolini or baby broccoli, trimmed
1/2 tsp thinly sliced red chilli (optional)
Method
STEP 1 
Preheat oven to 200°C. Line a baking tray with foil. Place pumpkin on the lined tray. Season. Sprinkle with fennel seeds. Drizzle with 1 tbs oil. Roast for 30 mins or until tender.
STEP 2 
Meanwhile, place the pork on a plate. Drizzle with 1 tbs oil. Season. Sprinkle with the ground coriander and turn to coat. Heat 1 tbs oil in a large ovenproof frying pan over medium-high heat. Add the pork and cook for 2-3 mins each side. Add the apple and 1 tsp (5g) butter. Roast for 10-15 mins or until the pork is just cooked through and the apples are tender.
STEP 3
Add the sugar, brandy, 50ml stock and the remaining butter to the pork mixture in the pan. Stir to combine. Bring to the boil over high heat.
STEP 4 
Heat 1 tbs oil in a frying pan over medium heat. Add the broccolini or baby broccoli. Season. Cook for 3-5 mins or until just tender. Add the chilli, if using, and remaining stock. Remove from heat. 
STEP 5 
Divide the pumpkin, broccolini or baby broccoli and pork among serving plates. Top with apple and drizzle with sauce from the pan.
Check ingredient labels to make sure they meet your specific dietary requirements and always consult a health professional before changing your diet. View dietary information here.