Luke Mangan's salmon curry in a hurry
Craving a rich, fragrant curry? It doesn't get easier than Luke Mangan's Salmon Curry in a Hurry. With baked salmon, creamy lentils and coconut veggies, it's a guaranteed hit.
Hi guys, Luke Mangan here and I hope you're all safe and sound at home. I've got this amazing Baked Salmon in a Hurry dish for you to try. 
Baked salmon, curried lentils, coconut veggies. It's a Mangan family favourite. So let's get cooking. 
Ok for the lentils we need one onion nicely diced. 2 cloves of garlic finely sliced. 
Let's start with 2 tablespoons of butter. What I like to do is add the 2 tablespoons of olive oil. That helps prevent the butter from burning. 
I'm adding the onion and garlic. I'm going to sweat that down. Cook it out for a good 2 –3 minutes.
I'm just going to add this curry powder now. A good two teaspoons if you like curry powder you can always add more. 
Now I'm just going to add about 300g of yellow split lentils.
And now I'm just going to add some fish stock or vegetable stock whatever you've got. 
So we're going to bring those lentils to the boil, turn them down to a simmer for about 20 minutes or until they're al dente. 
If it starts to thicken up too much you can a little bit more liquid.
Those lentils have been cooking for about 20 minutes. Mmm. Full of flavour it's the taste of India. If you really want you could add some fresh herbs, some coriander or something and chop it through. 
For the coconut veggies we've got some leek, broccolini, cut into a few little pieces. Just wash that Asian veg. You could use anything you want. 

To cook the coconut veggies, really simple.
A splash of olive oil in the pan and then throw in the leeks, broccolini, the coconut shreds and the Asian veggies. Sauté it all off together. And just another step, I'm just going to add a little glass of water. That'll just help steam the greens. 
The finished product. My beautiful coconut vegetables.
So I've got some nice fresh salmon about 200g I'm just going to cut it straight down the middle. 

Next step. A good splash of olive oil in a pan or something you're going to bake this salmon with in the oven. And just lay that salmon just like that. 
Okay the salmon needs salt and pepper little bit of lemon. I want to put it in an oven of about 180 degrees for about 10 minutes.
Smells great. Looks good to me. 
So there we have these beautiful curried lentils. Just put that on the base. Few of these nice veggies. Beautiful piece of baked salmon. 

And there you have my amazing baked salmon, curried lentils and coconut veg.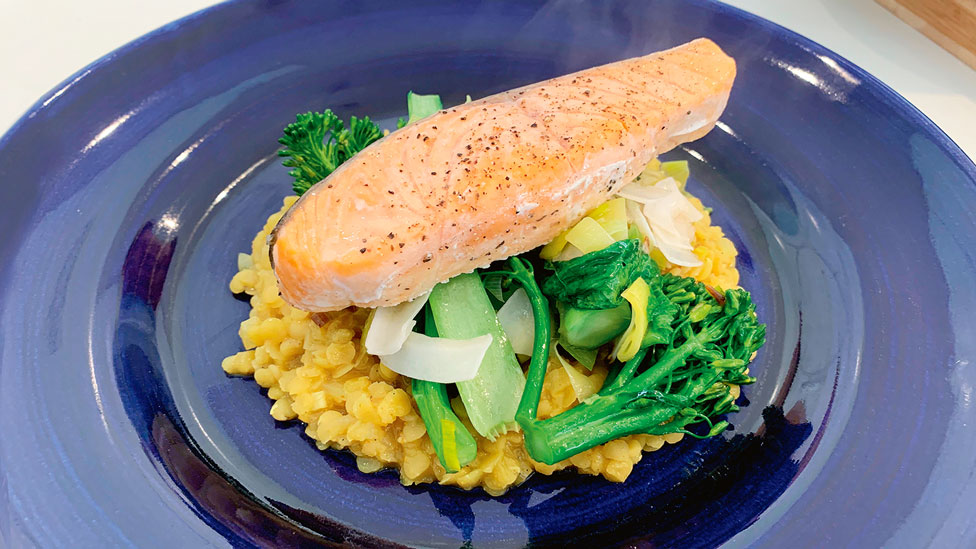 Ingredients
2 tbs butter
75ml olive oil
1 onion, diced
2 garlic cloves, finely sliced
2 heaped tsp curry powder
300g dried yellow split lentils
3 cups (750ml) fish stock
2 salmon fillets with skin on (approx. 200g each), cut in half
1 lemon, halved
1 leek, cut in half lengthways, sliced
1 bunch baby broccoli, cut into 4cm lengths
1 bunch Asian greens, cut in half
1 cup (75g) shredded coconut
Method
STEP 1
Preheat oven to 180°C. Melt the butter in a large saucepan over medium heat. Add one-third (25ml) of the oil. Add the onion and garlic and cook, stirring, for 2-3 mins or until the onion softens. Add the curry powder and stir to combine. Cook for 2-3 mins over low heat. Add the lentils and stir well to combine, then pour in the fish stock. Bring to the boil. Reduce heat to low and cook for 20 mins or until al dente. If the mixture starts to thicken up too much, add a little water.
STEP 2
Meanwhile, add half the remaining oil to an ovenproof frying pan. Place the salmon in the pan.
Season. Add a squeeze of lemon juice. Place the pan in the oven and bake for 10 mins or until salmon is cooked through.
STEP 3
In a clean saucepan, add the leek and remaining oil and sauté for 2-3 mins over medium-low heat. Add the baby broccoli and cook for another 2-3 mins. Add the Asian greens and coconut. Season. Cook, stirring occasionally, until the vegetables begin to wilt. Add 1 cup (250ml) water to steam the greens.
STEP 4
Divide the lentil mixture among serving plates. Top with the steamed vegetables and salmon.
Check ingredient labels to make sure they meet your specific dietary requirements and always consult a health professional before changing your diet. View dietary information here.