Luke Mangan's sweet chilli chicken wings
Looking for a new way with chicken wings? Have a go this tasty dish for an easy crowd-pleaser.
Hi guys, I'm Luke Mangan and I hope you're doing really well. I'm now back in my test kitchen where I've been playing with lots of new recipes and I've come up with this rippa. It's my sweet chilli chicken wings with cabbage and spring onion. You're gonna love it, it's really tasty and really simple to prepare and you know what, it feeds a family of four for under $20, so let's get into it.
First step for the amazing delicious chicken wings, preheat an oven at 200 degrees. We get baking dish, we drizzle that with a bit of olive oil on the base.  We've got some flour and I'm just going to add a bit of paprika and  and good pinch of salt and that is going to be our seasoning and coating for these amazing chicken wings. So just give that a good whisk and then we get these chicken wings, coat them in that flour, one by one and we just all layer them into our baking dish. Now they're all coated, off into the oven for about 20 minutes or until they're cooked. And now the next step is to get the cabbage base ready.
Get our cabbage in half and then very roughly slice it. So I just want to keep the bottom half of the spring onions, for the cabbage mix and then the top half is going to be for the garnish. And then we're gonna slice these nice and thin. Throw in that cabbage and quickly sort of stir fry for about a minute, Add our spring onions and mushrooms mix that through for another minute, good pinch of salt and let it set asside and remember it's still going to cook through.
Ok, next step is the delicious sweet chilli sauce, cup of water, cup of sugar and what we want is just dissolve that sugar. I add that cup of white vinegar and bring it to boil and now i'm going to add the ginger, chilli and garlic and we give that a good mix. And we turn that heat off. So there you have it my vision of the perfect sweet chilli sauce. Alright look at these beauties nice and golden brown and crispy let's start putting this dish together. Look at that.
And there you have it, my delicious sweet chilli chicken wings that's going to feed a family of 4, for under $20. For more great value recipes please head to coles.com.au  Delicious.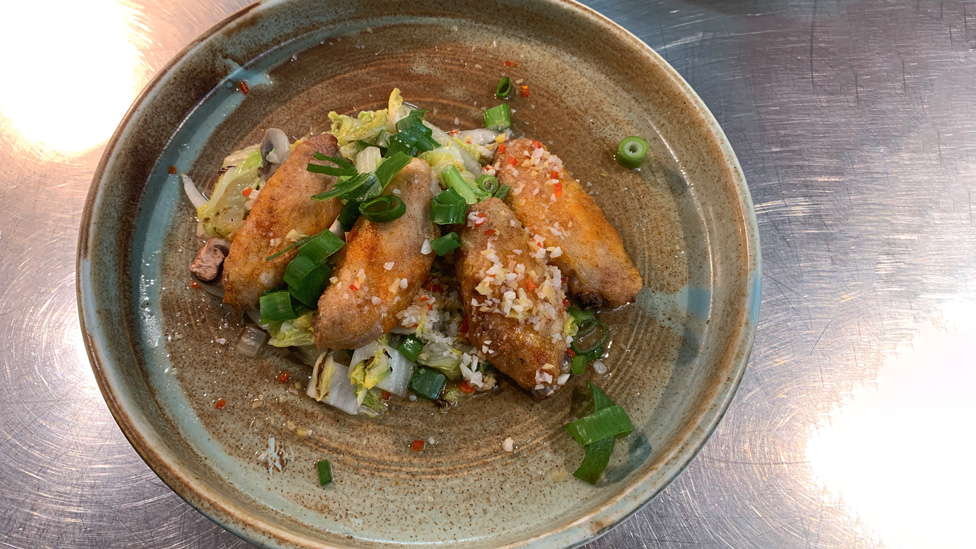 Ingredients
Olive oil, to drizzle
1 cup (150g) plain flour
2 tbs ground paprika
16 chicken wings
2 tbs olive oil, extra
1/2 white cabbage or wombok (Chinese cabbage), sliced
1/2 bunch spring onions, thinly sliced, white and pale green parts separated from dark green parts
250g cup mushrooms, thinly sliced
1 cup (220g) white sugar
1 cup (250ml) white vinegar
2 tbs finely chopped ginger
2 tbs finely chopped red chilli
2 tbs finely chopped garlic
Method
STEP 1
Preheat oven to 200°C. Drizzle the base of a roasting pan with olive oil. Combine the flour, paprika and a pinch of salt in a large bowl. Place 1 chicken wing in the flour mixture and turn to coat. Place in the roasting pan. Repeat with the remaining chicken wings and flour mixture. Bake for 20 mins or until the chicken is golden brown and cooked through.
STEP 2
Meanwhile, heat the extra oil in a large saucepan over high heat. Add the cabbage and stir-fry for 1 min. Add the white and pale green parts of the spring onion, the mushroom and a good pinch of salt and cook for 1 min.
STEP 3
Combine the sugar and 1 cup (250ml) water in a clean large saucepan over medium-low heat. Cook, stirring, until the sugar dissolves. Add the vinegar and bring to the boil for 3 mins. Add the ginger, chilli and garlic and stir to combine. 
STEP 4
Divide the cabbage mixture among serving plates. Arrange chicken wings over cabbage mixture. Drizzle with the chilli mixture and sprinkle with dark green parts of the spring onion to serve.
Check ingredient labels to make sure they meet your specific dietary requirements and always consult a health professional before changing your diet. View dietary information here.