Luke Mangan's tandoori chicken drumsticks
Whip up some Indian-inspired comfort food for dinner tonight. These chicken drumsticks are packed with flavour and easy to make.
Hi Australia, I'm Luke Mangan and welcome to my test kitchen. I'm going to show you how to feed a family of four for under $20 and it's going to be so tasty and so easy. My amazing tandoori with crushed potatoes and cucumber. So now let's get in there. Slice and dice and get ready for a beautiful family meal.
First step let's make the tandoori marinade. Now we need about a cup of yoghurt. And then we need about 2 cups of a good tandoori paste. Alright lets get the chicken in a deep pan and marinate it, so a baking dish. Just drizzle it with some good olive oil and then we're just going to place each drumstick in, a good pinch of salt. We've got the tandoori spice and the yoghurt and we're just going to cover it all really well. Alright so that's all nicely marinated. Now let's put it in to that oven about 180 degrees for about 30 minutes or until it's cooked.
Time to cook the potatoes. Really simple into a pot cover with cold water and a good pinch of salt. Bring it to the boil and cook for about 10 minutes or so. Ok potatoes are now cooked. I've drained them, I've cut them in half and now I've got them in a saucepan and I'm just going to lightly roast them with a bit of olive oil. And just with the back of a fork just crush them. Now that's going to be the base to our beautiful tandoori chicken and I'm going to add a few peas to it as well. Alright so we've crushed and slowly roasted these little potatoes and I'm going to now add about 2 cups of frozen peas. And lets put that on for about a minute or 2 just to cook those peas out.
Now we're going to do the cucumber. It's going to adda beautiful and refreshing flavour to the tandoori chicken. We're going to cut it at each end. Cut it down the middle and then slice it really fine. Let's squeeze a bit of lemon in there that'll give it a nice freshness. And a good pinch of salt and some good olive oil.
Alright this tandoori chicken straight out of the oven smells amazing. Have a look at it. Now to plate this up we're going to put the potatoes and the peas on the base. Tandoori chicken, crushed potatoes, peas and finished with cucumber and lemon. A family feast for under $20!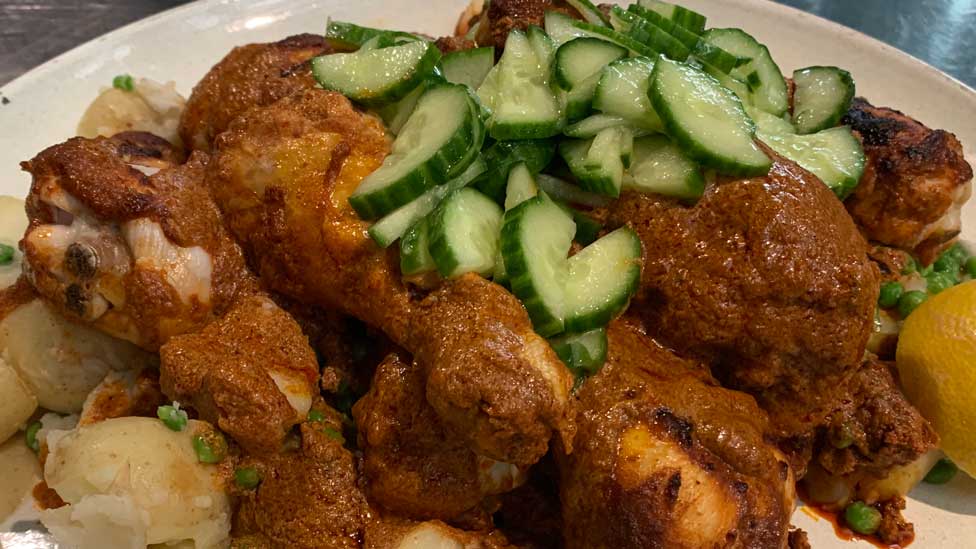 Ingredients
1 cup (280g) Greek-style yoghurt
2 cups tandoori paste
Olive oil, to drizzle
8 chicken drumsticks
1kg baby potatoes
2 cups (240g) frozen peas
1 continental cucumber, halved lengthways, thinly sliced
1/2 lemon, juiced
1 tbs olive oil, extra
Method
STEP 1
Preheat oven to 180°C. Combine the yoghurt and tandoori paste in a bowl. Drizzle the base of a deep baking pan with oil. Add the chicken and season with salt. Cover the chicken with the tandoori mixture and turn to coat. Bake for 30 mins or until the chicken is cooked through.
STEP 2
Meanwhile, place the potatoes in a large saucepan and cover with cold water.  Add a pinch of salt and bring to the boil over high heat. Cook for 10 mins or until tender. Drain well. Cut the potatoes in half and place in a clean saucepan over medium heat. Drizzle with oil and season with salt. Cook for 3 mins, using the back of a fork to lightly crush the potato. Add the peas and cook for a further 1-2 mins or until heated through.
STEP 3
Combine the cucumber, lemon juice and extra oil in a bowl. Season with salt.
STEP 4
Arrange the potato mixture on a serving plate. Top with the chicken and cucumber mixture. 
Check ingredient labels to make sure they meet your specific dietary requirements and always consult a health professional before changing your diet. View dietary information here.