Luke Mangan's zucchini slice with onion, garlic and bacon
Give Luke Mangan's tasty zucchini slice a try this week. Bursting with flavour, it's delicious served hot or cold.
Hi guys, Luke Mangan here and I'm back in my test kitchen, which I really love and I'm doing another mangan family favourite.
My zucchini slice with onions garlic and herbs. All our amazing cultures means we have some of the world's most interesting reciepes as well as some of the best produce, right here, right in Australia. You'll find this reciepe online, search Coles and Co. It's inspiration without the perspiration, with loads of ideas from me and your favourite aussie chefs.
Lets get started, in a medium to hot pan, we're gonna get some olive oil and sweat the onion, the garlic and the bacon off. Alright, that's been cooking for about 2-3 minutes, just sweated down nicely. No colour and now, take it off the heat and I add a tablespoon of these fennel seeds and we just set that mixture aside.
Next step is we get our zucchini and we're gonna grate that into a bowl. All the zucchini, nicely grated, next step, to make the batter. So we've got a cup pf self raising flour and we're gonna add about 5 eggs, one at a time, just give that a wisk. And you don't want to work it too much, we're just gonna mix that over the zucchini. Zucchini's grated, batters made, just gonna add some parmesan to that zucchini, good pinch of salt and a good couple of rounds of black pepper and give it a good mix through.
Now I'm just adding the onion, the garlic and the bacon. Good mix, and then we're gonna place that in our baking dish and cover it with our batter. Straight into our oven, 180 degrees for about 15 minutes. So whilst that's in the oven, we're gonna make this beautiful tomato and mushroom and basil salsa. Now we just chop these tomatoes, pretty roughly. So we our little button mushrooms, slice them up, a bit of salt, a good pinch of salt and some olive oil. And then we're gonna chop some basil leaves very roughly and give it a good mix. Smells absolutely delicious , looks absolutely delicious, now let's plate it up. Zucchini slice, just sitting on top and there you have my amazing Zucchini slice, tomato mushroom and basil.
This simple great value meal will feed a family for $5 a serve. For this recipe and loads more, just head to Coles.com.au How amazing is that!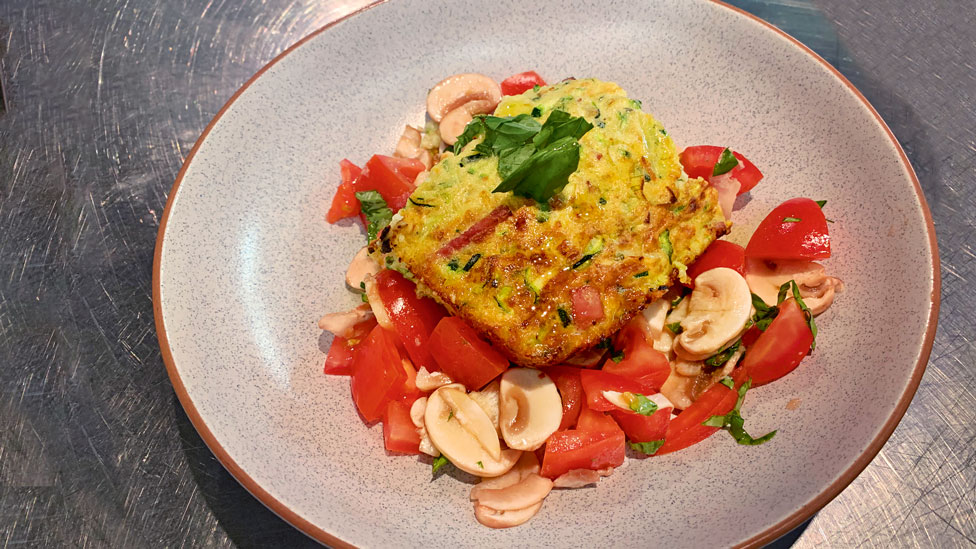 Ingredients
Butter, to grease
Olive oil, to drizzle
1 brown onion, thinly sliced
1 garlic clove, finely chopped
150g bacon rashers, coarsely chopped
1 tbs fennel seeds
1 cup (150g) self-raising flour
5 eggs
550g coarsely grated zucchini
1 cup (80g) grated parmesan
Salsa
4 tomatoes, coarsely chopped
150g button mushrooms, thinly sliced
Olive oil, to drizzle
6 basil leaves, coarsely chopped
Method
STEP 1
Preheat oven to 180°C. Grease a 20cm x 30 cm baking dish or lamington pan with butter and lightly drizzle with oil.
STEP 2
Heat a splash of oil in a medium frying pan over medium-high heat. Add the onion, garlic and bacon and cook for 2-3 mins or until the onion softens. Remove from heat. Add the fennel seeds and stir to combine.  
STEP 3
Whisk the flour and eggs in a large bowl until smooth. Combine the zucchini and parmesan in a separate bowl. Season with salt and pepper. Add the onion mixture to the zucchini mixture and stir to combine. 
STEP 5
Spoon the zucchini mixture into the prepared dish. Pour over the egg mixture and stir to combine. Cook for 15 mins or until the slice is golden and firm to the touch. Cool slightly.
STEP 6
Meanwhile, to make the salsa, combine the tomato and mushroom in a bowl. Season with salt and drizzle with oil. Add the basil and toss to combine.
STEP 7
Cut the slice into pieces. Divide the salsa among serving plates and top with a piece of slice to serve. 
Check ingredient labels to make sure they meet your specific dietary requirements and always consult a health professional before changing your diet. View dietary information here.