Marmalade glazed ham
This show-stopping marmalade glazed ham couldn't be simpler. Try it for a delicious Christmas main that's sure to be a hit this festive season.
Ingredients
1 Coles Finest Free Range Triple Smoked Full Leg Ham
370g jar orange marmalade
Method
STEP 1
Preheat oven to 200°C. Run a small sharp knife down the back of the ham. Using your fingers, gently separate skin from fat. Remove and discard the skin. Use the knife to lightly score the fat in a diamond pattern. Place on a baking tray.
STEP 2
Place marmalade in a saucepan over low heat. Cook, stirring, until marmalade melts. Brush some marmalade over the ham. Bake, basting with marmalade every 15 mins, for 1 hour or until warmed through and evenly caramelised. 
Serve with Dijon mustard and thyme
Christmas with Coles growers Koos and Deborah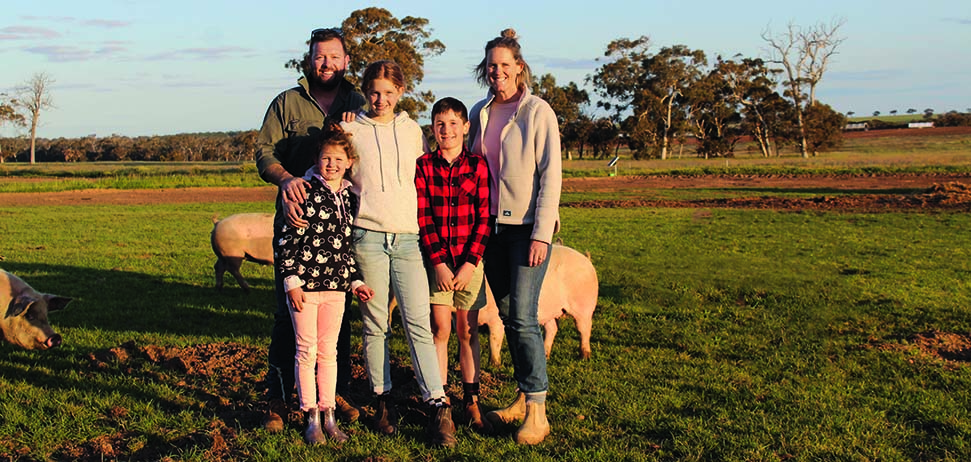 Koos and Deborah's children, Holly, Koos junior and Edith enjoy Christmas Day with a swim in their dam along with catching yabbies before enjoying a family BBQ.
Growing up on the land can serve as a great lesson in patience, and for Koos and Deborah's children, Holly, Koos junior and Edith, that's never more evident than on Christmas Day. "The pigs have to be fed every day, so I usually get out at 5am and get the work done as quickly as possible," says Koos, who starts early to beat the summertime heat on his piggery, 90 kilometres north of Albany in Western Australia. "Every year, when I get home, the kids are waiting by the Christmas tree, desperate to open their presents. It's made them pretty patient."
Christmas these days for Koos and his family is a little different to the winter ones he used to celebrate growing up in a small town in Hampshire, in the south of England. "We usually all go for a swim in the dam and this year it's going to be absolutely chockers because there's been a lot of rain," says Koos, who is joined on the farm over Christmas by his brother, sister-in-law, nieces and nephews, as well as Deborah's parents. There'll also be yabbying. "They're in the dam so we usually try to catch some the day before," he says. "We put them in nice fresh water to clean them overnight, then cook them on the barbecue with a little bit of butter and garlic – the results are so delicious."
Alongside garlic yabbies, there will also be more traditional fare at the Christmas table, including a marmalade glazed ham, inspired by his mum's recipe. "Mum used to make her own marmalade, but over here we buy it – either way it's always a highlight," says Koos. "There's always plenty of leftovers for Boxing Day, too."
Check ingredient labels to make sure they meet your specific dietary requirements and always consult a health professional before changing your diet. View dietary information here.