Matt Stone's silverbeet and jalapeno omelette
Whip up this flavoursome omelette packed with silverbeet and jalapeno for a spicy kick.
G'day Matt Stone here. Today I'm going to make a rainbow chard and jalapeno omelette. What we're going to do is basically cram all these seasonal vegetables into a delicious omelette. Let's get Started. 
We're just going take this beautiful rainbow chard, look at all these lovely colours. We've got reds and yellows, full of vitamins and nutrients really. So really simple, just grab the stem and just pull the leaf off. So I've just shredded all the leaf from the stalks here, we're just going to give them a wash. You can be a little bit rustic, it all doesn't have to be perfect, but no huge bits. Ok, so next we're going to chop up a leek, so you could use a brown onion of course, you could use spring onion, you could use a red onion, whatever you like.

Alrighty, so now it's time to sauté off the stalks and the leek. So just a nice splash of olive oil and we're just going to throw these leeks in. At this stage we'll just add a nice pinch of salt as well, salt will help the cooking process. Alright the leeks are cooking away, we'll add the rainbow chard stalks.

Hello, Hello, what's Matt cooking.

These leeks and stalks have sweated down nicely, so I've got this small pot half full of water back here we're going to add a bit of salt a little splash of olive oil and we're going to add these chard leaves a little bit at a time. Kinda push them in and as they wilt down, we'll add more until we've got them all in there. And so these stalks are ready, so we're just going to transfer them to a bowl and let them cool down. Alrighty, so those greens have cooked for around four minutes-ish, and we're going to let them cool until they are cool enough to handle and then we're going to squeeze out all the extra water, and then just open the leave back out into the mix. And then form here, I'm going to add a little bunch of dill and some parsley, I'm going to add some jalapenos and then the zest of about half a lemon. Another pinch of salt and a good crack of black pepper, and then we'll add the eggs. 

Look at those beautiful colours, really yummy. Alrighty, so the greens are coated nicely with the eggs, time to cook the omelette. So we're just going to add a splash of olive oil and we're going to add a bit of butter as well. We just have to get all these greens into the pan, and we just need to press all this omelette down. Cook it for around six or seven minutes on a medium heat, just so it gets a nice caramelisation on the outside. Then we'll finish it in the oven. 
Alrighty, so thats about 10 minutes. We'll let it rest for about five to ten minutes before we turn it out. And just flip it over, and there is. And I'm just going to serve a really fresh salad of rocket, pear and parmesan on the side. So I'm going to serve it warm today, but you can cook this in advance, it's great at room tempreture, so you can leave the rest in the fridge and have it for lunch tomorrow. And that's it, that's the rainbow chard and jalapeno omlette. Enjoy.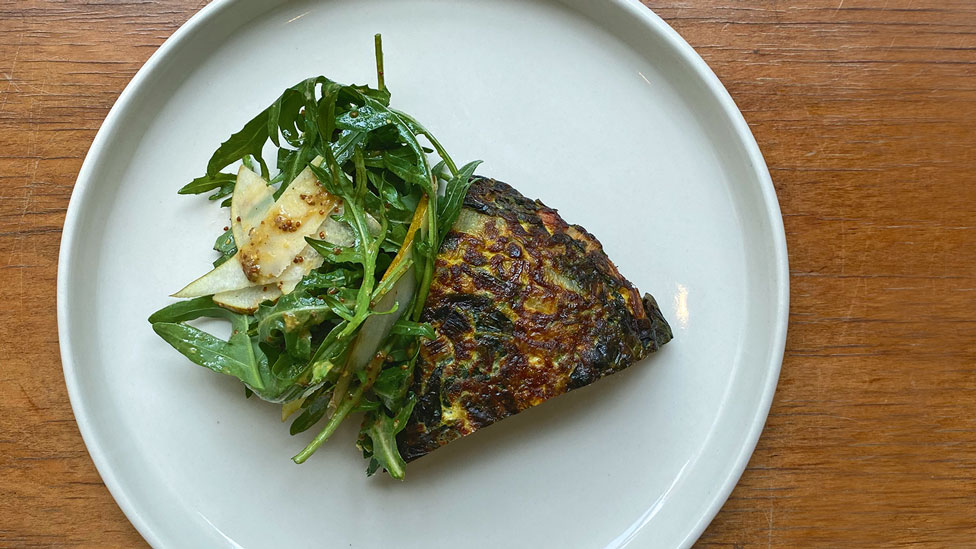 Ingredients
1 leek, quartered lengthways, finely sliced
1/4 cups (60ml) olive oil
2 bunches silverbeet, trimmed, stalks finely chopped, leaves shredded
1 1/2 tbs coarsely chopped dill
1/4 cup coarsely chopped flat-leaf parsley
2 heaped tbs coarsely chopped jalapeño chilli
2 tsp lemon zest
6 eggs, lightly whisked
20g butter
Rocket, pear, parmesan and vinaigrette salad
Method
STEP 1
Preheat oven to 180˚C. Place a frying pan over medium-high heat. Add the leek and 1 tbs oil. Season. Cook, stirring, for 3 mins. If the leek begins to brown, turn down the heat. Add the silverbeet stalks. Cook for 5-8 mins or until tender. Transfer to a mixing bowl and set aside to cool. 
STEP 2 
Meanwhile, place a large saucepan half full of water over high heat. Add half of the remaining oil and a pinch of salt. Bring to the boil. Add half the silverbeet leaves. Once the leaves begin to wilt, add the remaining silverbeet leaves. Cook for 3-4 mins or until tender. Drain well. Set aside to cool. 
STEP 3 
Once the silverbeet leaves are cool enough to handle, squeeze, in small batches, over a bowl to remove any excess liquid. Discard liquid. Add silverbeet leaves to the bowl with the leek and silverbeet stalks. Add the dill, parsley, jalapeños and lemon zest. Season. Mix well to combine. Add the egg and mix well to ensure all the ingredients are coated, adding another egg if necessary.
STEP 4 
Heat an ovenproof frying pan over medium heat. Add the butter and remaining oil. Once the butter has melted, add the egg mixture. Use a wooden spoon or spatula to press the mixture down to make sure it's in an even layer. Reduce heat to medium. Cook for 6-7 mins or until the base of the omelette is golden brown. Place in the oven for 10 mins or until the egg just sets. Set aside in the pan to cool for 5-10 mins. 
STEP 5 
Transfer the omelette to a chopping board. Cut into slices and serve with the salad.
Check ingredient labels to make sure they meet your specific dietary requirements and always consult a health professional before changing your diet. View dietary information here.