Michael Weldon and Kevin Sheedy's steak sandwich
Amp up tonight's dinner with Michael Weldon and Kevin Sheedy's steak sandwich. This hearty sanga is one the whole family will love.
Michael: Hi Guys, Michael Wheldon here, back with another What's for Dinner and today I've got a  very special guest with me. Keven Sheedy, in the house, we're celebrating one thing, footy's back on TV!
Kevin: It is?

Michael: How excited are ya?

Kevin: Ah very excited, it's been a long wait, there's never been another year like this in the history of the game and yeah, I think the fans are yearning to see their teams play. Players play well obviously and of course there's nothing better than going to the footy and having a bit of tucker.

Michael: Well that's what I was thinking, steak sandwich before the footy, what do ya reckon?

Kevin: You're on the money right now. 

Michael: There's a lot of pressure on me right now. 

Kevin: Yeah you better be good.

Michael: Awesome so really quick and simple steak sandwich, super simple and also very affordable. Just going to warm up some vinegar, some water and some sugar in a little bowl and we've got some thinly sliced onions there Kev. It's super easy, bring it over and pour than in.

Kevin: That's it?

Michael: Leave it, they can sit there, Relax. 

Kevin: Don't touch them?

Michael: Don't touch them, ten, fifteen minutes, Done.

Michael: Alright, so next we're going to do some caramelised onion,  every great steak sandwich, every great BBQ in Australia has caramelised onion. It's got to have them.

Michael: Yeah chuck that pot on. 

Kevin: Over here?

Michael: Over there.

Kevin: Nothing in it?

Micahel: Nothing in it yet.

Kevin: Put it on the hot plate?

Michael: Hot plate, drizzle of olive oil. 

Kevin: A drizzle?

Michael: Perfect.

Kevin: Ah ha, there you go. I hope my wife's watching this!

Michael: Give it a stir.

Kevin: I've stirred all my life.

Michael: And then a pinch of salt and that'll help them soften up. And while we do that, we're going to cook our steak.

Kevin: Seriously how good is this?

Michael: Yeah? So I've got some really thin steaks here, now all I do for this is a sprinkle of sea salt, and then just a little drizzle olive oil.

Kevin: You love that olive oil.

Michael: We're going to add them on, now you can do these on a barbie, you can do them on a pan. Just make sure you do them with a really nice high heat. This pans hot, thirty seconds on each side. Just want to…

Kevin: Thirty seconds?

Michael: …get a nice sear. Yeah. Nice sear and then some of those little burn marks. We'll be laughing. Super simple steak sandwich. Now while you're doing that, I've got a bit of Turkish bread here. A nice big long roll.

Kevin: Yeah

Michael: I've got a bit of Mayo on the bottom, I've got some lettuce leaves, tomatoes, mustard on top, now chuck on our slices of cheese. Double onion.

Kevin: Double onion.

Michael: Double onion, this is the special bit.

Kevin: Four quarters?

Michael: Four beautiful steak sandwiches. Four quarters like a game of footy, four sandwiches for four mates for under twenty bucks.

Kevin: Five dollars each?

Michael: Absolute bargain, less than five dollars each. We're going to enjoy this and we're going watch the footy!

Kevin: Absolutely.

Michael: This is What's for Dinner, this is Kevin Sheedy, thanks for watching, happy eating.

Kevin: Go Footy!!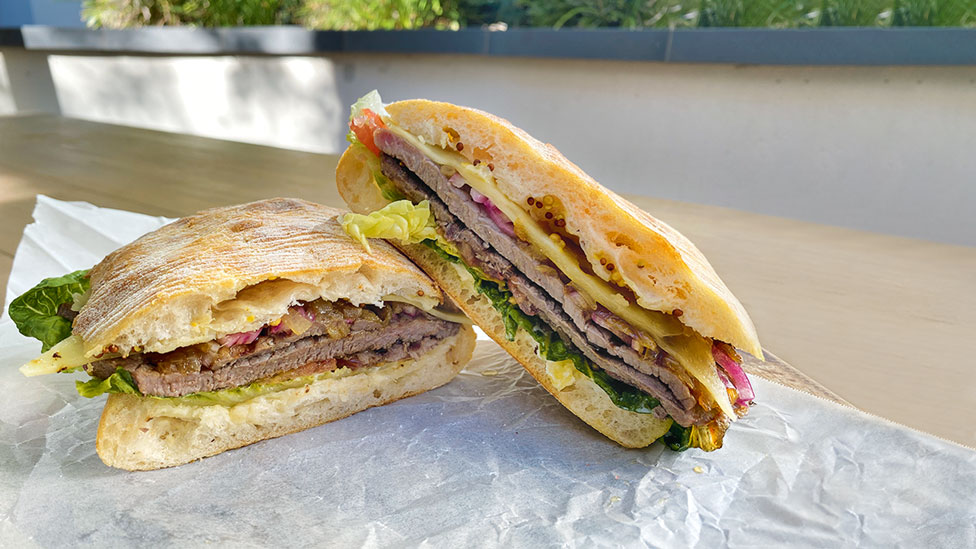 Note: + soaking and resting time
Ingredients
1/4 cup (60ml) white wine vinegar
2 tbs caster sugar
1 red onion, thinly sliced
1/4 cup (60ml) olive oil
1 white or brown onion, thinly sliced
400g Coles Australian Beef Sizzle Steak
1 loaf Turkish bread, split horizontally
2 tbs mayonnaise
1 baby gem lettuce, leaves separated
1 tomato, thinly sliced
2 tbs wholegrain mustard
4 slices Swiss cheese
Method
STEP 1
Combine the vinegar, sugar, 2 tbs water and a pinch of salt to a small saucepan over high heat. Bring to the boil. Place the red onion in a heatproof bowl. Carefully pour the vinegar mixture over the onion. Set aside for 10-15 mins to soak. Drain well.
STEP 2
Meanwhile, heat half the oil in a clean saucepan over medium heat. Add the white or brown onion and season with a pinch of salt. Cook, stirring regularly, for 15 mins or until the onion caramelises.
STEP 3 
Heat a frying pan or chargrill over high heat or until just smoking. Season the steak with a pinch of salt and drizzle with the remaining olive oil. Cook the steak, in batches, for 30-45 secs each side or until cooked to your liking. Transfer to a plate to rest.
STEP 4
Spread the bread base with mayonnaise and top with the lettuce, tomato, steak and red onion. Spread the bread top with mustard and top with the cheese and caramelised onion. Carefully top the bread base with the bread top. Cut the sandwich into 4 even pieces to serve.
Check ingredient labels to make sure they meet your specific dietary requirements and always consult a health professional before changing your diet. View dietary information here.