Michael Weldon's beef chilli con carne
Serve the family this chilli con carne for a dinner that really hits the spot. It uses spices and fresh herbs to create the perfect flavour.
Hi guys, Michael Weldon here, tonight we're cooking on of my absolute favourite midweek meals. Beef Chilli Con Carne, we've got a load of crunchy, oozy and pickly things to put on top. Now this recipe and loads of others you'll find on the coles and Co website. If ever you need some kitchen inspiration, come and see myself and all the other amazing cooks and chefs on that website to get inspired for what to cook for dinner.
Now to start this recipe off the first thing we need to do is put our pan on a high heat. So one brown onion, you wanna chuck in your onion and you want to hear that sounds. Once onion softens we're gonna and in our spices to fry them off. So I've got some smoked paprika here, coriander and cumin as well as some Garlic. There's all gonna go into our pan. These are our aromats that are going to flavour up our chilli con carne.
Now that our spices have cooked off we can add in our beef mince, straight into our pan, we want to start breaking that up. We want a nice high heat in our pan, so our mince fries and doesn't stew. We want to start coating all our beautiful spices and that garlic and onion. It smells amazing in here, as soon as those spices are fried off and that onion and garlic cooks down, smells to me exactly like tex mex should. Our mince has been frying off for a couple of minutes now, it's all now browned. It's time to go in with our tin of tomatoes. We're just gonna go half a tin of water as well, and we wanna just stir all of our mince through.
Our Beef chilli has been cooking for about 40 minutes now and you can see it's thickened up. So we're gonna add in a couple of things, I've just diced up our red  capsicum, you want to add this in nice and fresh so it keeps its texture and then also a tin of kidney beans. We're just gonna stir this through, then we're gonna come back and plate up our chilli.
To serve, steamed rice, a nice big serve of our chilli and then for me, it's all about garnishing our chilli well. You just want to add a few crispy things, crunchy things and pickly things to go with it. And there you have it, my Beef Chilli Con Carne, this dish will feed a family of 4 for under $20, and don't forget to watch plate of origin tonight for your chance to win a share of $25,000 of Coles vouchers. For this recipe and loads of others, make sure you check out the coles and co website. This is what's for dinner guys. Happy eating.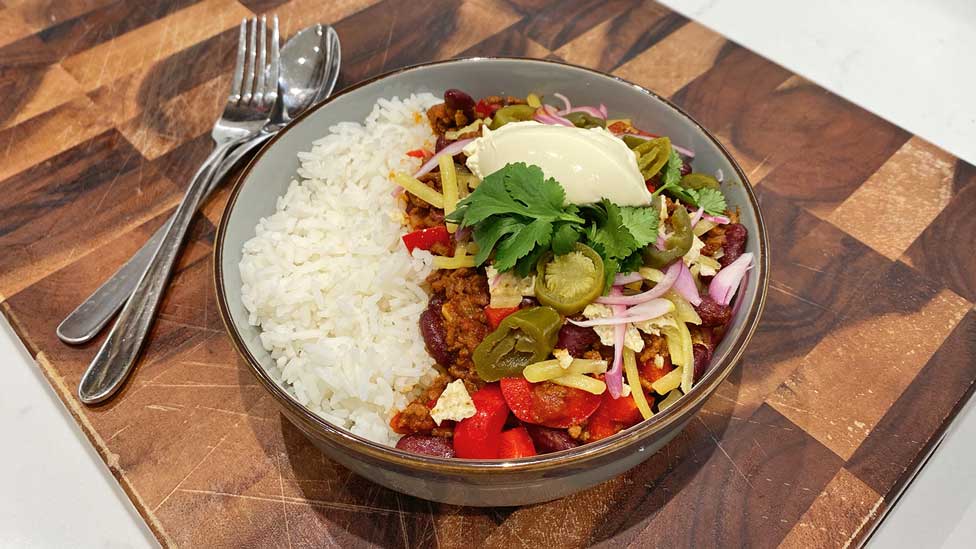 Ingredients
Olive oil, to drizzle
1 brown onion, finely chopped
1 tbs smoked paprika
1 tbs ground coriander
1 tbs ground cumin
1 tbs garlic powder
500g beef mince
400g can diced tomatoes
1 red capsicum, finely chopped
400g can red kidney beans, rinsed, drained
2 cups rice, steamed
1/2 cup (150g) sour cream
50g corn chips, crushed
50g sliced pickled jalapeños
50g sliced pickled red onion
50g shredded tasty cheddar
1/2 bunch coriander sprigs
Method
STEP 1
Heat a drizzle of oil in a frying pan over a high heat. Add the brown onion and cook for 2-3 mins or until onion softens. Add the paprika, ground coriander, cumin and garlic and cook for 1 min or until aromatic.
STEP 2
Add the mince and cook, stirring with a wooden spoon to break up lumps, for 5 mins or until browned. Add the tomato along with half a can of water. Season and bring to the boil. Reduce heat to a gentle simmer. Cook for 30-40 mins, stirring occasionally, until the mixture thickens slightly.
STEP 3
Add the capsicum and kidney beans to the mince mixture. Cook, stirring, for 2-3 mins or until combined and heated through.
STEP 4
Divide the rice and mince mixture among serving bowls. Top with sour cream, corn chips, jalapeño, onion, cheddar and coriander sprigs to serve.
Check ingredient labels to make sure they meet your specific dietary requirements and always consult a health professional before changing your diet. View dietary information here.