Michael Weldon's Christmas sausage rolls
Try this festive twist on an entertaining classic. Michael Weldon's Christmas Sausage Rolls are packed with smoked ham, cranberry and more.
Hi guys, Michael Wheldon here, tonight we're gonna cook up another Aussie favourite dish, the sausage roll but my recipe is gonna have a little twist on traditional. We're gonna make it festive because we're only a month away from Christmas so it's time to start thinking about cooking for friends and families and sharing beautiful meals with them all. The weather is getting nice and it's time to entertain and this season Coles is your home for entertaining so any occasion you are cooking for you can have a beautiful dish for your family.
So the first thing we're gonna do is fry off our vegetables. Toss our Veggies through our pan 4 or 5 minutes just frying them off. And then we're gonna add some spices and extra flavouring in to our mix. Fry them off for a minute, now we are going into a mixing bowl and all I'm gonna do is let this cool down for about 15 minutes, just so it's cool to the touch so you can add in your meat without it cooking.
Now we're gonna add a couple more things into our sausage to make them festive. Firstly smoked ham, nice and Christmassy, then a little bit of parsley, one of my secret ingredients some cranberry, some ketchup, breadcrumbs to help bind it all together and then a little splash of Worcestershire sauce. Give this a mix together. And then I reckon I'm gonna have to go into a bigger bowl. And then follow that in with our sausage mince, and then we just fold this in all together. It's time start making our sausage rolls.
Pastry here is puff pastry, divide the sheet out here into two and then all I do is just start spreading sausage roll mix and now I'm gonna make a really quick egg wash, so crack it into a bowl and then I just paint a little bit of that egg wash on our flat side of sausage roll which works as a bit of glue when you're rolling them up. I'm gonna slice up half of these as big sausage rolls and half of them as little entertaining sausage roll. I'm then going to go over with more of our egg wash. I'm going to put them in a 180 degree oven and cook them until the pastry puffs and golden brown.
And look at these beautiful little golden sausage rolls. You can make all of these sausage rolls to feed your family lunch or dinner or to entertain your friends for under twenty dollars. It's pretty much a Christmas miracle for this recipe and loads of others go to Coles.com.au Guys this is what's for dinner, have a very very happy and safe festive season and of course happy eating!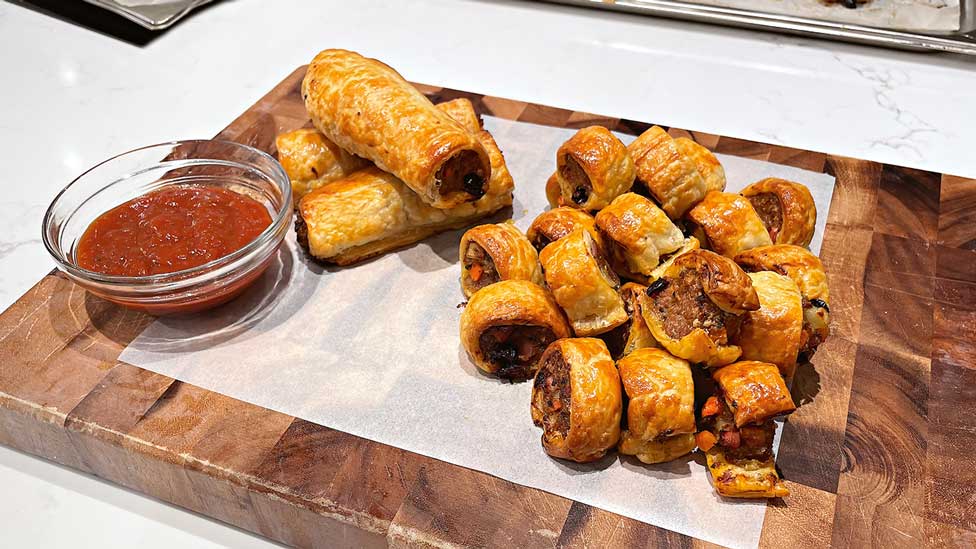 Makes
8 large rolls and 32 small rolls
Ingredients
1 tbs olive oil
1 brown onion, finely chopped
2 carrots, peeled, finely chopped
1 large Red Royale potato, finely chopped
2 garlic cloves, grated
1 tsp fennel seeds
1/4 tsp dried chilli flakes (optional)
Pinch of salt
200g smoked ham, finely chopped
1/4 bunch flat-leaf parsley, coarsely chopped
1/4 cup (35g) dried cranberries
2 tbs tomato sauce
1/4 cup (25g) dried breadcrumbs
1 tbs Worcestershire sauce
1kg Coles Sausage Mince
4 sheets puff pastry, thawed
2 Coles Australian Free Range Eggs, lightly whisked
Tomato sauce, extra, to serve
Method
STEP 1
Preheat oven to 180˚C. Line 2 large baking trays with baking paper. Heat the oil in a large frying pan over a medium heat. Cook the onion, carrot, potato and garlic for 4-5 mins or until the onion mixture begins to soften. Add the fennel seeds, chilli flakes, if using, and salt. Cook for 1 min. Transfer to a large heatproof bowl and set aside for 15 mins to cool. 
STEP 2
Add the ham, parsley, cranberries, tomato sauce, breadcrumbs and Worcestershire sauce to the onion mixture in the bowl. Stir until well combined. Add the sausage mince and stir until well combined.
STEP 3
Cut the pastry sheets in half crossways and place on a clean work surface. Divide the sausage mince mixture evenly among the pastry sheets and shape into a log. Brush edges of pastry with a little egg. Roll up to enclose the filling. Cut each roll in half or into small pieces and place, seam-side down, on the lined trays. Brush with a little more egg.
STEP 4
Bake for 25-30 mins or until the pastry is puffed and golden and the filling is cooked through. Set aside to cool slightly.
STEP 5
Serve sausage rolls with extra tomato sauce.
Check ingredient labels to make sure they meet your specific dietary requirements and always consult a health professional before changing your diet. View dietary information here.