Michael Weldon's classic carbonara
Twirl some delicious pasta around your fork with this classic carbonara. It's the perfect winter comfort food.
Gday guys, Michael Weldon here, back with another Coles What's for Dinner recipe for you to cook at home. 
Tonight it's all about my favorite pasta, carbonara, 5 ingredients. 
Bacon, parmesan, pepper, eggs, pasta  is all you'll need. 
This dish will cost way less than 20 bucks, and feed a family of four happily. 
So to start with what we have to do separate out our eggs. And want I'm going to do is crack the egg whites on one bowl and then drop the yolk into that other bowl. Whites to the side for another day, yolks just waiting there. 
Our pasta, I like using a long pasta for my carbonara, but you can do it with a short pasta. In this pot I've got lots of rapidly boiling water, I'm going to heavily salt, handful of salt to go straight in with our pasta. Spread it round. 
So the next thing we need to do is our bacon. But I'm going to use streaky bacon here you can see here loads of fat on it and that's what we want because that's going to flavour our dish, but also thicken our sauce. 
Now to finish off our egg mixture to flavour our pasta, all I'm going to add is parmesan cheese. We're going to use half of it, so we can use another half for another dish another day. And we're going to fold this cheese and egg mixture together. 
The one thing you do have to add loads of is black pepper. We going about a teaspoon, maybe a teaspoon and a half, if you like pepper. And we'll just let that cook down slowly. We're actually almost ready to bring our carbonara together, which is one of the joys of this dish, it's super quick to make. 
Now all I do is transfer my pasta. Just grab a ladle and spoon over a couple of out pasta liquid. Stir it. So now we turn off the heat from our pan, but it's still quite hot. So what we have to do is just let it cool down for 30 seconds. So we can add our eggs in so they won't scramble and then with your tongs you just going to start mixing it together. You're going to melt that cheese and cook those eggs, and this is where we get creamy carbonara from. 
And my friends, that's carbonara done. In under 20 minutes for under $20, you can feed a family of 4 a delicious bowl of warming comfort food this winter. That my recipe of classic carbonara. This is what for dinner, thank you for watching and happy eating.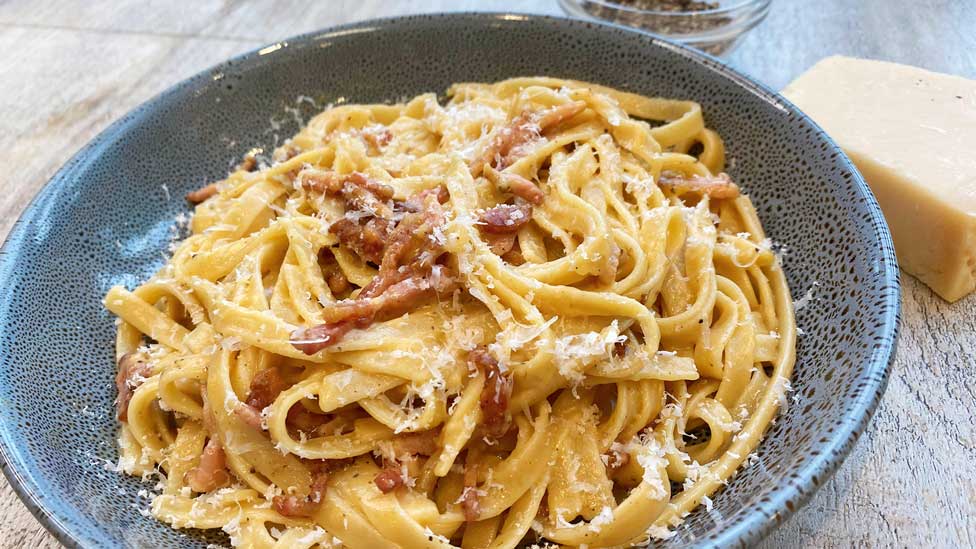 Ingredients
500g fettuccine
200g streaky bacon, cut into matchsticks
1-1 1/2 tsp freshly ground black pepper
9 egg yolks
125g finely grated parmesan
Finely grated parmesan, extra, to serve
Method
STEP 1 
Cook the pasta in a large saucepan of salted boiling water following packet directions or until al dente. Drain, reserving the cooking liquid.
STEP 2 
Meanwhile, cook the bacon in a non-stick frying pan over medium heat for 3-4 mins or until crispy. Add the pepper and stir to combine.
STEP 3 
Combine the egg yolks and parmesan in a bowl. Add the pasta to the frying pan with a few spoonfuls of the reserved cooking liquid. Toss to combine. Remove from heat and set aside for 30 secs to cool slightly. Add the egg mixture, stirring constantly until the parmesan melts and the sauce thickens and coats the pasta.
STEP 4 
Divide the pasta mixture among serving bowls. Season. Sprinkle with extra parmesan to serve.
Check ingredient labels to make sure they meet your specific dietary requirements and always consult a health professional before changing your diet. View dietary information here.