Michael Weldon's coconut and coriander chicken curry
Michael Weldon's coconut and coriander chicken curry is a heart-warming dish loaded with spices and herbs.
Hi Guys Michael Weldon here back with another What's For Dinner recipe for you guys to cook at home. Tonight we're doing my Coconut and Coriander Chicken Curry The first thing we need to do is make curry paste.
So we have 2 tbs garam masala, a quarter cup of desiccated coconut, 1 tbs cumin and 1 tbs of smoked paprika and we have a thumb sized piece of ginger, 2 garlic cloves and one red chilli. Just chop up anything that's not a powder in to rough bits. Now our spice ingredients. Secret blend that's really going to add a lot of flavour. We also have the roots and the stem of two nice large bits of coriander. Keep the leaves for our garnish. So just roughly chop our corianderroots and stem as well. Chuck them in and now a quick pinch of salt and thena little bit of Sunflower Oil. And we're just going to chop our onion into halvesand then cut one of the halves in to chunks.
Now with your blender, with your food processor, with your mortar and pestle, you want to blend this untilit becomes a paste. So we've got some oil in our pan we want that nice and hot. So we're going in with all of our curry paste and now we're going to fry that off for 2-3 minutes until it becomes really aromatic. So just that half of the onion we had left over can go in. And a cup maybe a cup and a half of just water you can use stock if you wanted. Chicken or veg. You want to bring that up to a boil and then we're going to go in with some yoghurt as well. Just a cup of yoghurt. And once that comes to the boil we're going to add in our chicken drumsticks.
Now we've got our drummies in. All I'm going to do now. Bring it up to the boil and start adding a couple of my curry leaves on top. And then we're going to turn our heat back now we're boiling and we're going to cook this for about 25 minutes so our chicken's cooked through and our sauce has thickened up. 
Our drumsticks have been cooking in that curry gravy for about 25 minutes and you can see now the meat is starting to pull away and fall off the bone so I'm really happy with that. 1 minute before this is ready I just added in ourbeautiful snow peas. All I do now is plate this guy up and then what I'm goingto do is just pour all this gravy over the top. So there you have it guys my coconut and coriander curry with those beautiful chicken drumsticks. We made the curry paste ourselves. For under $20 you can feed a family of four.That's What's For Dinner. Guys hurry hurry make this curry.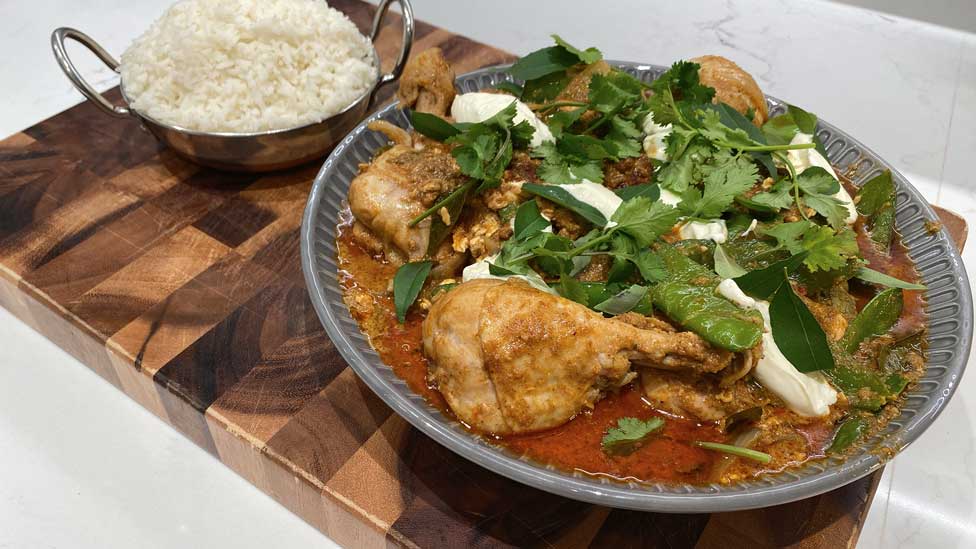 Ingredients
2 tbs garam masala
1/4 cup (20g) desiccated coconut
1 tbs ground cumin
1 tbs smoked paprika
30g-piece ginger, peeled, coarsely chopped
2 garlic cloves, coarsely chopped
1 red birdseye chilli, coarsely chopped (optional)
1/2 bunch coriander, roots and stems chopped, leaves reserved
Pinch of sea salt flakes
1/3 cup (80ml) sunflower oil
1 brown onion, coarsely chopped
250g Greek-style yoghurt
1kg chicken drumsticks
1/2 bunch curry leaves
150g pkt snow peas, trimmed
Greek-style yoghurt, extra, to serve
Steamed rice, to serve
Method
STEP 1
In a large bowl or jug combine the garam masala, coconut, cumin, paprika, ginger, garlic and chilli, if using. Add the coriander stems, salt and ¼ cup (60ml) oil. Add half the onion and use a stick blender to carefully blend until smooth. (Alternatively, place ingredients in a food processor and process until smooth, or use a mortar and pestle to grind ingredients until a smooth paste forms.)
STEP 2
Heat the remaining oil in a large frying pan over medium heat. Add the curry paste and cook for 2-3 mins or until aromatic. Add the remaining onion, 2 cups (500ml) water and the yoghurt. Stir to combine. Bring to the boil. Add the chicken and half the curry leaves. Reduce heat and simmer for 25 mins or until the mixture thickens and the chicken is cooked through.
STEP 3
Add the snow peas to the chicken mixture and cook for 1 min or until tender-crisp. Transfer the chicken mixture to a serving platter. Top with extra yoghurt and sprinkle with the remaining curry leaves and reserved coriander leaves. Serve with rice.
Check ingredient labels to make sure they meet your specific dietary requirements and always consult a health professional before changing your diet. View dietary information here.