Michael Weldon's crispy-skin barramundi with golden tomato and ginger sauce
Try Michael Weldon's mouth-watering crispy-skin barramundi. Served with a homemade golden tomato and ginger sauce, this dish is a must-try.
Coles are a proud supporter of the Stephanie Alexander Kitchen Garden Foundation and as part of that support we have a new initiative starting from the 20th of Jan through to the 16th of February. Five cents from each packet of Coles exclusive gold and red Perino tomatoes will go towards the Stephanie Alexander Kitchen Garden Foundation and their mission to form better food habits in kids all over Australia.
So to celebrate that I'm going to share with you guys one of my favourite mid-week meals that makes these beautiful golden Perino tomatoes shine. It's crisp- skin ocean farmed barramundi with a golden tomato and ginger sauce. The first thing we need to do is start working on our sauce. So I'm going to turn our pot on to a medium high heat. I'm going to start by slicing up our shallot and then we'll go in with a nice drizzle of extra virgin olive oil and then we can go in with our shallots and let that heat come up slowly and start sweating. Just to help that process a little pinch of sea salt.
For ginger sauce, we obviously need a bit of ginger. To go with that, a couple of cloves of garlic as well I'm going to do the exact same thing just chuck it over the microplane grater .Once our shallots have started to soften we can add in our ginger and our garlic. I like chilli so I'm going to add a couple of bird's eyes into the dish here. I've also got some kaffir lime leaves. Now our ginger and our garlic and shallots have toasted off so we can add in our kaffir lime and our chilli at this stage and now we can add in our tomatoes.
So I'm going to go with the golden Perinos today, the red ones work just as well but I like the colour the gold ones give. So we're going to go in with a couple of parts of our golden Perinos. I'm just going to cook these until they start to pop and the skin splits and that flavour goes into our sauce. Now while that happens we want to get ready to cook our fish. I'm at a sort of high heat, good drizzle of olive oil in our pan but once your oil is hot you go in with your fish skin-side down and you want to hear that nice sizzle. And then what you want to do is press your fish down.
To get the crispy skin you want to have that fish flat to the pan. Our fish has been cooking for about five minutes on the skin side, so we'll turn that over and you can see there's a beautiful golden brown top to our barramundi. In our pot here, you can see that tomatoes have cooked down and they've become nice and saucy.
To finish off the sauce, just a couple more ingredients: a couple tablespoons of sugar, a couple of tablespoons of water just to thin everything out and then, for seasoning, fish sauce, we'll add our salt and then we want to stir this together. And then the last thing we'll add is a lime. We'll add that once we turn the heat off the sauce so it's nice and fresh. This looks really good.
We can also now season our fish, just a little pinch of salt on top of it. And then a little bit of Vietnamese mint just to garnish. You could use coriander as well, or even standard mint. So our fish is ready, our sauce is ready. I can turn that of. It just needs a squeeze of fresh lime to bring it all together. Give this a nice stir. Now to plate up. It's super simple, that lovely piece of barramundi onto the plate and then with a nice spoon you want a good amount of our sauce, just over the top,  though on one side of the fish so you still keep that skin mostly crispy.
To finish off some of those beautiful Vietnamese mint leaves just picked over the top. Chuck a wedge of lime on the side and there you have it guys, that is my crispy-skin barramundi with that beautiful golden Perino tomato and ginger sauce.
Make sure you've got loads of Perino tomatoes in your shopping cart from the 20th of Jan and make sure you give this dish a try because five cents from every packet sold goes towards the Stephanie Alexander Kitchen Garden Foundation. That means getting more kids in the kitchen cooking, getting more kids growing vegetables and getting more kids enjoying their food. So thank you very much for watching guys and happy eating.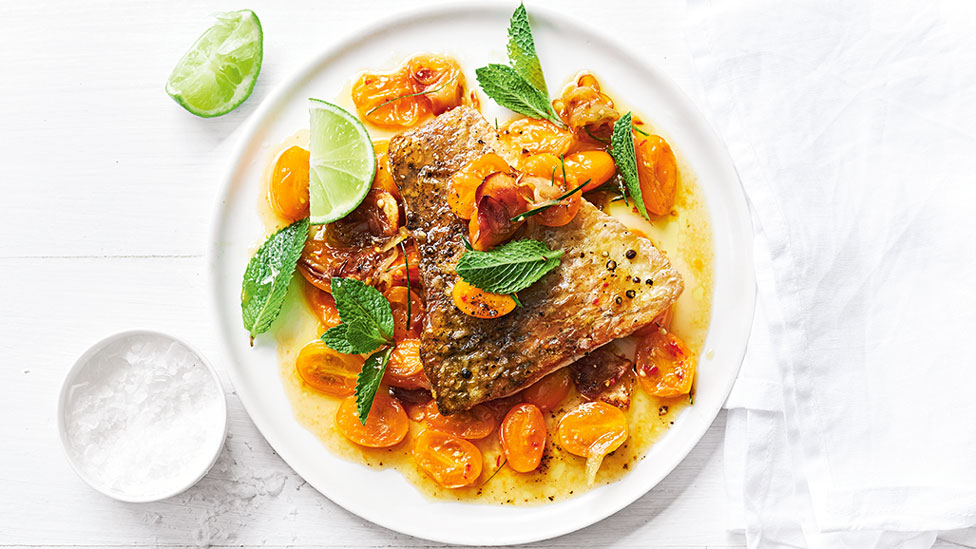 Ingredients
Sunflower oil, to drizzle
2 shallots, thinly sliced
4 garlic cloves, thinly sliced
6cm-piece ginger, peeled, chopped
400g gold Perino tomatoes
1 birdseye chilli, thinly sliced (optional)
2 kaffir lime leaves, shredded
1/4 cup (55g) caster sugar
1/4 cup (60ml) fish sauce
1 lime, halved
4 Coles Australian Ocean Barramundi Portions
1/2 bunch mint, leaves picked
Method
STEP 1
Heat a drizzle of oil in a saucepan over medium-high heat. Add the shallot, garlic and ginger and cook, stirring, until the mixture begins to colour slightly. Add the tomatoes, chilli, if using, and lime leaf. Cook for 2-3 mins or until the tomatoes just soften. Add the sugar, fish sauce and ¼ cup (60ml) water. Reduce heat to low. Cook for 5-10 mins or until tomatoes collapse and release their juice. Remove from heat.
STEP 2
Juice 1 lime half. Add the lime juice to the tomato mixture in the pan and stir to combine. Cover to keep warm.
STEP 3
Heat a large frying pan over medium-high heat. Add a drizzle of oil. Place the barramundi, skin-side down, in the pan and press with a spatula for 1 min. Cook for a further 2-3 mins or until skin is golden and crisp and the flesh has changed colour halfway up the sides. Turn and cook for a further 2 mins or until the barramundi is just cooked through.
STEP 4
Divide the barramundi and tomato mixture among serving plates. Cut the remaining lime half into wedges. Sprinkle barramundi with mint. Season and serve with the lime wedges.
Extra greens
For an extra serve of veggies, enjoy this dish with some steamed asparagus or baby broccoli.
Check ingredient labels to make sure they meet your specific dietary requirements and always consult a health professional before changing your diet. View dietary information here.