Michael Weldon's crispy skin butterflied chicken
Comfort food perfection! This butterflied whole chicken is a mouth-watering meal to feed the whole family.
Hi guys, Michael Weldon here, tonight I'm gonna show you my trick to making a super crispy chicken. I'm gonna serve that with a romesco sauce and then just some beautiful broccoli lightly fried in a pan.
The first thing we're do is start prepping our chicken. So we're gonna butterfly our chicken, so then I just flatten my chicken out, just a nice drizzle of olive oil on the bottom of the pan. Now no salt on the skin side, but we can season the cut side of our chicken and then all we do is lie it flat in our pan and we're gonna fry that for about 8 to 10 minutes until our chicken is golden brown and starting to really crisp up.
And now it's time to make a really quick romesco sauce. So I've 1 jar of red peppers , ¼ cup of almonds, I've then got a bit of thyme as well, just gonna zip that of the stalk. Then some extra virgin olive oil, a pinch of salt and one garlic clove. You just want to blend this until it's nice and smooth. Smells absolutely wonderful. To Season it, just a little splash, one teaspoon of white wine vinegar. All we're gonna do now is chuck onto our chicken. Our chicken is cooked on our skin side, so we're gonna go in to our oven at 180 degrees. The chicken has been in the oven for 20 minutes, absolutely prefect. You can see nice and golden on the bottom and that beautiful red romesco sauce on the top. We're just gonna now let that rest and just chill and those juices distribute, so it's nice and juicy when we cut into it.
While we do that we wanna just fry off our broccolini. So, olive oil in a pan and then I just got some really thinly sliced garlic. We go straight in with our broccolini. Season of sea salt. I've thinly sliced some lemon here, we're gonna lay that over the top as well. They didn't see so often lost. Elevenia realized that over the top as well. We're almost ready to plate up.
And that is my dish of crispy skin romesco roast chicken, this will feed a family of 4 for under $20 so not only is it delicious but it's very affordable. For this recipe and loads of others you have to check out the coles and co website. Thank you very much for watching guys and happy eating.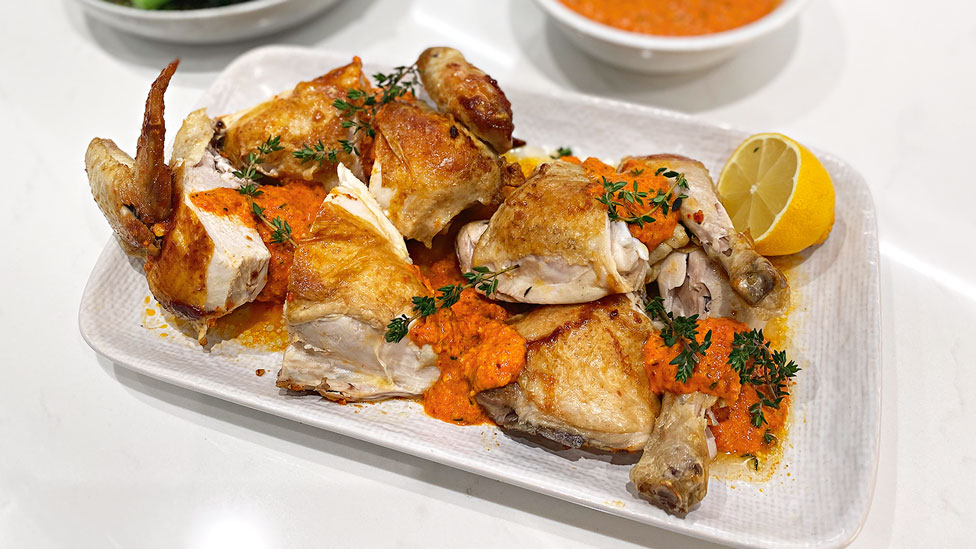 Note: + 10 mins resting time
Ingredients
1 whole chicken
Olive oil, to drizzle
2 garlic cloves
330g jar whole roasted peppers (capsicum), drained
1/4 cup (40g) dry-roasted almonds
1/2 bunch thyme, leaves picked
1/4 cup (60ml) extra virgin olive oil
1 tsp white or red wine vinegar
1 lemon
2 bunches baby broccoli
Thyme sprigs, to serve
Method
STEP 1
Preheat oven to 180°C. Place chicken, breast-side down, on a clean work surface. Use kitchen scissors to cut along each side of the backbone to remove. Press down on the breastbone to flatten. Season cut-side with salt. Heat a drizzle of olive oil in a large ovenproof frying pan over medium heat. Cook the chicken, skin-side down, for 8-10 mins or until the skin is golden and crispy.
STEP 2
Crush 1 garlic clove. Combine the capsicum, almonds, thyme leaves, extra virgin olive oil, a pinch of salt and the crushed garlic in a large jug or bowl. Use a stick blender to blend until smooth. Add the vinegar and stir to combine.
STEP 3
Reserve three-quarters of the capsicum mixture in a bowl. Spoon the remaining capsicum mixture over the cut-side of the chicken. Roast for 20 mins or until the chicken is cooked through. Set aside for 10 mins to rest.
STEP 4
Meanwhile, thinly slice the remaining garlic clove. Thinly slice half the lemon crossways. Heat a drizzle of olive oil in a large frying pan over high heat. Add the sliced garlic and cook for 1 min or until golden. Add the baby broccoli and cook for 1-2 mins. Season with salt. Add the lemon slices and toss until heated through.
STEP 5
Cut the chicken into pieces. Arrange chicken over a serving platter and drizzle with any pan juices. Spoon over some of the reserved capsicum mixture and sprinkle with thyme sprigs. Serve with baby broccoli mixture, remaining capsicum mixture and remaining lemon half. 
Check ingredient labels to make sure they meet your specific dietary requirements and always consult a health professional before changing your diet. View dietary information here.