Michael Weldon's marinated chicken wings with coconut slaw
Add this fragrant dish to your midweek menu. These marinated wings with coconut slaw are fresh, flavoursome and filling.
Hi Guys Michael Weldon here back with another What's for Dinner recipe for you to cook at home.
We are going Thai style fish sauce marinated chicken wings with a coconut coleslaw.
First thing we need to do is make that marinade. Half a cup of fish sauce. We've got two tablespoons of caster sugar. One red chilli. Two tablespoons of toasted sesame oil. 2 garlic cloves chopped up and the juice of 1 or 2 limes.
So I've got a kilo of chicken wings here. So I need a third of that marinade on to those wings. I'm just going to give them a little turn and a coat.
Those wings have been marinating for about an hour and I've got a bowl here and I've got 2 tablespoons of rice flour. We're going to go wings into that rice flour and then all we're doing is just toss our wings through that rice flour.
Now we're going to add our wings on to a lined baking tray. Our ovens on a really high heat at the moment. 230 degrees. We're going to put our wings in there for about 10 minutes. Take them out turn them half way. Put them in for another 10 minutes. We'll cook them untill they're nice and golden brown on top. So into the oven.
While our wings are in the oven we're going to make a really quick coconut slaw.
So in our slaw we have half a chinese cabbage, 1 carrot chopped into matchsticks, 2 spring onions, 1 red chilli and half a bunch of coriander evenly chopped.
Now we're going to make our dressing. So again from the marinade we made earlier we're going to take out a couple of tablespoons to that we're going to add half a cup of coconut cream. Pour it in and mix it all together.
So with the last bit of our marinating mixture we're going to add that in to a pot and we are adding one more tablespoon of caster sugar. We want to bring that to the boil and just reduce this while it thickens.
Have a look at these guys that's our wings done. Transfer these straight to a platter or a plate, squeeze in half a lime just to finish off that fish saucy glaze and then we're going straight over the top of our wings. Just for a little upper crunch sprinkle over a few sesame seeds on top.
And there you have it guys. For under $20 you can feed a family of four. That is my fish sauce marinated chicken wings with coconut slaw. This is what's for dinner. Thank you for watching. Happy eating!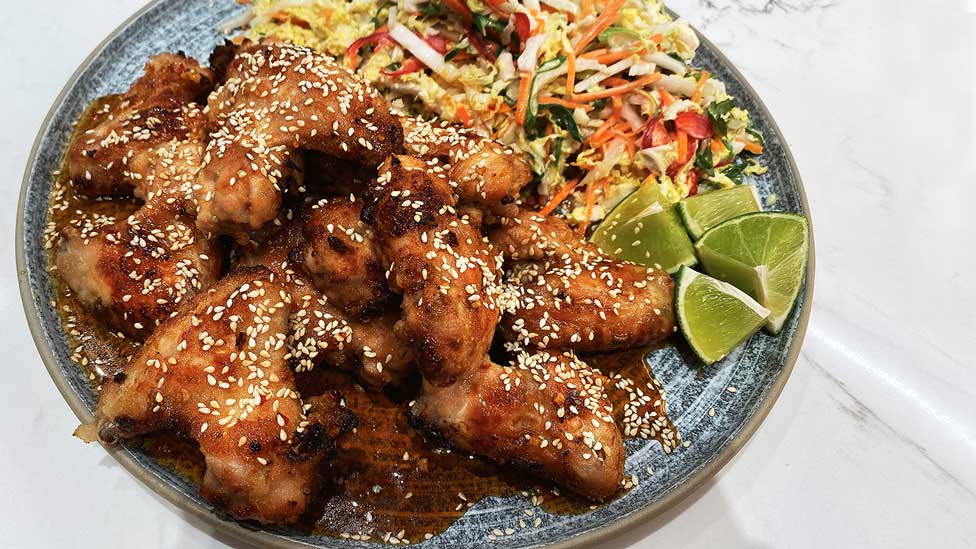 Note: + 1 hour marinating time
Ingredients
1/2 cup (125ml) fish sauce
1/4 cup (55g) caster sugar
1 bird's eye chilli, seeded, finely chopped (optional)
2 tbs sesame oil
2 garlic cloves, finely chopped
2 limes, juiced
1kg chicken wings
2 tbs rice flour
1/2 Chinese cabbage, shredded
1 carrot, peeled, cut into matchsticks
2 spring onions, thinly sliced
1 long red chilli, thinly sliced (optional)
1/2 bunch coriander, chopped
1/2 cup (125ml) coconut cream
1 tbs sesame seeds, toasted
Method
STEP 1 
Combine the fish sauce, 2 tbs sugar, bird's eye chilli, if using, oil, garlic and three-quarters of the lime juice in a medium bowl. Whisk until well combined.
STEP 2
Place the chicken in a large bowl. Pour over one-third of the fish sauce mixture and turn to coat. Cover and place in the fridge for 1 hour to develop the flavours.
STEP 3 
Preheat oven to 230˚C. Line a large baking tray with baking paper. Place the rice flour in a shallow bowl. Transfer chicken to the bowl with the rice flour and toss to coat. Arrange chicken on the lined tray. 
STEP 4 
Bake for 10 mins or until the chicken is lightly golden on top. Turn the chicken and bake for a further 10 mins or until crispy, golden and cooked through.
STEP 5 
Meanwhile, combine the cabbage, carrot, spring onion, red chilli, if using, and coriander in a clean large bowl. Combine coconut cream and 2 tbs of the remaining fish sauce mixture in a small bowl. Pour the coconut cream mixture over the cabbage mixture and toss to combine.
STEP 6 
Combine the remaining fish sauce mixture and remaining sugar in a small saucepan over medium heat. Bring to the boil and cook for 2-3 mins or until the mixture reduces and thickens slightly. Add the remaining lime juice and stir to combine.
STEP 7 
Transfer the chicken to a serving platter. Drizzle with the fish sauce mixture and sprinkle with sesame seeds. Serve with the coconut slaw.
Check ingredient labels to make sure they meet your specific dietary requirements and always consult a health professional before changing your diet. View dietary information here.