Michael Weldon's olive oil greens and anchovy rigatoni
After a fuss-free pasta dish? Try this rigatoni with olive oil braised greens for a hearty family dinner.
Michael Weldon here back with another Coles What's for Dinner recipe for you to cook at home tonight.
It's all about oil braised greens and anchovy's with some rigatoni. This beautiful La Esponola Mild and Light Olive Oil is the perfect oil to use for this dish you can cook up to a really high heat so fry off all these flavourful ingredients.
Now the first thing we need to do is to cook our pasta. So pasta into the water, now that water was heavily salted and it's going to come back to a boil and give that little bit of extra flavour to our pasta.
The next thing we need to do is get some oil into a pan, Al Espanola light olive oil. Now this olive oil is great for frying, still got that nice olive oil flavour but it's very light and delicate. We're going to add to that some really thinly sliced garlic then you can hit it with a medium high heat. Leave it to lightly fry and let that cook garlic out. I'm just going to go in with that rosemary and then anchovy's, now if your turning your face up, trust me, this not is not gonna taste overly fishy. The anchovy's are gonna add a nice meatyness and saltyness. I'm just gonna go in with some quick chilli flakes at this stage as well and then let it fry off for about another minute.
While it does that I'm just going to prep our greens that are going into our dish. I've got some cavalleria, it's green kale and Tuscan kale and we just want the leaves and the little parts of the stem. Now if you have a look into our oil you can see the anchovy's cooked down and melted into the oil as it warmed up. So go in with that kale. Just give it a little stir. It looks like a lot of kale but this is going to wilt down really quickly and i've also got some baby spinach here and then with a a ladle we're just going to add one spoon of our pasta liquid.
Our braized greens are looking awesome, they've cooked down, they're a little bit caramelized. We're just going take our pasta from our boiling water into our braised greens. Now to that we're just going add some grated parmesan. So there you have it, you just want to make sure the pasta is coated with all that beautiful flavoured olive oil. Going to plate it up into a bowl. We're going to finish it with a little bit of that on top. A little drizzle of olive oil and then just some fried bread crumbs with some garlic through them and that's it.
That's my dish that will turn an anchovy lover out of any of you doubters. Olive oil braised greens with anchovy and rigatoni that's what's for dinner, happy eating guys.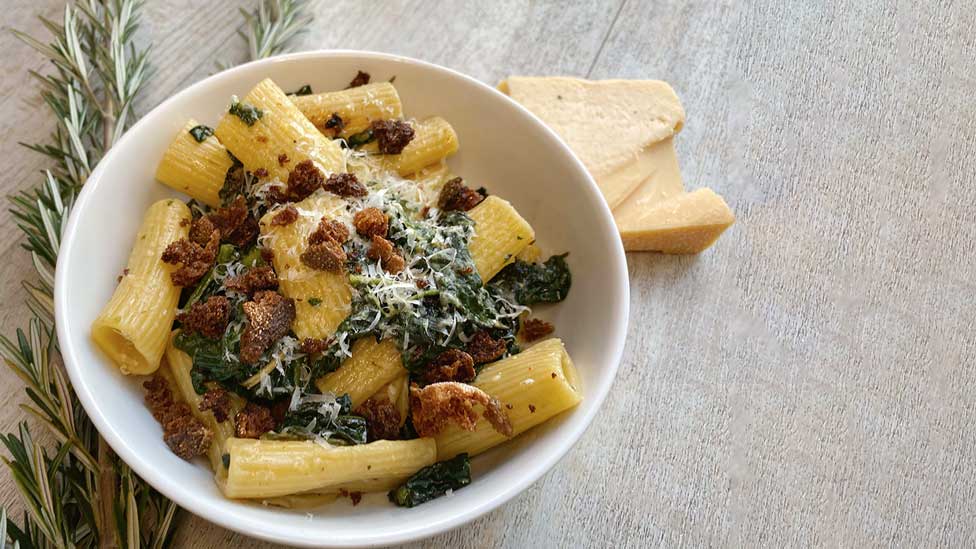 Ingredients
500g rigatoni
1/2 cup (125ml) La Española Mild & Light Olive Oil
2 garlic cloves, thinly sliced
2 rosemary sprigs, leaves stripped
4 anchovy fillets, finely chopped
Pinch of chilli flakes (optional)
1 bunch Tuscan kale or green kale, trimmed, leaves thinly sliced
60g baby spinach leaves
Fried breadcrumbs, to serve
La Española Extra Virgin Olive Oil, to serve
Finely grated parmesan, to serve
Method
STEP 1 
Cook the pasta in a large saucepan of boiling water following packet directions or until al dente. Drain, reserving 1 cup (250ml) of the cooking liquid.
STEP 2
Meanwhile, add the oil to a large frying pan over medium-high heat. Add the garlic and cook for 1-2 mins. Add the rosemary, anchovy and chilli flakes, if using, and cook for 1-2 mins or until aromatic. Add the kale and cook, stirring, for 1-2 mins or until tender. 
STEP 3 
Add the spinach, reserved cooking liquid and pasta to the kale mixture in the pan. Gently stir until combined and heated through. Divide the pasta mixture among serving plates. Top with the fried sourdough pieces, drizzle with extra virgin olive oil and sprinkle with parmesan to serve.
Check ingredient labels to make sure they meet your specific dietary requirements and always consult a health professional before changing your diet. View dietary information here.