Michael Weldon's Perino tomato and peach panzanella salad
This fresh-tasting salad uses in-season produce such as Perino tomatoes and peaches for the ultimate summer salad.
From the 20th of January through to the 16th of February, Coles are pairing up with Perino tomatoes to support the Stephanie Alexander Kitchen Garden Foundation and their mission to form better food habits in kids all over Australia. Five cents from each packet of these red and gold Perino tomatoes sold will go towards supporting that mission. We're going to make a Perino tomato and peach panzanella salad. All we're going to do is start chopping up our tomatoes. We're going to cut them in half lengthways, like this. I'm going to quickly slice up a couple of shallots nice and thinly and what we're going to do here is just break up our shallots as well and put them on top so they start releasing a little bit of flavour into the salad as well. Again, when Perino tomatoes are perfect, so are peaches, so I love pairing them together. All I do is just cut the cheeks off and then take the sides off and that little core you can nibble on, and then we just slice our peaches nice and thinly. So peaches now go into our bowl and I'm going to add a tiny little bit more of our salt and then we're just going to again turn this all together so the salt starts drawing moisture out of the shallots and the peaches and out of those beautiful Perino tomatoes. Now, at this stage, we just want to let that sit for 10 to 15 minutes to draw all the moisture out. That can relax while that happens. The other important element of the panzanella salad is the bread. With a nice drizzle of extra virgin olive oil, you want enough to cover the whole base of the pan. So once our oil is nice and hot, you start adding in your bread and you want to see that nice frying temp. Just a quick little sprinkle of sea salt, just to help start building the flavour in the croutons as well. This should take about a minute before we start tossing it all together and you can see here our croutons are nice and golden coming together really well. We just want to give them a bit of a toss and now we're aiming to make them fully crispy. So you want to make sure all the sides are nice and crispy. Another thing we're going to add is just some garlic into our fry pan. Now I'm going to microplane it so it's nice and fine. You could also chop it if you want to. Add your garlic when the croutons are almost done, because otherwise you're going to burn that garlic. Next ingredient I'm going to add is some ricotta, a couple of splashes of apple cider vinegar, red wine vinegar would work really well as well. A good drizzle of extra virgin olive oil, a nice crack of really coarse black pepper. Tomatoes love black pepper. Then in with our croutons, and what we're going to do is just now stir it all together and then a really rough chop of some flat-leaf parsley. One final mix, pour into a nice big serving dish. A final little sprinkle of sea salt on top. Just pick the last little bits of parsley over the top, just a nice little drizzle to finish it all off. And there you have it, a very fun little twist on a classic summer salad.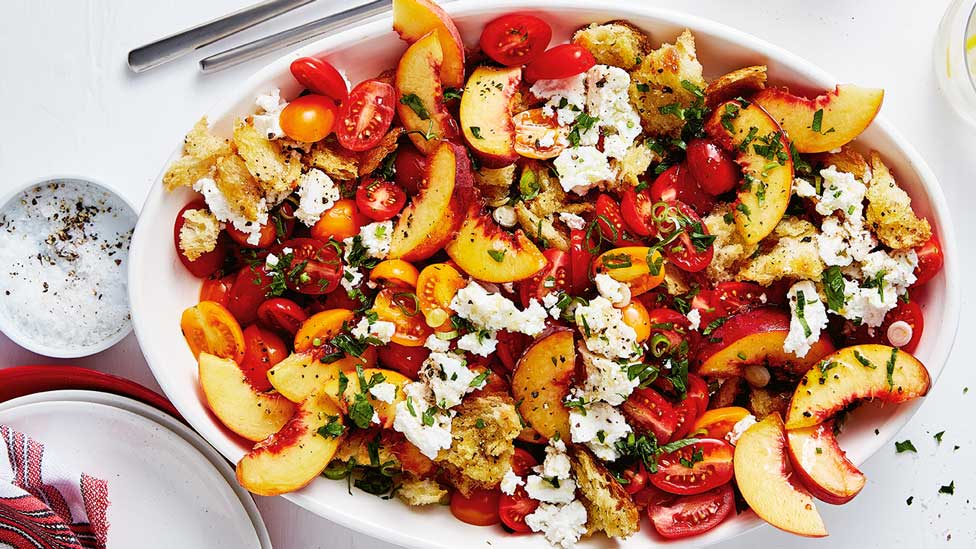 Ingredients
400g red Perino tomatoes, halved lengthways
200g yellow Perino tomatoes, halved lengthways
1 shallot, thinly sliced
200g Coles Bakery Stone Baked White Sourdough Vienna, torn
2 garlic cloves, finely grated
Extra virgin olive oil, to drizzle
2 ripe yellow peaches, stoned, thinly sliced
1/4 cup (60ml) extra virgin olive oil, extra
1 tbs red wine vinegar
1 bunch flat-leaf parsley, leaves picked
150g ricotta
Method
STEP 1
Combine the tomato, shallot and peach in a large bowl. Season and toss to combine. Set aside for 10-15 mins to develop the flavours.
STEP 2
Meanwhile, add enough oil to a large frying pan to cover the base. Place over medium-high heat. Add the bread and cook, without stirring, for 1 min or until golden underneath. Continue cooking, stirring occasionally, until golden and crisp all over. Add the garlic and stir to combine. 
STEP 3
Add the bread to the tomato mixture with the vinegar, ¼ cup (60ml) oil and the ricotta. Stir to combine. Coarsely chop half the parsley leaves and add to the salad. Season with pepper. Stir until well combined. 
STEP 4
Transfer the salad to a serving dish. Sprinkle with the remaining parsley leaves.
Check ingredient labels to make sure they meet your specific dietary requirements and always consult a health professional before changing your diet. View dietary information here.