Michael Weldon's pork and peach skewers with spicy peach glaze
Fire up the barbie and get ready for summer. Michael Weldon brings us his pork and peach skewers with spicy peach glaze for an easy dish the whole family will love.
Hi guys, Michael Wheldon here, tonight's What's for dinner is all about is all about an Aussie classic way of cooking, the barbecue. It's all about getting outside fire'ing the barbie up and cooking for those people that you love. So it's not gonna make a little bit of a festive inspired dish. A pork and peach skewer with a beautiful peach glaze.
The first thing we need to do is start our glaze.  Gonna put a pot on medium high heat and we're gonna add in a nice drizzle of olive oil. And then into that we're going to add in diced onion. So we're' gonna fry off our onions, once it starts to soften, we're  gonna add in our aromats so we've got Cumin Seeds, Coriander seed and some dried chilli flakes. Add in a little pinch of salt to help bring all the flavour together and then we can go in with out peaches. Just chopped up seeds removed, now to our glazed ingredients we're gonna add just some sugar help turn it into a nice glaze and when it cooks to give it that nice caramelization.
And then a good splash of apple cider vinegar. Now we just wanna simmer this until all those peaches are nice and soft. While that happens we're gonna make our skewers. So I've got some beautiful pork shoulder here, 800 grams, diced up. All I then do is you start threading our pork onto our skewers and then I've got some slices of peach and some little red onion petals and I reckon you can agree that's a pretty cool looking skewer. Perfect for the barbecue nice summery and fresh.
I'm gonna keep skewering these guys, I'm gonna cook this glaze down until it's all soft, I'll blend it, I'll take these skewers and I'll meet you guys outside on the barbecue and show you how to cook it. So our skewers are ready,you can see pork, peach, red onion all on there. We've made our glaze. I've just drizzled these in olive oil. Season them with a little bit of Salt and all you want to do it once you've got them on the barbie, just them a little paste with your glaze and every time you turn you give them a nice little glaze until you've got a  beautiful charred caramelized glaze. Eight skewers is going to easily feed four people and in half an hour for less than 20 Bucks.
You've got a really quick and easy midweek meal. Serve them with a side with a beautiful crisp baby lettuce leaves and some cucumber, dress it  with a little bit of lemon and there you have a lovely What's for dinner dish, For this recipe and loads of others make sure you check out Coles.com.au these pork skewers are what's for dinner, guys have a beautiful festive season and as always, happy eating.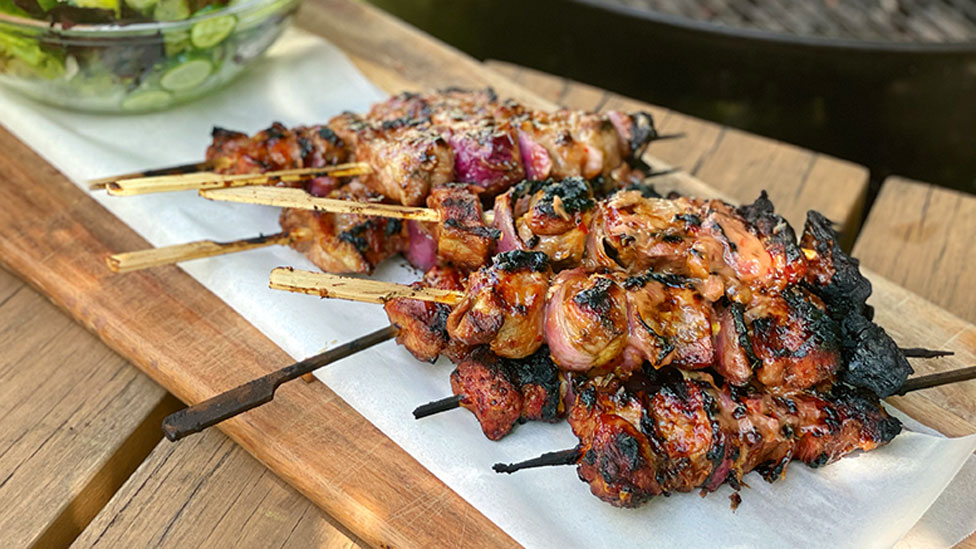 Note: + Cooling & 5 mins resting time
Ingredients
800g Coles Australian Pork Shoulder Roast Boneless, cut into 3cm pieces
1 ripe peach, stoned, cut into thin wedges
1 red onion, cut into thick wedges
Olive oil, to brush
200g pkt Coles Australian 4 Leaf Salad
1 Lebanese cucumber, thinly sliced
1 lemon, juiced
Spicy peach glaze
1 tbs olive oil
1 red onion, finely chopped
1 tsp cumin seeds
1 tsp coriander seeds
1/2 tsp dried chilli flakes
Pinch of salt
3 ripe peaches, stoned, coarsely chopped
1/2 cup (110g) brown sugar
1/4 cup (60ml) apple cider vinegar
Method
STEP 1
To make the spicy peach glaze, heat the oil in a large saucepan over medium-high heat. Add the onion and cook for 2-3 mins or until the onion softens. Add the cumin, coriander, chilli and salt and stir to combine. Stir in the peach and sugar. Add the vinegar and stir to combine. Reduce to a simmer and cook for 5-7 mins or until the peach softens. Set aside to cool slightly. Use a stick blender to carefully blend until smooth. 
STEP 2
Meanwhile, thread the pork, peach and onion evenly onto metal or soaked bamboo skewers.
STEP 3
Heat a barbecue grill or chargrill on high. Brush the skewers with a little oil and season with salt.  Cook on the grill, turning and basting with the spicy peach glaze, for 8 mins. Cook for a further 2 mins or until the pork is charred and cooked through. Transfer to a plate and set aside for 5 mins to rest. 
STEP 4
While the skewers are resting, combine the salad leaves and cucumber in a bowl. Drizzle with lemon juice. Serve skewers with salad.
Check ingredient labels to make sure they meet your specific dietary requirements and always consult a health professional before changing your diet. View dietary information here.