Michael Weldon's pork and prawn dumplings with spicy dipping sauce
Learn to cook homemade prawn dumplings in 30 minutes. Serve it with a spicy dipping sauce for a flavoursome meal.
Michael Weldon here back again with another What's for Dinner recipe.
Today is my pork and prawn pot sticker dumplings with a spicy dipping sauce. The first thing we need to do is make our filling.
First of all the white and light green part of some spring onions. And next I've got some coriander. I've got 5-6 sprigs. Now we're going to use the leaves later on when we make the dressing but for now we just want the little crunchy coriander stems. Now we're going to slice our ginger nice and thin.
Take out a few of the little matchsticks of ginger. Put them into a second bowl. That's the bowl for our dipping sauce. Then the rest of our ginger we're going to chop the other way into nice fine little dice. Now we're going to go in with some garlic. Some pork mince and then we've got our prawns. I've just got some beautiful Aussie prawn tail meat you get at Coles. Peeled for you already. And all we're going to do is roughly chop this.
So I've got some sesame oil, some white pepper, a splash of soy suace, little pinch of sea salt, pinch of sugar as well. Just mix this together to combine.
Alright so we've got our little wonton wrappers here now this is the fun part. Filling in the centre. Water on two of the edges then fold together and when you're folding you want to push out all the air. Then just pinch it together and fold it over. Alright so we've filled all our dumplings now it's time to cook them.
I'm just going to spread our oil all over the bottom of the pan and then start filling up with our dumplings. So while our dumplings fry we're going to make a really quick dipping sauce. In this bowl I've got some green some spring onion and also that really finely sliced ginger from the start.
We're going to add soy sauce, sesame oil, black vinegar, teaspoon of sugar and a tablespoon of whatever your favourite chilli oil is.
Have a look at that you pick one up you see that nice fried crispy base. That's exactly what we want to get our pot stickers to before we steam them. So we've fried them and the second part of the cook is to steam them. So we pour over like a cup of water. Then I'm going to chuck a lid on. It's been a few minutes I'm going to turn the heat off our dumplings. These are ready to plate up ready for us to eat. Pop that with our dipping sauce over the top. A little bit of your coriander. That is my recipe of pork and prawn dumplings, cooked potsticker style with a spicy sipping sauce.
For this recipe and many other what's for dinner recipes check out the coles website.
Guys this is what's for dinner. Happy eating.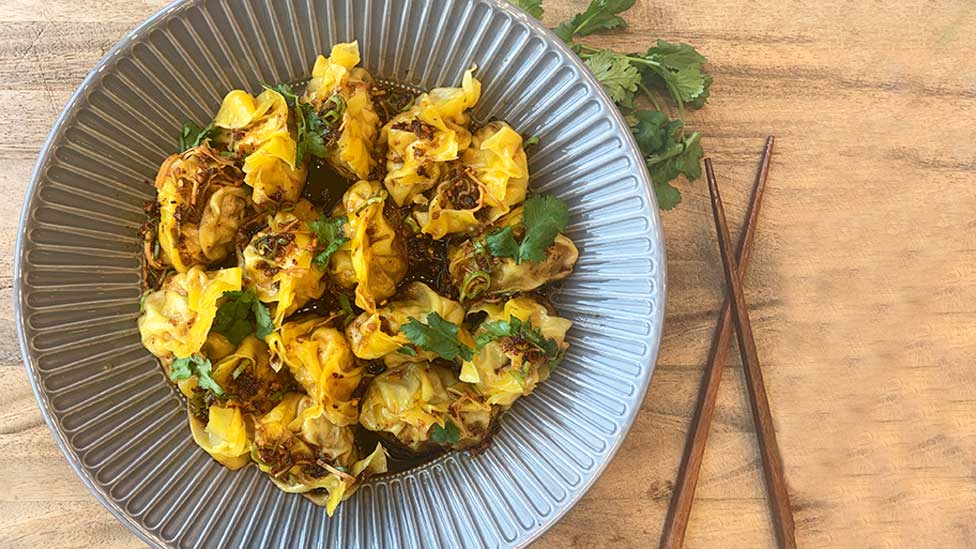 Ingredients
500g Coles Australian Pork Mince
200g prawns, peeled, deveined, finely chopped
4 spring onions, thinly sliced, white and green parts separated
1 thumb size piece of ginger, finely diced, reserving 1 tsp for the sauce
2 garlic cloves, crushed
6 coriander sprigs, leaves picked, stem finely sliced,
2 tbs soy sauce
2 tbs sesame oil
2 tbs caster sugar
1/2 tsp white pepper
1 tsp salt
1 pkt wonton wrappers (25-30 pieces)
2 tbs sunflower oil
2 tbs black vinegar
2 tbs chilli crisp or chilli oil (optional)
1/4 cup (60ml) soy sauce, extra
Method
STEP 1 
Add the pork, prawn, white part of the spring onion, ginger, garlic, coriander stems, soy sauce, half the sesame oil and half the sugar in a large bowl. Add the pepper and salt. Mix well until the mixture is evenly combined.
STEP 2
Place 1 small spoonful of the pork mixture into the centre of 1 wonton wrapper. Use your finger to spread a little water along 2 edges of the wrapper. Fold the wrapper to enclose the filling and pinch the wet side to the dry side to seal it (when sealing the dumplings, press out all of the air from the centre of the dumpling). Once folded, choose what type of dumpling you'd like to make. You can fold the 2 ends and pinch together to get round dumplings, or crimp the top of the dumpling to get oval dumplings with a crimped top. Repeat this process with the remaining wrappers and pork mixture.
STEP 3 
Spread the sunflower oil over the base of a large non-stick frying pan. Add the dumplings to the pan, making sure they are spread evenly and sitting flat. Place the pan over medium-high heat and cook until the bases of the dumplings caramelise. Once the bases are golden brown, add 1/2 cup (125ml) water to the pan. Cover and allow the dumplings to steam for 2-3 mins or until cooked through.
STEP 4 
While the dumplings are cooking, combine the green part of the spring onion, black vinegar, chilli crisp or chilli oil, if using, the remaining sesame oil, the remaining sugar and the extra soy sauce.
STEP 5 
Serve the dumplings topped with the spicy dipping sauce and some coriander leaves.
Check ingredient labels to make sure they meet your specific dietary requirements and always consult a health professional before changing your diet. View dietary information here.