Michael Weldon's salmon and pea potato topped pie
Say hello to your new family favourite. This hearty pie is the perfect combination of crispy potato, salmon and peas.
Evening guys, Michael Wheldon here, back with another Coles What's for Dinner recipe for you to cook at home, and tonight it is my mashed potato topped salmon and pea pie.
The first thing we need to do is mash some potatoes. So I boiled these potatoes for about 15 minutes and then all I'm going to do is mash them. And the other thing I've done ahead of time, just melted a little bit of butter in some milk. We're going to add that into our potatoes.  Then we're going to change to a whisk and we're going to mix it with a whisk. 
Then we'll give it a little season with some sea salt. That can go to one side, just to cool down. We're going to make a bechamel sauce, so this sauce is the base. The first thing we're going to do is put 50 grams of butter into a pan. Now that the butters melted, I am going to add in the flour. Just add in my milk mixture, and you want to mix straight away until that thickens up. That's done.
The next step is just to fry off our veggies, we go in with just a bit of onion and carrot just to add those nice little bits of flavour and texture they give. And again, we'll keep cooking this just until that carrot softens down as well. Little pinch of salt in here now. We start adding all the ingredients into our bechamel, so, parsley and lemon zest. A nice pinch of sea salt. A good crack of black pepper. A couple of handfuls of frozen peas, about 200 grams, and we're looking pretty good.
I smell those onions, what we'll do is put these straight into our pot. We're just going to quickly mix all these ingredients together.
Now it's time for the star of our pie. The salmon, and all I want to do here is take the skin off and cut them into bite size pieces to put them into our pie. Just little bite sized pieces like that. And that is your pie base made. Super creamy, loads of veg, loads of salmon in there. Our beautiful mashed potato. Just little sprinkle of salt on top to bring out our flavour.
All right so this guy is ready for the oven, 200 degrees for about 25 to 30 minutes until the top is golden brown and crispy. That is of course my mashed potato topped salmon and pea pie.
Now not only is this guy absolutely delicious, he's a bargain! It's under 20 bucks for all these ingredient, so for a family of 4 you can feed your troops for less than 5 bucks each. Guys, this is What's for Dinner thank you for watching and happy eating!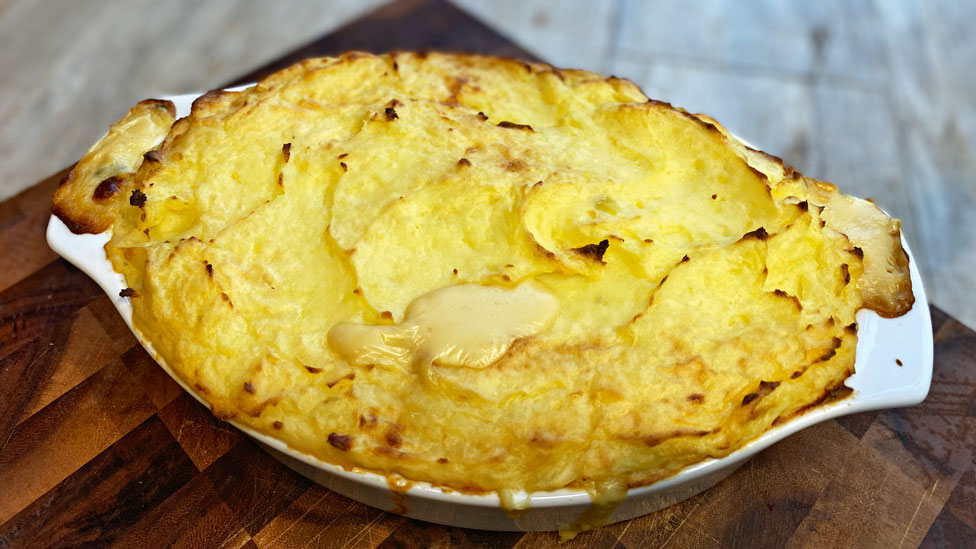 Ingredients
1kg white potatoes, peeled, quartered
3 cups (750ml) milk
75g butter
50g plain flour
1 tbs olive oil
1 brown onion, chopped
1 carrot, peeled, chopped
1/2 bunch flat-leaf parsley, chopped
1 lemon, rind finely grated
200g frozen peas
4 Coles Australian Salmon Portions Skin-On, skin removed, chopped
Method
STEP 1 
Preheat oven to 200˚C (180˚C fan-forced). Cook the potato in a large saucepan of boiling water for 15 mins or until tender. Drain well and return to the pan to steam for 1-2 mins.
STEP 2 
Meanwhile, heat 1 cup (250ml) milk and 25g butter in a small saucepan over medium heat until the butter melts.
STEP 3 
Use a potato masher or fork to roughly mash the potato. Add the butter mixture and mash to combine. Season with salt. Use a whisk to stir until smooth and well combined. 
STEP 4 
Melt the remaining butter in another large saucepan over medium-low heat. Add the flour and stir to combine. Cook, stirring, until the mixture starts to split and smell of toasted flour. Gradually add the remaining milk, in 4 batches, stirring until smooth before adding more. Cook, stirring, over medium heat for 5-8 mins or until the bechamel sauce thickens. Set aside to cool.
STEP 5 
Heat the oil in a large frying pan over medium-high heat. Add the onion and cook for 2-3 mins or until the onion softens. Add the carrot and cook for a further 1-2 mins or until the carrot is just tender. Season with salt. 
STEP 6 
Add the parsley, lemon rind, peas, onion mixture and salmon to the bechamel in the pan. Season with salt and pepper and stir to combine. 
STEP 7 
Transfer the salmon mixture to an ovenproof dish. Top with the mashed potato. Season. Bake for 25-30 mins or until the top is golden and crispy and the filling is heated through.
Check ingredient labels to make sure they meet your specific dietary requirements and always consult a health professional before changing your diet. View dietary information here.