Michael's creamy spinach spaghetti
This speedy spinach pasta is a great way to enjoy some extra greens this week. Sprinkle with toasted breadcrumbs for a crunchy finish.
Today's recipe is a quick and easy one when you need that midweek meal to feed the family. It's all about this beautiful baby spinach. We're gonna make a creamy spinach pasta.
The first thing we need to do is startcooking our pasta, so for four people one 500 gram pack of pasta will be perfect. We've got some rapidly boiling salted water here, and then you can grab your pasta, give it a little twist and chuck it into your water. Grab a pair of tongs to just give it a little mix.
Now while our pasta cooks, we're going to make a really fast sauce. So pan on, little drizzle of olive oil into our pan, just enough to coat the bottom, and then we're going to quickly dice an onion. It doesn't have to be too fine because we're going to blend this sauce.
By the time that's done our oil will be hot and ready to go. So our oil is hot, go in with our onion, and whenever I fry onion I always add a quick pinch of salt, just to help draw the sweetness out of it. Then I'm going to slice up some garlic, nice and fine.
Now the star of our dish todayare these beautiful baby spinach leaves. From the 28th of July through to the 7th of September 10 cents from every big pack value leaf mix sold at Coles will go towards the Stephanie Alexander Kitchen Garden Foundation, all the way up to $100 000, so it's a great reason to be cooking this spinach and it's a delicious product.
Once our onion and garlic have cooked down and softened a little bit, we're going to go in withour spinach. It looks like a lot but it's going to wilt down. It's what's going to make our sauce. So I'm going to go in with a handful to start with, we have a little bit more that we can add in once our spinach wilts down. I can just sort of fold my spinach through and another little tip you can do if you want to help your spinach wilt a little bit quicker, just grab a ladle and just go in with just half a ladle of your pasta water and that will just again help to sort of steam the spinach and wilt it down. Now I'm pretty happy togo in with the rest of our spinach.
Now that that's all wilted, we'll just give our pasta a little stir to make sure none of the noodles are sticking - breakthem up, and that is going to take about another five minutes to cook, so in that time we want to be ready with our sauce.
So, blender - you can use a stick blender, you can use a food processor - I'm going to go with a nice big jug blender and we're going to get all of our ingredients in there. Make sure we don't leave any of our onions or garlic in the pan. Into our blender we're going to add a couple of extra ingredients just to bring the flavour together.
A little bit of cream, some ricotta cheese, that'll get a really nice rich creaminess, and then I've just got some parmesan cheese here. I'm gonna grate some of that into our blender. Just a little pinch of chili flakes, just adds a nice warmth to the dish. So I'm gonna blitz this all up and this is going to be our sauce to coat that beautiful pasta.
All right, we're going to blend that until it's nice and smooth and you can see here a lovely bright green colour. I'm just going to turn the heat onto low. We'rejust going to warm this mixture up so that when the pasta comes out of the water and straight into our sauce they're both nice and warm.
Our pasta has been cooking for 11 minutes, it's ready to go. You can see our little creamy spinach sauce start to thicken up and warm through. All we're going to do is bring our sauce over to our pot of pasta and transfer our pasta straight from the water into our fry pan. We're going to fold our spaghetti through that bright vibrant green spinachy pasta. You can see there straight away. Some more parmesan, just to add a bit of extra cheesiness and saltiness to our dish and then for a little bit of freshness just some lemon zest.
You need a nice fine grater like this one to get little fine flecks of the lemon through there, and that'll pair really well with that beautiful spinach and that ricotta cheese in the sauce. One last fold through, and then we're pretty much done.
Nice big spoon of our bright vibrant green, creamy spinach spaghetti. So we're going to add a couple more things just to lift it. I've got some crunchy crispy fried breadcrumbs here, they're just going to go over the top. This is just some panko breadcrumbs I've just dry-fried in a pan so they go nice and golden and crunchy.
Then I've got some little baby bocconcini here, and I'm just goingto sprinkle these over the top and that hot pasta will melt these and give you a really nice stringy, smooth, cheesy dish. And then we'll finish it off with a little bit more parmesan and just a tiny bit of extra freshly grated lemon.
And there you have it, the perfect dish to warm you up now those cold winter months have set in. My creamy spinach spaghetti, don't forget to support the Stephanie Alexander Kitchen Garden Foundation, buy some of the beautiful baby spinach, it's time for you to start cooking and I'm gonna start eating. Thanks guys!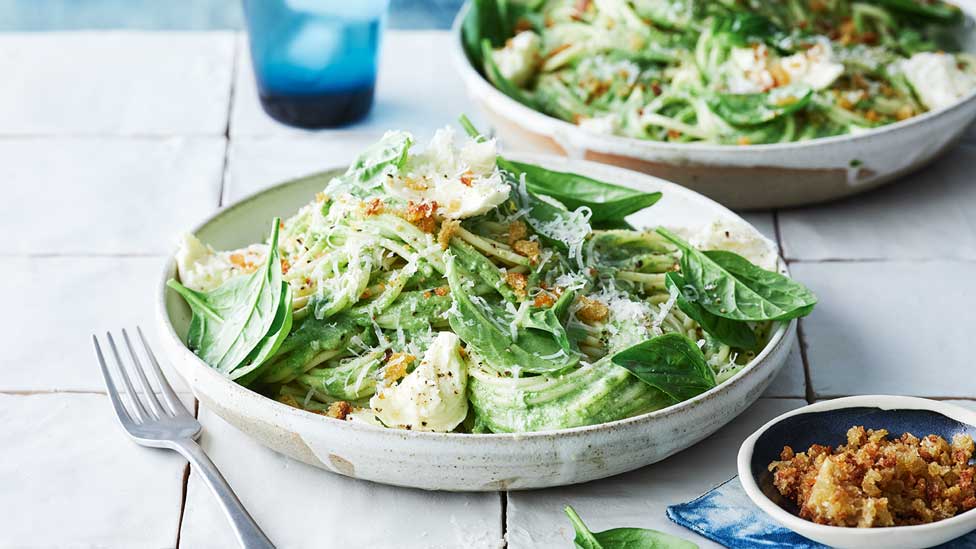 Ingredients
500g spaghetti
1 brown onion, finely chopped
3 garlic cloves, crushed
280g pkt Coles Australian Baby Spinach
1 cup (250ml) thickened cream
1/2 cup (120g) ricotta (from the deli), crumbled
1/2 tsp dried chilli flakes
1 lemon, rind finely grated, juiced
1/2 cup (40g) finely grated parmesan
1/2 cup bocconcini, torn
1/2 bunch basil, leaves picked
1/2 cup (35g) breadcrumbs, toasted
Method
STEP 1
Cook the spaghetti in a large saucepan of boiling water following packet directions or until al dente. Drain.
STEP 2
Meanwhile, heat a large greased frying pan over medium-high heat. Add the onion and cook, stirring, for 3 mins or until onion softens. Add the garlic and cook for 1 min or until aromatic. Add the spinach and remove from heat. Stir until the spinach wilts.
STEP 3
Place the spinach mixture, cream, ricotta, chilli, lemon rind, lemon juice and parmesan in a food processor. Process until smooth and bright green. Pour into the frying pan and place over low heat. Add the pasta and cook, tossing, until mixture is well combined and heated through.
STEP 4
Divide the pasta mixture among serving bowls. Top with bocconcini, basil leaves, extra parmesan and breadcrumbs.
Check ingredient labels to make sure they meet your specific dietary requirements and always consult a health professional before changing your diet. View dietary information here.