Mick and Jodie-Anne's chicken fajita
Get your Mexican fix tonight and try this mouth-watering chicken fajita. It's loaded with tasty spices and creamy guac.
MICK: G'day and welcome to another What's for Dinner segment brought to you by Coles.
JODIE-ANNE: We're Mick and Jodie-Anne from champagne food on a beer budget and tonight we're super proud to be cooking with Uncle Ben's 90 second Mexican style Rice to make our delicious, full of flavour chicken fajita's.

MICK: Alright let's show 'em how easy it is. So we're just gonna prep out capsicum and onions, nice long thin strips. 

JODIE-ANNE: So while Mick's getting this pan hot, I'm gonna start on this guacamole, now watch this guys, this is what we want you to do, onto the board.

MICK: You want a bit of that too?

JODIE-ANNE: Coriander will be magic, lime juice most important.

MICK: Just getting that ready for you, a little squeeze of lime juice in there.

JODIE-ANNE: All of that, all of that in there. Beautiful. Excellent, that's our guacamole done. So were gonna hook into this spice rub and it's all the flavours of Mexico which is exactly what we want. So the next step which we can do together, if you want to do the veggies you've done and I look after the chicken that I've done. We're going to add the seasoning.

MICK: Add seasoning and straight into a nice hot pan.

JODIE-ANNE: That's starting to look fabulous

MICK: Yeah, so we've left these veggies sit for 5 minutes.

JODIE-ANNE: Mexico here we come.   

MICK: I've just made ourselves a bit of a hole in the middle. 

JODIE-ANNE: So I'm gonna put the chicken in.

MICK: Alright, so same thing again, we're just gonna let that sit for a minute, before we add the next and final ingredients.

JODIE-ANNE: Absolutely which is our Uncle Bens Mexican style rice, now the thing with this stuff guys is we're gonna put it straight into the pan, cause it'll cook in the pan, it's already got it flavours, it's herbs, spices in the packet. But the other thing is….

MICK: Ninety seconds

JODIE-ANNE: In the microwave.

MICK: Microwave it for ninety seconds. Now we've actually done it that way in the past, but because we're doing a one dish, one pan wonder for ya, this, in ninety seconds, it's really good flavoursome rice.

JODIE-ANNE: Absolutely, not only is it quick, but it's flavoursome. Yay! I love that, look at that! Last thing you want to do is a little bit of coriander, if you like coriander, but defiantly a squeeze of lime. Well I think that looks fantastic.

MICK: Now for the fun part.

JODIE-ANNE: Absolutely

MICK: Now I want some Uncle Bens Rice

JODIE-ANNE: Yum

MICK: That's me.

JODIE-ANNE: So guys give this recipe a go, it serves four people.

MICK: For this and more great recipes, just head to the website.

JODIE-ANNE: Absolutely. Cheers to that.

MICK: Cheers.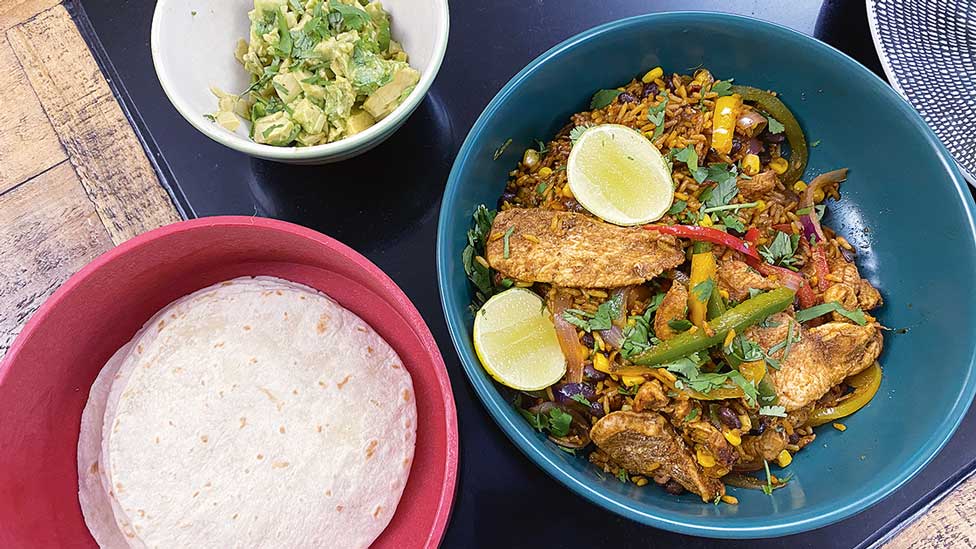 Ingredients
2 tsp smoked paprika
2 tsp ground coriander
2 tsp ground cumin
1 tsp chilli powder
1 large red onion, thinly sliced
1/2 small red capsicum, seeded, thinly sliced
1/2 small green capsicum, seeded, thinly sliced
1/2 small yellow capsicum, seeded, thinly sliced
1/3 cup (80ml) olive oil
1 large or 2 small chicken breast fillets (about 400g), thinly sliced into long strips
125g can black beans, rinsed, drained
125g can corn kernels, rinsed, drained
250g pkt Uncle Ben's Mexican Style Rice
1 lime, halved
Coriander leaves, to serve
8 tortilla wraps
Greek-style yoghurt, to serve
Greek-style yoghurt, to serve
Guacamole
1 large avocado, stoned, peeled, mashed
1/2 lime, juiced
2 tbs chopped coriander
Method
STEP 1 
Combine the paprika, ground coriander, ground cumin and the chilli powder in a small bowl. Place the onion, combined capsicum, half the oil and one-third of the spice mixture in a bowl. Toss to coat. Place the chicken in a separate bowl with the remaining spice mix and oil. Toss to coat.
STEP 2 
To make the guacamole, combine the avocado, lime juice and coriander in a small bowl. Season. 
STEP 3 
Heat a frying pan or chargrill over medium-high heat. Cook the capsicum mixture for 5 mins or until just softened. Push the capsicum mixture to the edges of the pan. Add the chicken and cook, stirring for 3-4 mins or until cooked through. Transfer the chicken mixture to a bowl.
STEP 4 
Add the black beans, corn and rice to the pan. Cook, stirring, for 2-3 mins or until combined and heated through. Return the chicken mixture to the pan and stir to combine. Transfer the rice mixture to a serving bowl. Squeeze lime halves over the rice mixture. Sprinkle with coriander leaves.
STEP 5
Heat the tortillas following packet directions. Divide among serving plates. Top with the rice mixture, guacamole and yoghurt. Serve with the lime cheeks. 
Tip: swap the chicken for 200g sliced mushrooms for a vegetarian option.

Check ingredient labels to make sure they meet your specific dietary requirements and always consult a health professional before changing your diet. View dietary information here.