Olive damper
This rustic damper loaded with olives and fresh oregano is a guaranteed crowd-pleaser. Serve it hot with butter for an irresistible starter dish.
Start by preheating the oven to 200 degrees celsius. Then line an ovenproof casserole pan with baking paper. Next combine the flour, polenta and half a cup of parmesan in a large bowl. Season with salt and pepper. Add the butter and use your fingertips to rub the butter into the flour mixture until it resembles fine breadcrumbs. Add the kalamata olives, green olives, rosemary and oregano to the flour mixture and stir until combined.
Then make a well in the center. Add the buttermilk and use a round bladed knife to stir until a soft sticky dough forms. Turn onto a well-floured surface and gently knead until just smooth. Shape the dough into a disc and place in the prepared pan. Use a small sharp knife to cut a criss-cross on the top of the dough. Then sprinkle evenly with the remaining parmesan.
Pop in the oven and bake for 45 minutes or until the loaf sounds hollow when tapped on top. Serve the damper warm or at room temperature with rosemary sprigs and oil. This tasty damper is packed with flavour and ideal for picnics or barbecues.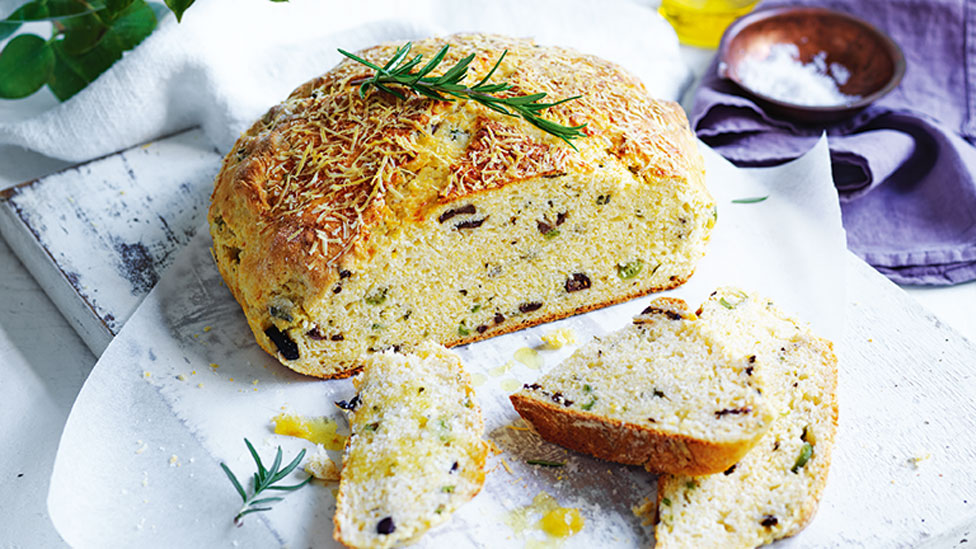 Note: + cooling & 5 mins standing time
Ingredients
3 cups (450g) self-raising flour
1/2 tsp salt
1 tsp caster sugar
75g butter, chilled, cubed
1 cup drained Green Valley Spanish black sliced olives
1 tbs chopped fresh oregano
1/2 cup (125ml) milk
Assorted dips, to serve
Method
STEP 1
Preheat oven to 180°C. Grease a baking tray. Line with baking paper. Combine the flour, salt and sugar in a bowl. Using your fingertips, rub the butter into the flour mixture until the mixture resembles fine breadcrumbs. Stir in the olives and oregano.
STEP 2
Add the milk and 1/2 cup (125ml) cold water to the flour mixture. Stir until the mixture forms a sticky dough, adding extra water if necessary. Turn the dough onto a lightly-floured surface. Knead until just smooth. Shape dough into a 20cm round. Place round on prepared tray.
STEP 3
Using a sharp knife, score the top of the damper into 8 wedges. Bake for 40 to 50 mins or until golden and hollow-sounding when tapped. Stand on tray for 5 mins. Remove to a wire rack to cool.
STEP 4
Serve damper with assorted dips.
Check ingredient labels to make sure they meet your specific dietary requirements and always consult a health professional before changing your diet. View dietary information here.