One-pan gnocchi alla norma
Looking for a simple dinner to try out this week? This delicious one-pan gnocchi alla Norma is loaded with veggies and rich flavour.
Ingredients
1/4 cup (60ml) olive oil
2 garlic cloves, crushed
1/4 cup (70g) tomato paste
2 tbs red wine vinegar
1 large eggplant, cut into 2cm pieces
400g red Perino tomatoes, halved
1/2 cup (125ml) hot vegetable stock
500g Coles Kitchen Potato Gnocchi
200g firm ricotta, crumbled
Finely grated parmesan, to serve
Basil leaves, to serve
Method
STEP 1
Preheat oven to 220°C. Combine the oil, garlic, tomato paste and vinegar in a roasting pan. Season. Add eggplant and half the tomato and toss to combine.
STEP 2
Bake, stirring occasionally, for 20-25 mins or until eggplant is golden and tender. Add the hot stock and gnocchi and bake for a further 5 mins or until the gnocchi is tender and the sauce is bubbling at the edges.
STEP 3
Stir in the remaining tomato and sprinkle with the ricotta. Season with pepper and sprinkle with the parmesan and basil to serve.
Swap me: For a flavour twist, try using Coles Kitchen Pumpkin Gnocchi instead of the potato gnocchi.
Collect KitchenAid Ovenware
Like the look of the Ovenware used in this recipe? Visit the link below to find out how you can collect your own KitchenAid Ovenware at Coles.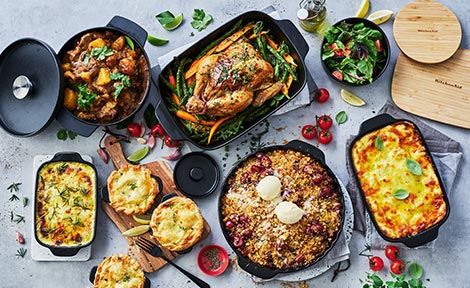 Check ingredient labels to make sure they meet your specific dietary requirements and always consult a health professional before changing your diet. View dietary information here.