One-pan pork with apples
This succulent pork cutlet and apple dish is a one-pan wonder that's done and dusted in just 25 minutes.
If you're like me, your non-stick frying pan is probably the pan that gets the most use in your kitchen. Especially if you don't want to use a lot of oil in your cooking. Non-stick pans can be delicate, so you want to make sure you get a good quality pan and know how to look after it.
The good news is you can now get an amazing set of non-stick fry pans at Coles in the new MasterChef Cookware range. And from now until the 13th of July 2021, every $20 you spend in one transaction, when you scan your Flybuys card, you'll earn one MasterChef Cookware credit.
Once you've earned enough credits, redeem your cookware in store. These pans are made from hardworking stainless steel with an aluminium core in the base, so they heat up quickly and evenly. They also have a triple layer reinforced Swiss crystal coating. The handle is not only heatproof but also lightweight, comfortable to hold and long enough to stay cool to the touch during stovetop cooking.
These pans are great on any cooktop, even induction and are oven-safe up to 200 degrees Celsius. They're easy to clean, just make sure you use a non-scratch scourer or a soft cloth to protect the surface. This MasterChef Cookware Fry Pan comes in two sizes: 20 centimetres and 26 centimetres.
Today I'm using the larger pan to make a delicious dish: one-pan pork with apples. To start, I'm making a quick mix for the pork with some paprika, cumin and some oil. Mix them together in a bowl, then add the pork cutlets and season with salt and pepper and just give them a turn to coat. Heat a little olive oil in the pan over a medium heat, and cook the onion and the apple for one to two minutes each side or until golden - they're looking perfect. I'm now going to pop these onto a tray and you can see I'm not using any metal utensils here as they can scratch the surface of the pan. Stick with wooden, silicone, nylon or plastic utensils.
Now we need to cook the pork for around two minutes each side, or until beautiful and golden brown. Put the pork on the same tray while we make the sauce. I'm going to add Dijon mustard and apple cider to the fry pan, but you could use apple juice. Bring it up to the boil and cook for two minutes or until the mixture reduces by about half. Then pour in the chicken stock and maple syrup and bring back up to the boil. Smelling amazing.
Now that's simmering, we can return the onion, the pork and the apples to the fry pan. Cook for a further two to three minutes or until the pork is cooked through. Then add in a few grinds of black pepper. With a finishing touch, I'm going to grab my small fry pan and fry up some fresh sage leaves. Heat some oil over medium high heat until it's nice and hot. For the sage, leave for around 30 seconds or until they're nice and crispy.
Just use some tongs to transfer them to a plate line with some paper towel. Then sprinkle them over the pork just before serving. So go on, add these fabulous fry pans to your kitchen collection and get this tasty dish on your table in just 25 minutes. Head to Coles and start collecting your MasterChef Cookware credits now.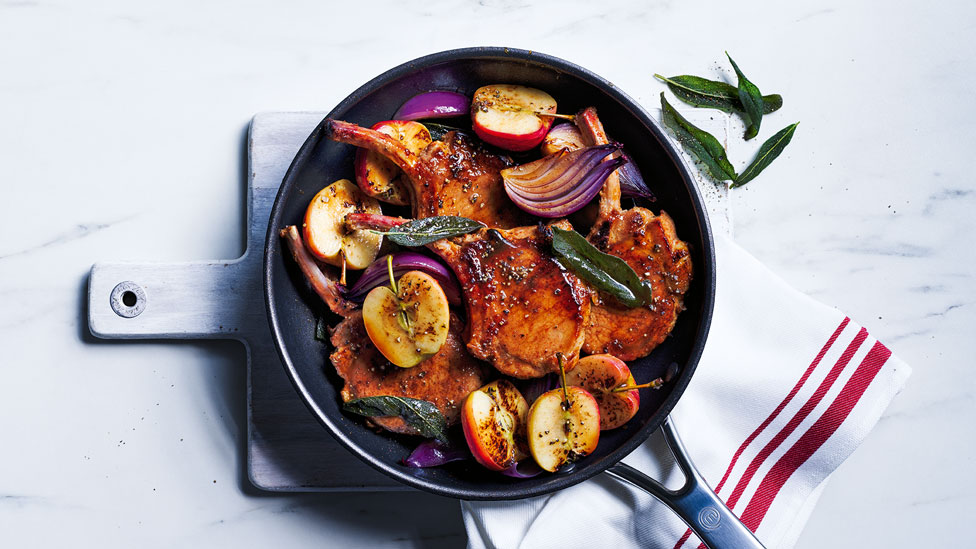 Ingredients
2 tsp ground paprika
1 tsp ground cumin
1 tbs olive oil
4 Coles Australian Pork Cutlets or Loin Chops
1 red onion, cut into wedges
4 small red apples, halved lengthways
1 tbs Dijon mustard
1/2 cup (125ml) apple cider or apple juice
1 cup (250ml) chicken stock
2 tbs maple syrup
Method
STEP 1
Combine paprika, cumin and half the oil in a bowl. Add pork and season. Toss to combine.
STEP 2
Heat remaining oil in a large frying pan over medium-high heat. Add onion and apple and cook for 1-2 mins each side or until golden. Transfer to a plate.
STEP 3
Cook the pork for 2 mins each side or until golden brown. Transfer to the plate with the onion and apple. Add the mustard to the pan with the apple cider or apple juice and bring to the boil. Cook for 2 mins or until mixture reduces by half. Add the stock and maple syrup and bring to the boil. Return onion, apple and pork to the pan. Cook for 2-3 mins or until pork is cooked through. Season with pepper.
Serve with fried sage leaves.
Waste wise
Only got pears in the fruit bowl? Use them here instead of apples – just cut into wedges before cooking
Check ingredient labels to make sure they meet your specific dietary requirements and always consult a health professional before changing your diet. View dietary information here.