Curtis Stone's pan-seared scotch fillet with creamed leeks
This tasty scotch fillet dish is full of seasonal flavours. Drizzled with a mustard sauce and served with creamed leeks, it takes pan-seared steak to the next level.
I don't know about you, but I love a good steak. Now this is my pan
seared scotch fillet with creamed leeks and horseradish sauce. When you
know how to cook a perfect steak, you'll always be able to put up a dish to
impress. All you have to do is start with quality ingredients. Throw
together some great-tasting side dishes, and you can't go wrong. I'll show
you how to make my pan-seared steak with creamed leeks and
horseradish, I think you're gonna absolutely love it. You want to get your
steaks out of the fridge well ahead of time. You can see I've put mine right
here. Let them come up to room temperature. With scotch fillets, you're
looking for a vibrant colour with white flecks of fat through the meat. It's
called marbling and it's going to render out as the steaks cook, keeping
the meat moist and juicy. The first thing I'm going to do is make a vinegar
reduction for the creamed leeks. You need a small pan, just like this one
right here. And I'm going to use half sherry vinegar and half white wine
vinegar to add to the pan and then I've got some shallots which I've finely
chopped, and some parsley stalks. Now we're gonna let that come up to
the boil. Of course, it's called a reduction for that reason, it's going to
reduce down over a medium-high heat until it's almost dry. To cook the
leeks, you melt the butter in a large, wide pan and then you go ahead
over a medium heat, add your leeks and season it with salt and pepper.
Now you want to saute the leeks for about 15 minutes or until they're
tender, but you want to do it without colour. You don't want them to
caramelise. The reason that you're reducing the vinegar, of course, is to
intensify the flavour because you end up with a lot less volume, but all
that beautiful, acidic flavour, so it really is very, very punchy. Now once it's
reduced down to absolutely nothing or a couple of teaspoons of liquid. Go
ahead, remove those parsley stalks. Take that reduction and add it to
your leeks but not before the leeks have sweat down, they're nice and
soft and there's no liquid left. Now, stir in the reduced shallot vinegar
mixture and then add the cream. So reduce it to a medium-low heat and
cook for about five to six minutes. It's going to thicken that cream. It'll just
coat the leeks. So once it's had five or six minutes, you remove it from the
heat. We're going to pop it down here on my trivet and then add just that
last little bit of butter. That's going to give it a perfect bit of richness. You
want to have a wire rack ready for resting the steaks. I stick it over an
oven tray just like this so they're not sitting in their juices while they're
resting. Alright, next, you want to get yourself these beautiful rib eyes, I
brush them with just a little bit of olive oil. The truth is that gorgeous
marbling will mean you don't need much oil at all, but I still just brush
them ever so lightly just like that. And then season them with some
coarse sea salt, and some freshly ground black pepper. Now be generous
because, of course, you're seasoning the steak on the outside. Don't
forget, it's impossible for you to season the inside of the steak. So make
sure you use plenty of salt and pepper. Okay, in a nice hot pan, now this
part's important, whether it's a cast-iron pan, non-stick, doesn't matter -
you can even go outside and do it on the barbie - but a medium to high
heat is essential because you want to get that beautiful seer. Okay, here
we go. The side that you seasoned, of course, is the side that goes into
the pan. And then we can season this side of the steak while it's cooking.
Now your steak should be caramelised on each side and for a medium-
rare, oh look at that, beautiful golden brown is exactly what you want.
Gorgeous. For medium-rare, there should be only a slight little resistance
when you press on the top of that steak. Once you've given the steaks
two or three minutes, go ahead and remove them. I literally take them
over to my resting rack here. Place your steaks on. And then with any of
that excess fat, you can go ahead straight over the top like so. Now you
can use the juices left in the pan to make your sauce and if the pan looks
dry, just add a teaspoon of oil. So take your shallots. They've been finely
chopped, give it a little shake around. Now because we've cut it nice and
fine, it'll only take about 30 seconds or a minute to soften. Stir in the beef
stock and the cream. Let it come up to a boil. There's my beef stock.
Once you add the cream and the beef stock, it's gonna simmer for about
three to four minutes then the sauce will have reduced by about a quarter.
Take it off the heat, stir in the horseradish cream, the mustard and the
thyme. All these flavours are a perfect match for the steak. My sauce is
almost there. The last thing I need to do for those leeks remember, is
chop that parsley. Now what do I do is I kind of roll it into a tight little ball,
just like this. Hold it nice and tight. And then you can slice straight on
through it with a nice sharp knife. Take your parsley, we're gonna add it to
our leeks. Stir that in. The moment we've all been waiting for - this steak
is going to be so good. Bring it over here that gorgeous scotch fillet, also
known as a rib eye. Now I always kept my steak straight through, oh look
at that. Perfect medium-rare. I mean, looking at this beautiful, perfectly
cooked steak. And you'll also notice there's no juice running all over my
cutting board. To me, that's really important because what we're getting,
you guys, is that perfect juice inside the steak. I can't even wait. I'm sorry,
forgive me. I just need to do it. I mean, you can just see how moist and
juicy the steak's gonna be. And then add this to the other guy. Just like
that. All that's left to do is serve this up to your friends or family, those
melted leeks with that beautiful creamy sauce. It is just so delicious.
You've got to love the classics, don't ya? Bon appetit, everyone. Don't
mind if I do. Oh yeah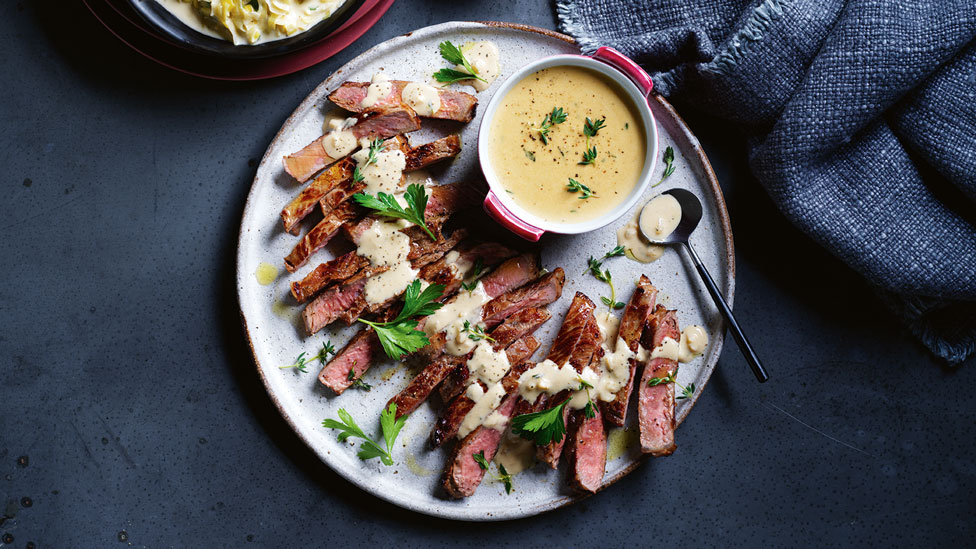 Ingredients
2 Coles Australian No Added Hormones Beef Scotch Fillet Steaks
1/4 cup (60ml) extra virgin olive oil, divided
2 tbs finely chopped shallots
3/4 cup (185ml) salt-reduced beef stock
1/4 cup (60ml) thickened cream
1 1/2 tbs horseradish cream
1 tsp Coles Dijon Mustard
1 tsp coarsely chopped thyme
Creamed leeks
1/2 cup (125ml) sherry vinegar
1/2 cup (125ml) white wine vinegar
5 flat-leaf parsley sprigs, stems and leaves separated, leaves thinly sliced
2 medium shallots, finely chopped
60g butter, divided
3 leeks, thinly sliced crossways
200ml thickened cream
Method
STEP 1
To make the creamed leeks, in a small saucepan over medium-high heat, place combined vinegar, parsley stems and shallots. Cook for 10 mins or until the liquid reduces to about 2 tsp. Discard parsley stems.
STEP 2
In a large saucepan over medium heat, melt 40g butter. Add the leeks and season with salt. Cook, stirring, for 8 mins or until tender and liquid has evaporated. Stir in the vinegar mixture and cream. Bring to a gentle simmer over medium-low heat. Cook, stirring, for 5-6 mins or until cream thickens and coats the leeks. Turn off heat. Stir in the remaining butter and season. Stir in the parsley leaves.
STEP 3
Meanwhile, place a wire rack over a rimmed baking tray. Coat steaks with 1 tbs oil and season generously. Heat a large heavy-based frying pan over medium-high heat. Add steaks and cook for 2-3 mins each side or until meat feels only slightly springy when touched with a fingertip for medium-rare doneness. Transfer the steaks to the wire rack and rest for 5 mins.
STEP 4
While the steaks are resting, place the frying pan with pan juices over low heat and add the remaining oil. Add the shallots and cook, stirring frequently, for 2 mins or until shallots are tender. Stir in the stock and cream. Simmer for 5 mins or until reduced by about one-quarter. Remove from heat. Stir in the horseradish cream, mustard and thyme. Season with salt and pepper.
STEP 5
Slice the steaks and serve with the creamed leeks and sauce.
Serve with thyme sprigs and flat-leaf parsley leaves.
Check ingredient labels to make sure they meet your specific dietary requirements and always consult a health professional before changing your diet. View dietary information here.