Courtney Roulston's pea and broccoli fritters with yoghurt
In need of some new lunch box ideas? Courtney Roulston's pea and broccoli fritters are here to save the day! Loaded with fetta and tasty green veg, they're guaranteed to be a hit with the kids.
Hi everyone, Courtney Roulston here.
If you're in need of some inspiration or some fresh ideas for the kids lunch boxes then I have got the perfect recipe.
My pea and broccoli fritters use really simple, affordable, everyday ingredients.
They're a cinch to make and I think your kids will love them.
The best thing about this recipe is that you can either prepare it ahead of time, you can cook a big batch and either have these in the fridge cold, ready to be eaten or to be reheated, or you can make the batter and simply have the batter sitting in the fridge and you can cook these fresh every day for either morning tea or afternoon tea.
Just grab yourself a mixing bowl, you'll need two cups of frozen peas for this recipe. And I've just blanched these, let them cool, one and a half cups of the peas goes into a blender and you just want to blitz this into a rough paste.
Then all you need to do is place the mushy peas into a bowl which contains the other half a cup of whole peas, and one cup of broccoli florets that I've just sliced up nice and fine.
So, pop in the mashed peas into the bowl. About two teaspoons of lemon zest. I've got two green spring onions that I've just sliced up, a quarter of a cup of milk.
I've got four free range eggs and I'm just gonna crack the eggs into the bowl.
Pop in a pinch of salt. Pop in one cup of self raising flour. And I've got 150 grams of fetta cheese. You could use any cheese that's in your fridge at home and just crumble that up.
Grab yourself a spoon and just give that a good mix until you've got a nice wet pancake-looking at batter.
When you're ready to cook the fritters all you need to do is heat a little bit of extra virgin olive oil into a pan that's on a nice medium heat.
I find it easiest to do these with two tablespoons and just grab some of the batter in one spoon and use the other spoon to just get that into the pan and you should be able to cook four or five off in a large pan all at once.
You'll notice some bubbles coming up around the outside and when the fritters puff up, they're ready to turn over and that's what you're looking for, nice and puffy and fluffy and a beautiful little bit of golden colour on the outside.
Cook them nice and gentle, they need about two or three minutes on each side to get them cooked through to the middle. Alright, our fritters are looking beautiful.
Take them out and pop them on a plate. Something to serve on the side with the fritters, I'm going to mix up a little yoghurt here so I've got some Greek yoghurt and I'm simply going to add into that some sliced up mint. I'm going to sweeten with a little bit of maple syrup or you could use some honey, a pinch of sea salt.
Just give that a mix and pop that into a serving dish and finish that with a little extra lemon zest and some extra virgin olive oil over the top and pop that on the side of the plate with the fritters.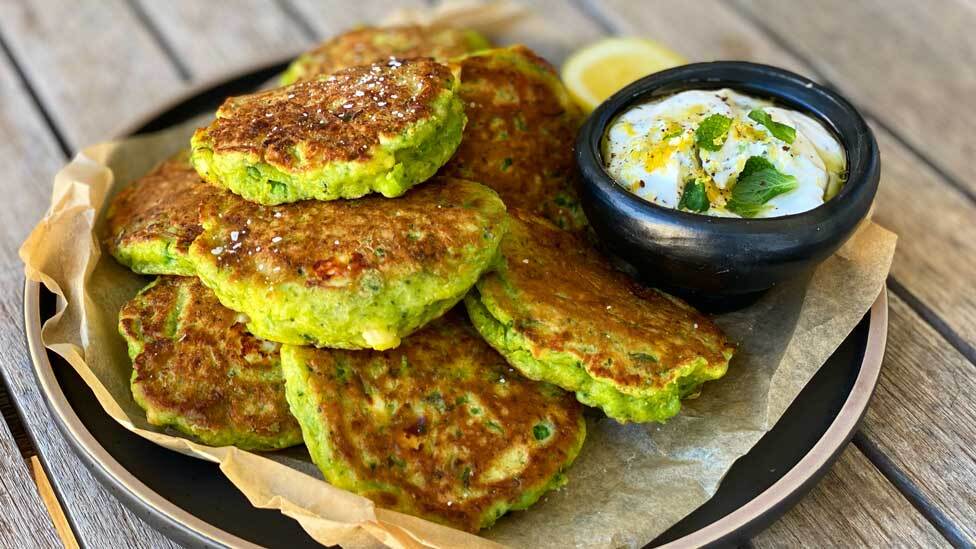 Ingredients
2 cups (240g) frozen baby peas, thawed
1 cup finely chopped broccoli florets
2 spring onions, thinly sliced
1 lemon, rind finely grated
4 Coles Australian Free Range Eggs, lightly whisked
1/4 cup (60ml) milk
1 cup (150g) self-raising flour
150g fetta, crumbled
2 tbs extra virgin olive oil
150g Greek-style yoghurt
1 tsp honey
2 tbs finely chopped mint
Extra virgin olive oil, extra, to drizzle
Lemon wedges, to serve
Method
STEP 1
Place three-quarters of the peas in a blender. Blend until almost smooth. Place the remaining whole peas in a bowl with the broccoli. Add the pea puree and stir to combine. Add the spring onion, 2 tsp lemon rind, eggs and milk and stir until well combined. Add the flour and gently fold until well combined. Add the fetta and fold to combine. Season.
STEP 2
Heat the oil in a large non-stick frying pan over medium heat. Add heaped tablespoons of the pea mixture to the pan and cook for 2-3 mins each side or until golden, crisp and slightly puffed. Transfer to a plate lined with paper towel. Repeat with the remaining pea mixture to make 20 fritters.
STEP 3
Whisk the yoghurt, honey and mint in a bowl. Top with remaining lemon rind and drizzle with a little extra oil.
STEP 4
Serve the fritters warm with the yoghurt mixture and lemon wedges.
Tip: The fritter mixture can be made ahead of time and either cooked fresh every day for up to 4 days, or the fritters can be cooked in one big batch on the weekend and eaten warm or at room temperature.
Check ingredient labels to make sure they meet your specific dietary requirements and always consult a health professional before changing your diet. View dietary information here.