Pork schnitzel with cheat's mash and gravy
Say hello to your new go-to family meal. This pork schnitzel is served with tasty mash and gravy - the ultimate winter combination.
You will need pork schnitzels, cheddar mash, carrots & beans, corn cobs and gravy to get this dinner on the table in 20 minutes.
First, preheat the oven to 220C. Then, line a baking tray with baking paper. Pop the pork on the tray. Bake for 16-18 minutes until the pork is golden and cooked through.
Meanwhile, prepare the cheddar mash. Pull back the plastic to halfway to allow the steam to escape and microwave for 4 minutes on high until hot. Allow to stand for 2 minutes. Then, pierce the packaging of the carrots and beans and microwave for 90 seconds or until cooked. Stand for 1 minute. Repeat with the corn, microwaving for 4 minutes. 
Microwave the gravy for 1 minute on high until hot, then stand for 1 minute.  Using a sharp knife, cut each corn cob into smaller pieces.
To serve, thickly slice the pork and serve with cheddar mash, carrots and beans and corn. Drizzle with gravy and season with salt and pepper. This no-fuss dinner is ideal for those busy weeknights. It's made with prepped veggies to save you time.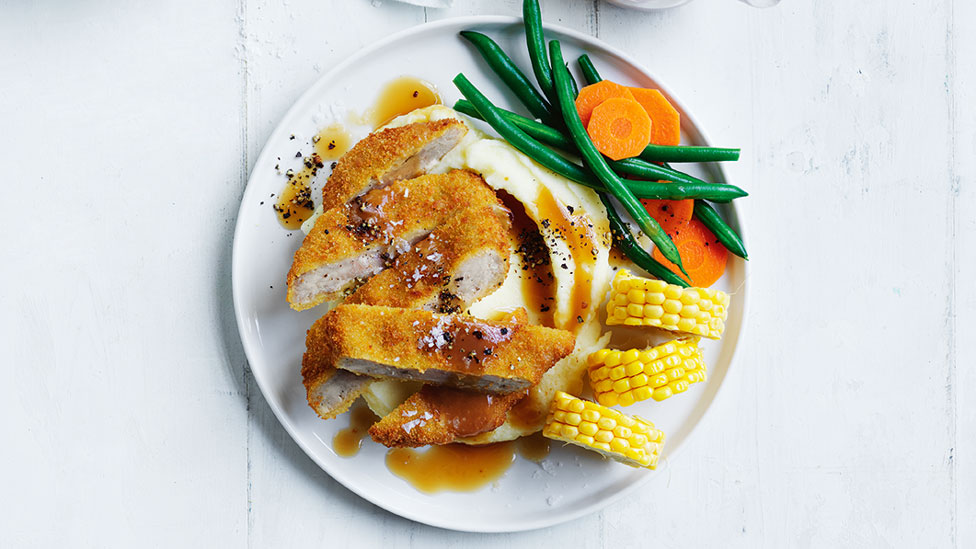 Ingredients
4 Coles Crumbed Pork Schnitzels
2 x 350g Coles Cheddar Mash
2 x 150g Coles Australian Carrots & Beans
Coles Australian Sweet Corn Cobs (4 pack)
200ml pkt Coles Roast Gravy
Method
STEP 1
Preheat oven to 220°C. Line a large baking tray with baking paper. Place the schnitzels on the lined tray. Bake for 16-18 mins or until golden and cooked through.
STEP 2 
Meanwhile, heat the mash following packet directions. Cook the carrots and beans following packet directions. Cook the corn following packet directions. Heat the gravy following packet directions. 
STEP 3 
Thickly slice the pork. Divide the pork, mash and vegetables among serving plates. Drizzle with the gravy and season to serve.
Check ingredient labels to make sure they meet your specific dietary requirements and always consult a health professional before changing your diet. View dietary information here.