Pumpkin and bacon quiche
Made with homemade shortcrust pastry, this pumpkin and bacon quiche will impress. Try it for a picnic lunch or al fresco dinner.
Note: + cooling & 45 mins resting time
Ingredients
1 tbs olive oil
1 leek, pale section only, thinly sliced
6 bacon rashers, excess fat trimmed, finely chopped
1 garlic clove, crushed
150g Kent pumpkin, thinly sliced
6 Coles Australian Free Range Eggs, lightly whisked
1 cup (250ml) thickened cream
1/2 cup 125ml) milk
1 spring onion, thinly sliced
2 tbs chopped sage
1/2 cup (60g) shredded tasty cheddar
Fried sage leaves, to serve
Shortcrust pastry
1 1/2 cups (225g) plain flour
125g butter, chopped
2 Coles Australian Free Range Egg yolks
3 tsp chilled water
Method
STEP 1
To make the shortcrust pastry, place the flour and butter in a food processor. Process until fine crumbs form. Add the egg yolks and water. Process until dough just comes together. Turn onto a lightly floured surface and gently knead until smooth. Shape into a disc and cover with plastic wrap. Place in the fridge for 30 mins to rest. 
STEP 2
Preheat oven to 200°C. Roll out pastry between 2 sheets of baking paper to a 3mm-thick disc. Line the 29cm KitchenAid pie dish with pastry, trimming excess. Use excess pastry to fill in any cracks. Place in the fridge for 15 mins to rest. 
STEP 3
Line pastry with baking paper and fill with pastry weights or rice. Bake for 10 mins. Remove paper and weights or rice. Bake for 8-10 mins or until pastry is light golden. Reduce oven to 180°C. 
STEP 4
Meanwhile, heat the oil in a medium frying pan over low heat. Add the leek, bacon and garlic and cook, stirring, for 5 mins or until light golden. Set aside to cool slightly.
STEP 5
Place the pumpkin in a small microwave-safe bowl. Cover and cook in the microwave on high for 2 mins or until just tender. Cool slightly.
STEP 6
Whisk the egg, cream, milk, spring onion and chopped sage in a jug. Season. Arrange the leek mixture and cheese over the pastry case. Pour over the egg mixture. Top with pumpkin. Bake for 45-50 mins or until quiche is just set. 
STEP 7
Sprinkle quiche with fried sage leaves to serve.
Collect KitchenAid Ovenware
Like the look of the Ovenware used in this recipe? Visit the link below to find out how you can collect your own KitchenAid Ovenware at Coles.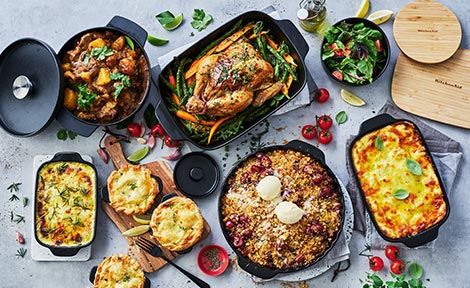 Check ingredient labels to make sure they meet your specific dietary requirements and always consult a health professional before changing your diet. View dietary information here.