Rainbow devilled eggs
These rainbow devilled eggs make the perfect Harry Potter themed party starter or side. A fun twist on the classic, this colourful recipe is sure to be a hit with the kids.
Note: + 30 mins soaking time
Ingredients
12 Coles Australian Free Range Eggs
Red, blue and teal liquid or gel food colouring
1/4 cup (60ml) white vinegar
1/3 cup (100g) reduced-fat mayonnaise
2 tsp curry powder
1 Lebanese cucumber, seeded, finely chopped
2 tbs finely chopped chives
Method
STEP 1
Cook the eggs in a large saucepan of boiling water for 10 mins or until hard-boiled. Refresh under cold water.
STEP 2
Fill a bowl with cold water. Use the red and blue food colouring to tint the water purple. Add 1 tbs vinegar. Use the back of a spoon to crack the shells of 4 eggs. Place in the water to soak. Repeat in separate bowls with red and teal food colouring, remaining vinegar and remaining eggs. Soak for 30 mins.
STEP 3
Drain the eggs. Remove and discard the shells. Carefully cut each egg in half. Use a teaspoon to carefully scoop the egg yolk into a medium bowl. Place egg white halves on a serving platter.
STEP 4
Add mayonnaise, curry powder, half the cucumber and half the chives to the egg yolks. Use a wooden spoon to stir until smooth. Place in a piping bag fitted with a 2cm plain nozzle. Pipe into the centre of the egg white halves. Sprinkle with remaining cucumber and chives. 
Discover Coles Magical Builders
Take your party to the next level with Coles Magical Builders. From Harry to Hermione, discover all your favourite Wizarding World characters in the link below.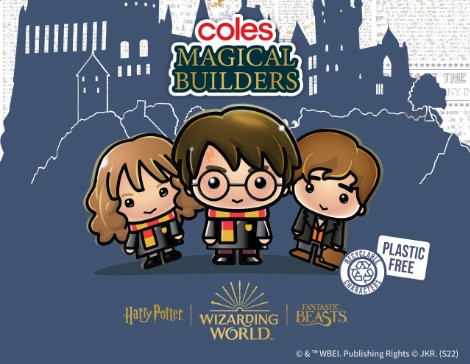 Check ingredient labels to make sure they meet your specific dietary requirements and always consult a health professional before changing your diet. View dietary information here.