Simple satay chicken stir-fry
Create an Asian-inspired masterpiece using just four simple ingredients. This satay chicken stir-fry is a wholesome dinner option to have up your sleeve on a busy weeknight.
Hi guys, Courtney Roulston here now if you're someone who loves the idea of quick and easy dinners then Coles has you covered with over 80 specially designed simple and speedy What's For Dinner recipes. All of these recipes are 5 ingredients or less. They're ready in a flash, under 30 minutes to be precise and they are perfect for people who want tasty and stress free, midweek dinners.
On tonight's menu is this simple satay chicken stir fry so let's cook. 
Alright the ingredients you'll need for tonights recipe is a packet of the Coles Asia Hokkien Noodles. 500g of Chicken Breast. We've got a packet of the traditional stir fry mix. And we've got some of the Coles Satay Simmer Sauce. 

Alright the first thing we need to do is to slice up our chicken breast. Nice and thin it's going to mean it cooks really quickly. 

I've got my wok nice and hot here I'm going in with some extra virgin olive oil. The key to a good stir fry is to have your wok piping hot. I'm going to cook the chicken in batches and this is going to mean we won't get any kind of stewing or liquid coming out. While the chickens resting we can prepare the noodles. 

So I've got 400g of hokkien noodles and these are just going in to some warm water for a couple of minutes. Alright now just drain the hokkien noodles. 

Wok back on the heat get it nice and hot and we can go in with our stir fry mix. So this is a great mix: broccoli, baby corn, carrots, there's some red carrots and onion in there. No chopping. No stress. 

Alright our chicken can go back just to warm through. I'm going in with our hokkien noodles that are still warm.
Alright the final ingredient to go in, this happens so quick this recipe, we've got our Coles Satay Simmer Sauce So this is spiked with loads of spices, some coconut, there's a little bit of chilli in there. It's nice and thick and it's got that beautiful peanutty, satay flavour that we love. And this just needs to warm through. 

For more really easy dinner ideas make sure you check out a copy of this months Coles July magazine for a full months worth of recipe ideas. 

Alright such an easy recipe. There we have it dinner for the whole family ready in about 15 minutes. That is the simple satay chicken stir fry if you like the look of tonights recipe you can find this and many more over at Coles.com.au. Or why not sign up to the Coles digital catalogue for new recipes every week. 

So much quicker than dialling in a take away. I'll see you next Wednesday!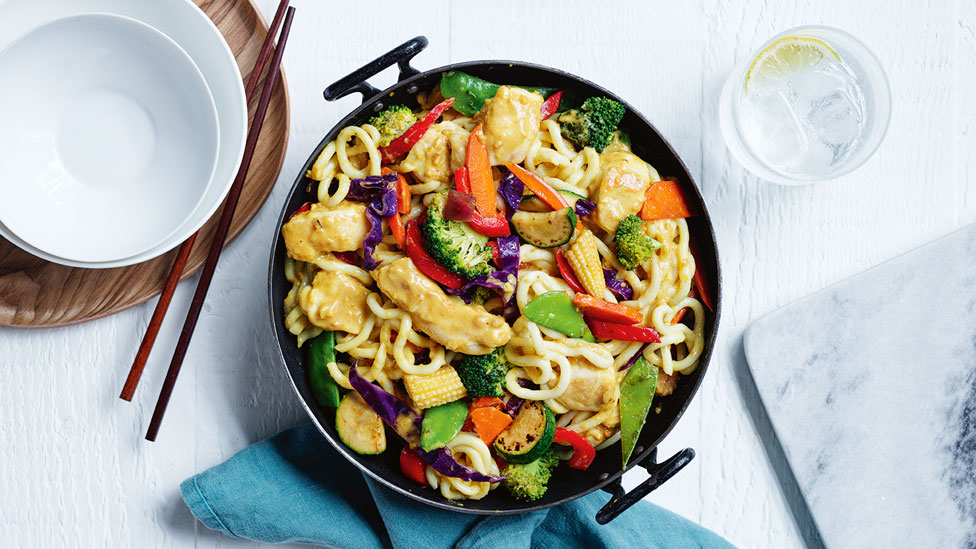 Ingredients
1 small pkt Coles Australian RSPCA Approved Chicken Breast Fillets, cut into 3cm pieces
350g pkt Coles Australian Traditional Stir-Fry
3/4 cup (180g) Coles Satay Simmer Sauce
2 x 200g pkts Coles Asia hokkien noodles
Method
STEP 1
Heat a large greased wok or frying pan over high heat. Stir-fry half the chicken for 5 mins or until cooked through. Transfer to a heatproof bowl. Repeat with the remaining chicken.
STEP 2 
Return chicken to the wok or pan with the vegetables. Stir-fry for 2 mins or until the vegetables are just tender. Add the simmer sauce and stir-fry for 1 min or until heated through. 
STEP 3 
Meanwhile, cook the noodles following packet directions. Drain.
STEP 4 
Divide the noodles and chicken mixture among serving bowls. 
Check ingredient labels to make sure they meet your specific dietary requirements and always consult a health professional before changing your diet. View dietary information here.