Shannon Martinez's mapo tofu
Bring fiery flavour to the table with this meat-free meal from Shannon Martinez. Shannon's mapo tofu is loaded with great-tasting traditional Asian flavours.
Hello everyone. Shannon from Smith and Daughters here again and tonight I'll be showing you one of my all-time favourite recipes to make. 
It's Mapo Tofu. 

A recipe that's in my upcoming book to be released at the end of this year. So I'm letting you all in on a little secret. 

Let's start off with our first round of ingredients. We'll start with tofu. My secret ingredient here is the Alternative Meat Co's plant-based mince. But if you can't find this another veggie mince or meat mince will do. Now this is black fungus it comes in a dried form. Once you soak it you end up with this incredible stuff. Here's some spring Onions, ginger, garlic and toasted szechuan peppercorns that I've ground up.

So cut your tofu into roughly 2x2cm squares and have it ready in the bowl along with your ginger, spring onions and your garlic mixture. 

Okay our wok is smoking hot. To this we are going to add a generous amount of vegetable oil and plant based mince. 

To that we are going to add our ginger, spring onion and garlic mixture. Give it a toss through.

Then I'm going to throw in our black fungus. Give it another 30 seconds and then it's time to add our sauces. 

Okay first off, fermented chilli bean paste, straight in. Our black beans, straight in. Add shaoxing wine and our soy sauce. 

And once all your sauces are combined add 600mls of stock and bring this bad boy up to the boil. 

Now once your mixture has come to the boil we are going to add our drained tofu, straight in. Let's turn down the heat to a medium simmer and let that sit and cook for about 10 minutes. 

So to finish off our dish I have added a splash of corn starch mixed with cold water. Our Szechuan peppercorns, our Szechuan chilli oil and those green spring onion tops that were reserved from earlier. 

And there you have it guys my vegan Mapo Tofu. 

Ready in under half an hour. Now I love to serve this with some steamed rice and top it with some fresh coriander. 

I hope you enjoy it as much as I do and don't forget stay safe, stay healthy, see you next time guys. Bye!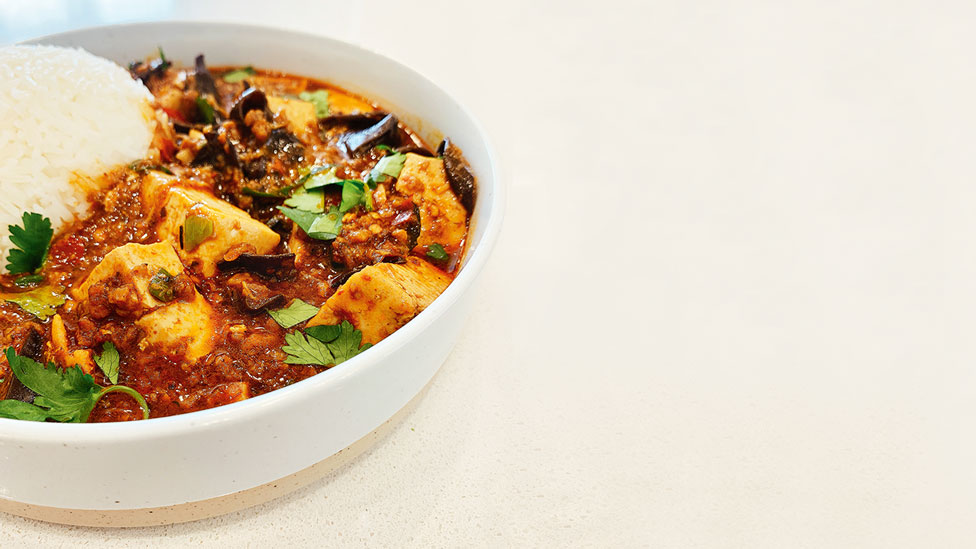 Ingredients
500g medium-firm tofu, cut into 2cm cubes
1/4 cup (60ml) vegetable oil
200g The Alternative Meat Co. Plant Based Mince or soaked textured vegetable protein
30g ginger, peeled, very thinly sliced
4 garlic cloves (about 20g), minced
3 spring onions, sliced, green and white parts separated
25g black fungus or dried mushrooms, soaked, sliced
2 tbs doubanjiang (spicy fermented broad bean paste)
1 tbs douchi (fermented black bean paste)
2 tbs shaoxing wine (Chinese cooking wine)
600ml vegan chicken or vegetable stock
2 tbs light soy sauce
1 tbs corn flour
1 handful coriander, chopped
1/4 cup (60ml) Sichuan chilli oil
Steamed rice, to serve
Method
STEP 1
Place tofu in a bowl with a pinch of salt and carefully cover with boiling water. Allow to stand.

STEP 2
Meanwhile, heat the vegetable oil in a wok or large frying pan over high heat. Add the plant-based mince or textured vegetable protein. Cook, breaking up any lumps with a spoon, over medium-high heat for 2-3 mins or until slightly golden. Add the ginger, garlic and white part of the spring onion. Stir-fry for about 1 min or until the ginger and garlic begin to turn slightly golden. Add the black fungus or dried mushrooms. Toss to combine. Add the doubanjiang and douchi and stir-fry for 30 secs, making sure everything is evenly coated, then deglaze with the shaoxing wine.
STEP 3
Add the stock and soy sauce and bring to the boil. Once boiling, turn heat down to a simmer. Drain the tofu, then very carefully slide it into the wok or pan. Gently stir to combine. Allow to simmer over low heat for 10 mins. 
STEP 4
Combine the corn flour with 4 tbs water in a small bowl. Add the cornflour mixture to the wok or pan and stir to combine. Cook over low heat until the sauce thickens slightly. Add the coriander and Sichuan oil. Stir to combine.
STEP 5
Divide among serving bowls and garnish with the green part of the spring onion. Serve with steamed rice.
Check ingredient labels to make sure they meet your specific dietary requirements and always consult a health professional before changing your diet. View dietary information here.