Shannon Martinez's vegan chocolate mousse
Craving something sweet? This vegan chocolate mousse will hit the spot. It's rich, creamy and hard to resist.
Hello everyone, Shannon from Smith & Daughters here and tonight I'll be showing you how to make a super easy chocolate mousse using a very unusual ingredient. Now this is being a bit of a vegan hack for a while now but for those of you that don't know, we'll be using the liquid from the can of chickpeas. Now that's called aquafaba and it's an amazing replacement for egg whites. Let me show you exactly how this stuff works. 
Okay now to begin, strain off the chickpeas and what you want here is the liquid that is saved in the bowl. 
Once we have our chickpea liquid or aquafaba, we will add a little shake of citric acid and let's get whipping. 
What we are going to be doing is beating the aquafaba on high for three to five minutes until we get stick peaks, what you're left with is this [shows bowl of whipped aquafaba]. I bet you wouldn't believe it unless you had just seen it that this has not come from eggs but from a can of chickpeas. Now this is such a perfect replacement for eggs for anyone who's on a vegan diet or is allergic to eggs for any reason. This is a life saver. Now just like with a traditional meringue, we will be slowly incorporating into our aquafaba until it's all dissolved and we have beautiful thick shiny meringue. 
Now we are melting the chocolate over double boiler which is simply a saucepan and the bowl, a little bit of water underneath. You want to make sure that the bowl isn't touching the water. This creates a gentle heat, so while the chocolate is melting we will add some nuttelex or whatever butter you have and some ground cinnamon. But at this point feel free to add whatever spices you like, this is up to you completely as to how you like to flavour this. I will also add a pinch of salt at this point. Chocolate and salt are the best of friends. And we will be adding this to our meringue. 
Now once you have your meringue and chocolate fully incorporated you end up with this beautiful sliky mousse. Once you've poured into your serving dish, it's into the fridge for a minimum of half an hour to frim up and then garnish it however you like. Fresh berries, whipped cream, grated chocolate, that part is completely up to you. This is a perfect egg free dessert welcome to the world of aquafaba, everybody I hope you get into it it's really fun and such a cool project to do. 
I hope you are all staying safe and healthy, have a great night guys bye bye.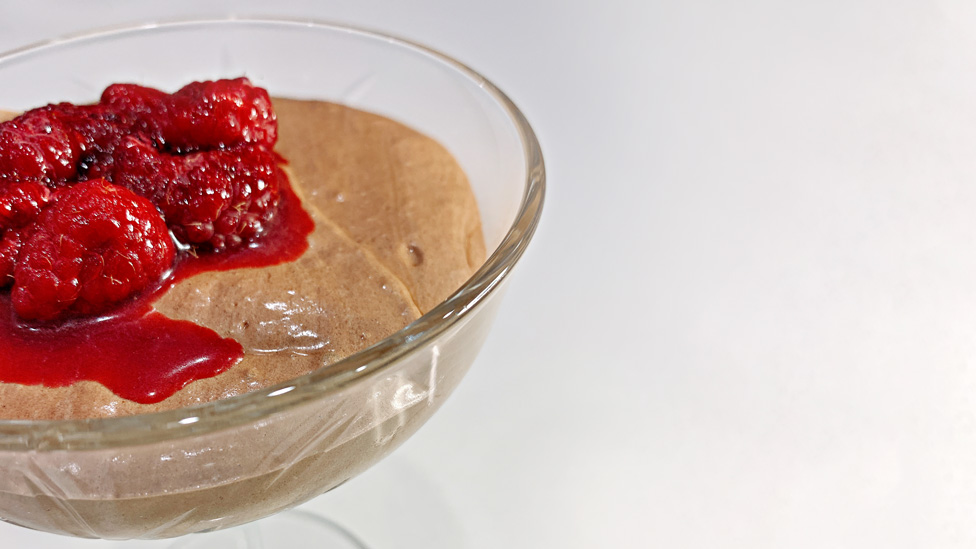 Note: + 30 min chilling time
Ingredients
400g can chickpeas
Pinch of citric acid
200g caster sugar
200g dark chocolate, chopped
50g Nuttelex or butter
1/2 tsp ground cinnamon
Pinch of salt
Raspberries, to serve
Grated chocolate, to serve
Method
STEP 1 
Drain the chickpeas, reserving the liquid in a large bowl. Store the chickpeas in an airtight container in the fridge for up to 2 days. Add the citric acid to the bowl and use an electric mixer to whisk for 3-5 mins or until firm peaks form. Slowly add the sugar, whisking to combine, until the sugar dissolves and mixture is thick and glossy.
STEP 2
Place the chocolate, Nuttelex or butter, cinnamon and salt in a heatproof bowl over a saucepan of simmering water (make sure the bowl doesn't touch the water). Stir with a metal spoon for 3-4 mins or until the chocolate melts and the mixture is smooth and combined.
STEP 3 
Add the chocolate mixture to the meringue mixture in the bowl and use a large metal spoon to gently fold until combined. Spoon the mousse evenly among serving glasses. Place in the fridge for 30 mins or until to set.
STEP 4 
Top chocolate mousse with raspberries and grated chocolate to serve.
Check ingredient labels to make sure they meet your specific dietary requirements and always consult a health professional before changing your diet. View dietary information here.