Sri Lankan Style Spiced Coconut Slow Cooked Beef & Potato Curry
This tender beef curry is loaded with flavour. It's cooked to perfection in the slow cooker, so all the hard work is done for you.
Hey guys, it's Dani Venn here. I'm thrilled to welcome you to my kitchen and to share with you some of my hot little tips and tricks on how to use my new Sri Lankan-style spiced coconut curry simmer sauce. I also love using this in the slow cooker in the cooler months.
So I do want to show you how to use my sauce, using your slow cooker or your pressure cooker for a really simple but totally delicious family-friendly meal. So I'm just gonna use some chuck steak here today. I'm just going to dice it up and just cook it low and slow until it's really nice and tender. I've also got 500 grams of veg.
Now you can use whatever you like. This is a great recipe to use what you might have in the fridge that needs cooking. I love using waxy baby potatoes because they hold up really well in a slow cooker. I've got some carrots and also eggplant.
Now, depending on the size of your pot or pressure cooker, I usually use just one jar for my family, but you might want to use two jars if you've got more mouths to feed. Alright, so give it a little stir, pop your lid on, and then I'm going to slow cook this anywhere between four to eight hours depending on the temperature that you're using.
If you are using a pressure cooker, about 45 minutes and it will be done. The curry looks absolutely perfect. I love to finish it off with coriander. For now, this is dinner sorted.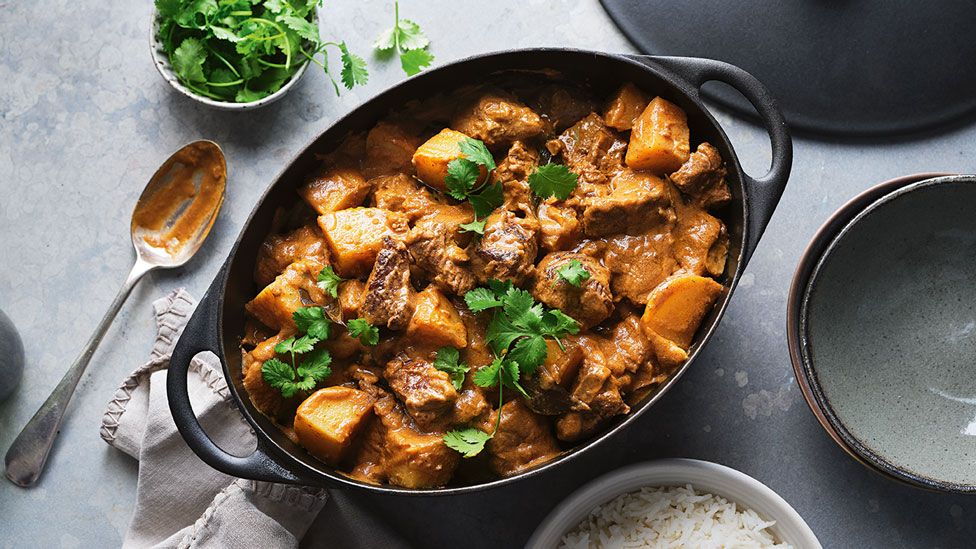 Ingredients
1 tbs coconut oil
800g Coles Australian No Added Hormones Beef Chuck Steak or Gravy Beef, cut in 3cm pieces
500g waxy potatoes (such as Red Royale or kipfler potatoes), coarsely chopped
500g jar Coles Sri Lankan Style Spiced Coconut Curry by Dani Venn
Steamed basmati rice, to serve
Coriander leaves, to serve
Method
STEP 1
Heat the oil in a large frying pan over high heat. Cook the beef, in 3 batches, stirring, for 5 mins or until brown all over. Transfer to a slow cooker.
STEP 2
Add the potato and curry sauce to the slow cooker and stir to combine. Cover and cook for 4 hours on low or until the beef is tender. Season.
STEP 3
Serve curry with rice and coriander.
Check ingredient labels to make sure they meet your specific dietary requirements and always consult a health professional before changing your diet. View dietary information here.