Slow-roasted lime and ginger pork shoulder
For a show-stopping main, try this delicious pork shoulder dish. It's perfectly tender and infused with fresh Asian flavours.
Hey everybody, I'm Courtney Roulston and welcome to Homemade with Coles. The recipe I'll be making today is a slow-roasted lime and ginger pork shoulder. It's meltingly tender roast, I give it a little twist up with some aromatic Asian flavours. I've picked up my fight MND branded piece of pork at Coles, and this is a two and a half kilo piece of pork so roughly around an hour for every kilo of pork. So this is going to take about two and a half hours to cook and I've got a roasting tray here I'm going to pop it into.
I'm just going to remove the knitting because I think the honey and everything's going to get stuck in it so I'm taking that off. Okay so for our lime and ginger marinade I've got about a quarter of a cup of honey in my bowl here and I'm going to add into that some fresh ginger, so I'm just going to use my little microplane. I've got a couple of cloves of garlic and seeing as I've got the microplane out already I'm just going to grate the garlic in as well, you could just finely chop this if you liked. Alright that's the garlic grated. I'm now going in with two tablespoons of Worcestershire sauce it's a really nice background flavour and I've also got two tablespoons of soy sauce, this is going to add our beautiful seasoning some saltiness to go with that sweet pork. We need some lime as well, it wouldn't be lime and ginger without some lime.
So I'm just going to squeeze some lime cheeks in, just going to give this a mix to work that honey through everything. All right that looks all nice and mixed through.
All right really simply this is just going to get spooned over our pork shoulder, we're just going to pop this in the oven and it's just going to do its thing for a couple of hours. Make sure all the pork is covered in that lime and ginger marinade. All right smelling good already! All right all we need to do is cover it now, so I've got some baking paper and this is just going to help to stop our foil from sticking and we want to seal this really well with some aluminium foil. Just make sure it's all nice and tight, you don't any air getting and then we want to create nice little oven for that pork to cook slowly away.
All right super simple, my oven inside is set at 160 degrees I'm going to give this two and a half hours and then we have a little sneak peek and see how it's going. All right let's have a little look at our pork, it's had two and a half hours in the oven and he is smelling so good in our house You can just test it there and I can see that's just going to pull apart very easily look at that really super tender. All right I'm going to pop this back into the oven for 30 minutes just to get a bit of colour on the outside and just to reduce that liquid down slightly and that gives us time to do our rice and our bok choy.
All right steamed rice to go with our beautiful pull apart pork. I've got one and a half cups of water on the boil in our little pot and I'm going in with the cup of rice into the one and a half cups of boiling water, you just want to bring this up to the boil and leave it uncovered until all the water has evaporated. Now we're going to pop the lid on and just let it steam for around 15 minutes, have a little look we'll just show you fluffy beautiful rice that's just going to absolutely soak up all of that lime and ginger pork liquid. So we'll just set this aside with the lid on. All right we need some greens to complete the picture so I've got some beautiful fresh bok choy here, slice these in half and these will literally take seconds in a hot pan. A couple of drops of sesame oil and these are literally going to go in around 2 minutes maximum. I'm just going to put on a little dash of water to help steam them. While they're cooking we can slice up a bit of chili, I love a bit of fire especially in Asian recipes. So I'm just going to sprinkle this over the top of our pork.
Alright I've collected the pork from the oven, look at that it's got all that beautiful kind of char siew stickiness that you see in Chinese barbecue shops. Absolutely beautiful, give it a final glazing with our lime and ginger, look at that a little bit of crusty burnt brown bits on the outside, beautiful stringy promise you meltingly tender pork and that is just meltingly tender. All right at the risk of this whole entire pork piece falling apart I'm going to transfer it onto a serving platter. It's so soft, there's a few bits that we pulled off already, spoon some of that beautiful fluffy rice. All right I have gorgeous steamed bright green bok choy to complete our picture. I absolutely love chili so I'm going to scatter some of that over and I'm just going to scatter some coriander over. It's absolutely comfort food at its finest.
Slow roasted lime and ginger pork shoulder with all of the trimmings.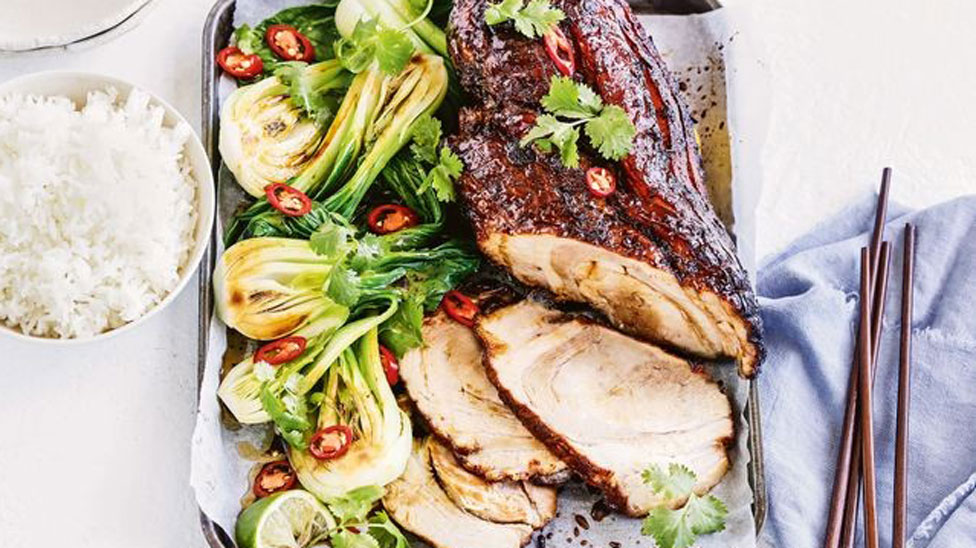 Ingredients
2kg Coles Australian Pork Shoulder Roast Boneless
2 tablespoons soy sauce
2 tablespoons Worcestershire sauce
1/4 cup (60ml) honey
1 tablespoon finely grated ginger
2 garlic cloves, crushed
Steamed pak choy, to serve
Coriander leaves, to serve
Thinly sliced red chilli, to serve (optional)
Steamed rice, to serve (see tip below)
Lime wedges, to serve
Method
STEP 1 
Preheat oven to 160°C. Place the pork in a roasting pan. Combine the soy sauce, Worcestershire sauce, honey, lime juice, ginger and garlic in a bowl. Pour over pork and turn to coat. Cover pan tightly with foil.
STEP 2 
Roast for 2 1/2 hours or until pork is very tender. Uncover and baste pork with pan juices. Roast, uncovered, for 30 mins or until pork is caramelised and cooked through. Cover and set aside for 10 mins to rest.
STEP 3 
Arrange pork and pak choy on a serving platter. Drizzle with any pan juices and sprinkle with coriander and chilli, if using. Serve with rice and lime wedges.
Check ingredient labels to make sure they meet your specific dietary requirements and always consult a health professional before changing your diet. View dietary information here.