Smitten apple crumble pies
Made with sugar, spice and Smitten apples, these apple crumble pies are the ultimate autumn dessert. With a delicious crumble topping, they'll go down a treat.
Hi guys, Michael Weldon here. Back with another recipe for you to cook at home. Today's recipe is all about these beautiful Smitten apples and Coles supermarkets' partnership with the Stephanie Alexander Kitchen Garden Foundation.
From the 17th of March, 30 cents from each kilo of Smitten apples sold, all the way up until $75,000 is raised, will go towards the Stephanie Alexander Kitchen Garden Foundation and helping kids make better meal choices, learn more about gardening and growing their own vegetables and also cooking, so you can have happier, healthier kids. 
So what we're going to make with these beautiful apples is a combination of my two favourite apple dishes. Apple pie and apple crumble. So I call them my mini apple crumble pies. So, instead of putting pastry on top of our pies, we're just gonna put it on the bottom and then top that with the beautiful apple crumble.
The first thing we need to do is chop up these Smitten apples. And all I'm gonna do is just cut off the cheeks around our core, just to reveal just the core. And then we're just gonna slice these into nice, thin slices of apple. So you can see our Smitten apples are chopped nice and thinly. These can go into a mixing bowl.
Just going to add a couple of extra ingredients to these to really help lift their flavour. Zest of half a lemon. And then the juice of the same amount, the juice of half a lemon. Squeeze that in. Half a cup of brown sugar.
And the same amount of raisins. Now all we need to do is gently mix our apples together, so they're coated in that sugar and the lemon zest and the lemon juice. It's a great one to get the kids involved in because it's really easy, but quite fun. We're all about getting the kids in the kitchen, doing a little bit more cooking. So that looks really good - now that's our filling made.
To go with that filling, we're going to make a classic crumble. And for me, classic crumble has four ingredients: flour, butter, sugar, and oats. We mix them all together, and that's gonna give them a really nice crumble. So what I'd like to do is combine the first three ingredients, our sugar, flour, and our butter, and start mixing these together. And what we're going to go for here and try to achieve is some really loose breadcrumb like consistency.
At this stage, we can now add in our oats, and just to balance things out, just a little pinch of salt. I just like the nice little bit of savouriness the salt gives to our crumble on top.
Now, for our pie base, I've got a muffin tin here, and I just rub it a little bit of butter in each of our tin or muffin spots. So the first thing we're going to do is get a sheet of puff pastry. I've got three sheets here because you should get four bits of pie shell in each one, and then with a cookie cutter, just cut out four circles.
And then all I'm going to do here is put them into my pies and to do that, I simply fold them into almost a plus sign, just like that, and poke them into our pie tin. And then we just push our pastry down to make sure it fills up all the corners and you will get a couple little folds there, which I don't mind at all. Because when this bakes and puffs up the puff pastry will make it nice and crispy and crunchy and give you extra layers. I'm just going to put in our last bit of puff pastry to make our pie shell.
And now it's time to fill it in with our apple. You can see by adding our sugar and the lemon juice to the apple, it actually softens and brings a little bit of juice out of them as well. We're gonna make sure we fill them right to the top, so you can actually press your apple into these little pie tins. And we want them to be overflowing because when apple cooks it's going to soften and fall down a little bit. And I'm going to sprinkle a few more of our extra raisins around the place, and then it's time to crumble.
You've got a beautiful crumble here. We want to make sure again we're generous with that and really pile it on. So we have these beautiful little apple crumble pies. They're going to go into the oven at 180 degrees Celsius for about half an hour til the pastry is golden, the tops are golden, and the apple has just softened and sweetened. 
These are cooked for half an hour and I've let them sit on the bench for 10 minutes just to cool down so they'll really easily pop out. And all you need to do is run a knife around the side, pop them out and have a look at that golden crispy pastry, the soft Smitten apple centre and that lovely crunchy crumble top. And make sure you've got these Smitten apples in your trolley from the 17th of March onwards, because 30 cents from each kilo sold is going to go towards the Stephanie Alexander Kitchen Garden Foundation and helping kids eat better, learn how to cook and just live happier lives. Guys, that is my Smitten apple crumble pie - give this one a try. Happy cooking.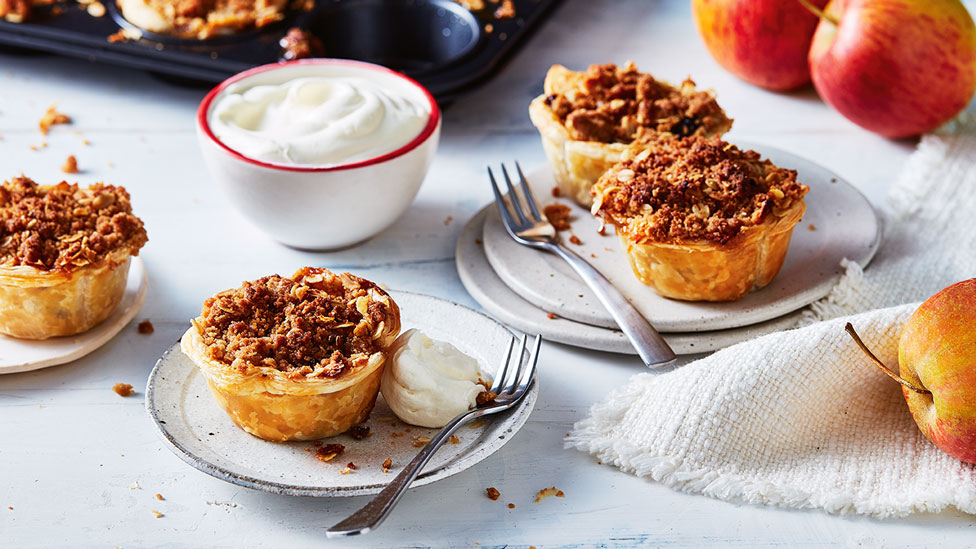 Note: + 5 mins cooling and standing time
Ingredients
6 Smitten apples, peeled, cored, thinly sliced
1 tsp ground cinnamon
1 lemon, zested
2 tbs raisins
Pinch of salt
1/4 cup (55g) brown sugar
3 sheets puff pastry, just thawed
Crumble topping
125g butter, chilled, chopped
1 cup (150g) plain flour
1 cup (220g) brown sugar
1/2 cup (45g) rolled oats
Pinch of salt
Method
STEP 1
Preheat oven to 180˚C. Lightly grease twelve 1/3-cup (80ml) muffin pan holes. Combine the apple, cinnamon, lemon zest, raisins, salt and half the sugar in a bowl. Set aside for 5 mins to develop the flavours.
STEP 2
Meanwhile, to make the crumble topping, combine the butter, flour, sugar, rolled oats and a salt in a bowl. Use your fingertips to rub butter into flour mixture until it resembles coarse breadcrumbs.
STEP 3
Cut twelve 12cm-diameter discs from the pastry. Carefully line each prepared hole with a pastry disc. Spoon the apple mixture evenly among the pastry cases. Top with crumble topping.
STEP 4
Bake for 30 mins or until tops are golden brown and the apple is tender. Set aside to cool slightly. Serve warm or at room temperature.
Check ingredient labels to make sure they meet your specific dietary requirements and always consult a health professional before changing your diet. View dietary information here.