Sorting Hat cupcakes
These fun Sorting Hat cupcakes are the ultimate Harry Potter inspired party treat. Fill them with red, blue, yellow and green sugar-coated chocolates for a surprise Hogwarts house reveal.
Note: + cooling & overnight drying time
Ingredients
Icing sugar, to dust
250g pkt Coles Modelling Paste
Teal and red gel food colouring
200g butter, softened
1 3/4 cups (375g) caster sugar
2 tsp vanilla bean paste
4 Coles Australian Free Range Eggs
2 3/4 cups (410g) plain flour
2 tsp baking powder
1 cup (250ml) milk
180g red, blue, green and yellow sugar-coated chocolates
Buttercream
250g butter, softened
500g icing sugar mixture
1 tbs milk
Method
STEP 1
Line a baking tray with baking paper. Dust a clean work surface with icing sugar. Use food colouring to tint the modelling paste brown. Roll out one-quarter of the modelling paste on a clean surface dusted with icing sugar to a 1mm-thick disc. Use a 3.5cm round pastry cutter to cut 18 discs. Divide the remaining icing into 18 portions. Roll each portion into a cone shape. Brush the base of each cone with a little water and attach to a disc. Use the blunt-side of a butter knife to shape each cone into a sorting hat. Place sorting hats on the lined tray and set aside overnight to dry.
STEP 2
Preheat oven to 180°C. Line 18 holes of two ⅓ cup (80ml) muffin pans with paper cases. Use an electric mixer to beat butter, sugar and vanilla in a bowl until pale and creamy. Add eggs, 1 at a time, beating well after each addition. Add the flour, baking powder and milk, in alternating batches, stirring after each addition until well combined. Spoon evenly among the paper cases. Bake, swapping pans halfway through cooking, for 20-25 mins or until a skewer inserted in the centres comes out clean. Transfer to a wire rack to cool completely.
STEP 3
To make buttercream, use a clean electric mixer to beat butter in a large bowl until very pale. Gradually add the icing sugar, in batches, beating well after each addition. Add milk and beat until well combined. Place in a piping bag fitted with a 1.5cm fluted nozzle.
STEP 4
Use a 2cm pastry cutter to cut a disc out of the top of each cupcake. Trim 5mm from the top of each cake disc. Fill each cupcake with red, blue, green or yellow chocolates and top with cake discs. Pipe the buttercream over each cupcake and top with sorting hats.
Discover Coles Magical Builders
Take your party to the next level with Coles Magical Builders. From Harry to Hermione, discover all your favourite Wizarding World characters in the link below.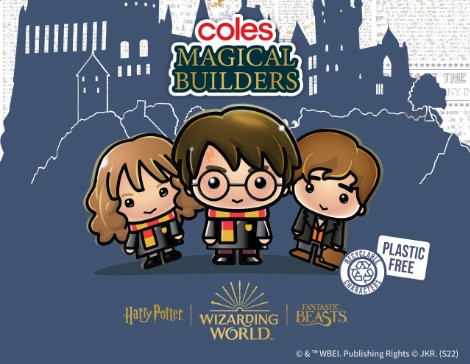 Check ingredient labels to make sure they meet your specific dietary requirements and always consult a health professional before changing your diet. View dietary information here.