Curtis Stone's spatchcock chicken with romesco sauce
Curtis Stone's spatchcock chicken is full of flavour. Perfect for weekend cooking, this tasty dish is served with homemade romesco sauce.
Now we all love a good roast chicken, don't we? But I'm going to show
you a way to make it extra special. And it's extra simple. It's my
spatchcock chicken with romesco sauce. It's packed with flavour, and it's
perfect for entertaining. Now when we say spatchcock, we're talking about
both the dish and the method we use to open up the chicken. It's also
known as butterfly theory. Very simple and easy. Alright, now let's preheat
our oven 200 degrees Celsius, or if you're using fan-forced 190. Here I've
got a large chicken that weighs about two kilos, you can see I've already
removed that backbone for you. So it's very, very simple and easy. The
last thing I want you to do is just put your hand over that breastbone and
just push down. You'll just hear a little pop. That's it, you want to make it
nice and flat. You know you've got a good chicken when it has really nice
tight skin, covering the meat of course, and then the fat that you can see,
it should be white. So if we turn that over, yep, that's exactly what we
have - any of that fat, nice and white. Time for the rub. So I've got paprika.
I've got a little bit of granulated garlic, salt flakes, and some black pepper.
Next what you do, grab your chicken, go ahead and rub a little bit of olive
oil over the chicken and then get your spice mix. And just generously coat
that all the way over the legs, the breasts. Sprinkle it everywhere over that
chicken. Just another little drizzle of olive oil. Here's the trick to perfectly
golden roast chicken. Make sure you use a non-stick frying pan that can
go into the oven. Okay, then pick up that chicken, bring it over to your pan
and pop it straight on in. Okay, now the pan's nice and hot. So we're only
going to let it toast for about two minutes, you're going to smell those
spices all toasting underneath there. It doesn't have to be perfectly golden
brown because it's actually still going to continue to cook in the oven and
develop colour. So have a little peek after just a minute and make sure it's
not too hot. All that's looking good. Okay, so what I do now is I lift my
chicken up out of the pan, transfer it back over here to my roasting tray
and then in the same pan, grab a few slices of bread. Now I know this is
unconventional, but go with me. I know what you're thinking, what on
earth is he doing? I'm going to make a little base for the chicken to
actually sit on. Okay, so next, I take my capsicum, go ahead and sprinkle
those all over the bread. And I take a clove of garlic that's already been
peeled straight into the centre there, and then you go ahead, lift up your
chicken and drop that right back over the top. Oh yes, all that flavour is
going to come up and infuse the chicken as it cooks. All of that delicious
juice that comes out of the chicken is going to be soaked up by that
wonderful bread. Then we go ahead, that last little bit of dry rub back over
the chicken. And now it goes into the oven for 50 to 55 minutes. The smell
of roast chicken has to be one of my favourite smells on the planet. Once
the chicken's cooked you'll see the skin is nice and crisp on top. And the
inside is that perfect internal temperature. Listen to that crispy skin. I just
love it. Now I'm gonna set it aside over here to rest for just a minute. And
you might be wondering what to do with the capsicum and the sourdough
that's underneath the chicken. Well, guess what, it just soaked up all of
those delicious juices from the chicken while it was cooking. And this is
going to be the base of your romesco. It's a Spanish-style sauce that goes
great with chicken or seafood. I absolutely love it. First of all, let's lift that
chicken up and reveal all those beautiful capsicum. I'm going to sit my
roast chicken up there just to continue to rest. You can see it right?
Beautiful capsicum that's all cooked down with those beautiful juices from
the chicken. You put all of those roast capsicum into your food processor.
And then, in the food processor with one of the slices of sourdough, that'll
be enough, but have a look how it soaks up all of that crunchy, delicious
flavour. I gotta tell you, this is going to be amazing. Go ahead and pop
that in. This of course helps to thicken the romanesco. You only need
enough bread to thicken the sauce, so save the other two. We'll actually
serve those with the chicken and they're going to be delicious. Next, add
some toasted almonds, some parsley, some sherry vinegar, and a little bit
of extra virgin olive oil. Pop it on and blitz it. It should only take a couple of
seconds and that is it. It is going to be so delicious. Then, if you want to
sort of add a little bit more extra virgin olive oil you can, but I kind of like
this consistency. I mean you can imagine what this tastes like, right? With
all that roasted chicken flavour. You might not need all of this sauce for
the chicken, but you can keep it. It'll stay in the fridge for a couple of days.
You can use it as a dip or a spread, serve it on top of a soup as a garnish,
salad, even spread a nice sandwich with it. It really is very, very versatile.
Now the last thing that we need is this beautiful chicken. And we're going
to serve it with some greens. Into a hot pan, a little drizzle of olive oil.
We're going to actually cook some kale. I love kale, it's a very hearty
green. I've got some thinly sliced shallots to toss those in, and then throw
in a handful of your kale. Once you hear that sort of sizzle, you know that
you've got a nice intense heat in your pan so you can put a splash of
water, but I'm going to put a splash of grape juice, otherwise known as
wine, just a little drizzle. Give it a toss, and then season it with salt and
pepper. Now kale takes about seven or eight minutes to cook all the way
down. Now before I even cut the chicken, the first thing I like to do is to
take that wonderful crunchy bread. That was the base of what we roasted
the chicken on. I cut that into a few little pieces and I put that onto my
serving platter. Next, you want to split the chicken straight down in half.
So just go straight on in. You feel that breastbone, and then just push a
knife all the way through. You just go straight on in like that, pull it to one
side. If you want to go even further and separate the thigh and the
drumstick you may, and right beside that of course my beautiful kale has
been wilting down as we cook. And lastly, our gorgeous sauce. If I was
going around to someone's house and they served this, I think I'd be
pretty stoked. It is so delicious. Enjoy.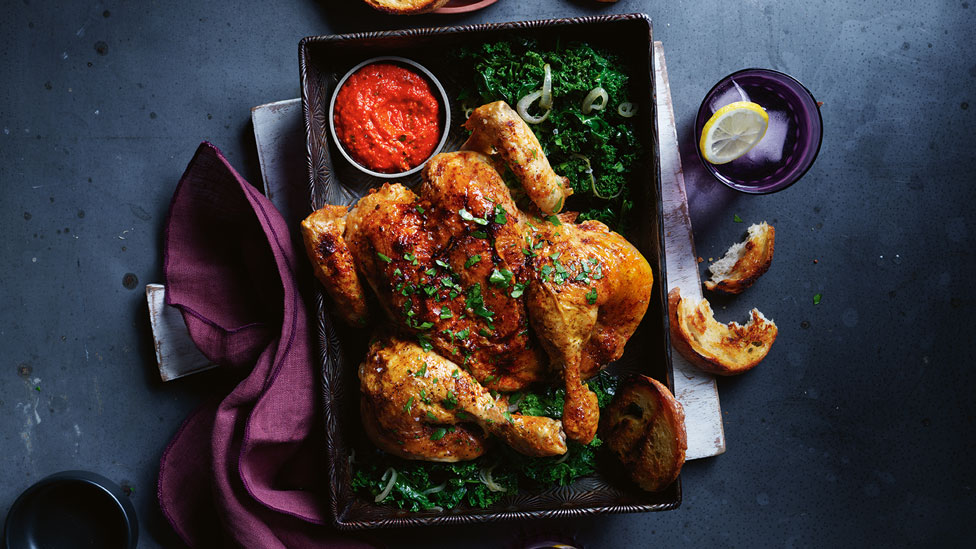 Ingredients
2kg Coles RSPCA Approved Australian Whole Medium Chicken, backbone removed with kitchen scissors
3 tsp smoked paprika
1 tsp dried garlic granules
140ml extra virgin olive oil, divided
5 x 2cm-thick slices day-old Coles Finest Stone Baked by Laurent Sourdough
2 red capsicums, seeded, cut into 3cm pieces
1 garlic clove
1/4 cup (40g) dry-roasted almonds
2 tbs flat-leaf parsley leaves
1 tbs sherry vinegar
1 large shallot, sliced into rings
1 bunch green kale, ribs and stems removed, leaves coarsely chopped
2 tbs dry white wine or water
Method
STEP 1
Preheat oven to 200°C (180°C fan-forced). Place chicken skin-side up on a chopping board. Put your hand on the breastbone and press hard to flatten. In a small bowl, combine paprika, dried garlic, 1 tsp sea salt flakes and ½ tsp freshly ground black pepper. Rub the chicken with 1 tbs of the oil. Coat with spice mixture, rubbing it into chicken.
STEP 2
In a large heavy ovenproof frying pan over medium heat, heat another 1 tbs oil. Add chicken, skin-side down, to the pan. Cook for 2 mins or until the skin is pale golden (it will continue to brown in the oven). Transfer chicken to a plate.
STEP 3
Arrange bread slices over frying pan. Sprinkle capsicums over bread. Top with the garlic, then top with the chicken, skin-side up. Roast for 50-55 mins or until an instant-read meat thermometer inserted in the thickest part of the thigh registers 75°C and chicken shows no sign of pink when pierced in thickest part. Carefully transfer the chicken to a carving board and set aside to rest.
STEP 4
Transfer the capsicums, garlic and 1 toasted bread slice to a food processor with the almonds, parsley and vinegar. Pulse until finely chopped. With the machine running, gradually add ¼ cup (60ml) of the remaining oil until smooth. Season with salt.
STEP 5
Heat the remaining 2 tbs oil in a frying pan over medium-low heat. Add the shallot. Cook, stirring, for 4 mins or until light golden. Add the kale and wine or water, in batches, tossing and letting the kale cook down slightly after each addition. Cook, stirring, for 5-8 mins or until the kale is tender. Season with salt and pepper.
STEP 6 
Serve chicken with romesco sauce, kale and remaining bread slices.
Check ingredient labels to make sure they meet your specific dietary requirements and always consult a health professional before changing your diet. View dietary information here.