Speedy chicken tortilla bowls
You're only 5 ingredients away from plating up a Mexican feast with this recipe. These chicken tortilla bowls will be a new favourite on your weeknight menu.
You will need tortillas, Mexican-style rice, roast chicken, tomato salsa and baby rocket to make these tortilla bowls. They're on the table in 20 minutes.
First, preheat the oven to 200 degrees Celsius. To make the tortilla bowls, turn four, 9-cm ramekins or ovenproof dishes upside down. Place a tortilla over each ramekin and tie kitchen string around the side to secure. Pop them on a baking tray and bake for 10 minutes or until golden brown. Leave the tortilla bowls on the tray for 5 minutes – they will crisp up and harden as they cool. Then, untie the string and remove them from the ramekins.
To make this even speedier, prepare the tortilla bowls up to 4 days ahead and store in an airtight container. Meanwhile, heat the Mexican-style rice in the microwave for 90 seconds following the packet directions.
To serve, put the tortilla bowls on serving plates and fill them with rice. Top with shredded roast chicken. Spoon over the salsa and sprinkle with baby rocket leaves. Ready in just 20 minutes, these speedy chicken tortilla bowls are a fun twist on the usual tacos.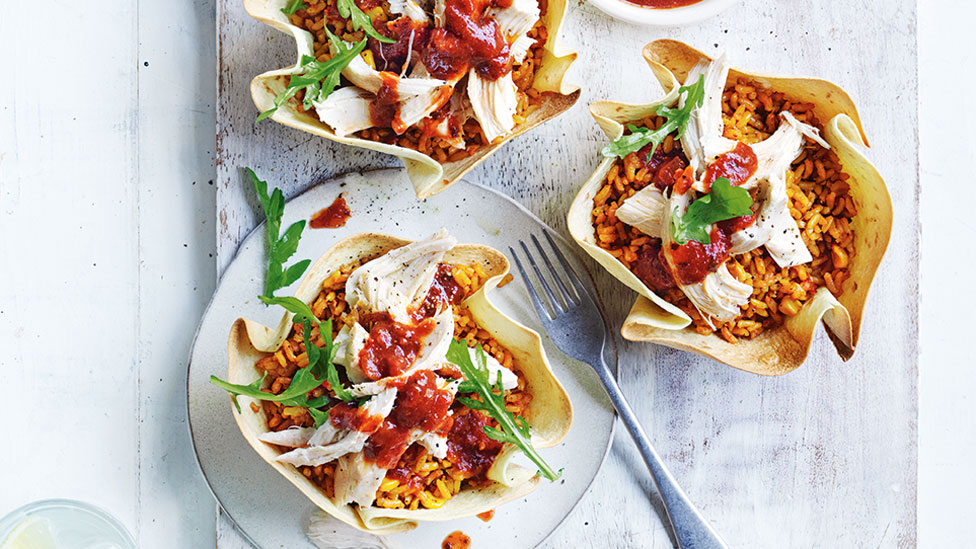 Ingredients
4 Coles Tortilla Wraps
2 x 250g pkts Mexican-style microwavable rice
1 1/2 cups shredded Coles RSPCA Approved Roast Chicken
1/4 cup (60ml) Coles Mexico Smokey Salsa Roja
40g Coles Australian Baby Rocket
Method
STEP 1 
Preheat oven to 200°C. Place 4 upturned 9cm round ramekins or ovenproof dishes on a baking tray. Arrange the tortillas over the ramekins and tie with kitchen string. Bake for 10 mins or until the tortillas are golden brown. Set aside for 5 mins to cool slightly (they will become crisp on cooling). Remove the string and ramekins from the tortilla bowls. 
STEP 2 
Meanwhile, heat the rice following packet directions.
STEP 3 
Divide the tortilla bowls among serving plates. Spoon the rice among the tortilla bowls. Season. Top with the chicken, salsa and baby rocket to serve.
Check ingredient labels to make sure they meet your specific dietary requirements and always consult a health professional before changing your diet. View dietary information here.