Spicy cherry burst tomato and ricotta rigatoni
Looking for a quick and easy pasta dish? Michael Weldon's Spicy Cherry Tomato & Ricotta Rigatoni is ready in 15 minutes.
Hi Guys. Michael Weldon here. Tonight we're cooking. My spicy tomato and ricotta rigatoni.
One of the things I love about cooking pasta is pairs italian traidition with incredible Aussie produce grown by our amazing farmers. Tonight it's a very special What's for Dinner and it's all about these beautiful cherry burst tomatoes 10c from every Maddie's Month Marked pack wil go towards finding a cure for bone marrow failure.
The first thing we need to do is get the rigatoni into the water. In the ten minutes it takes to cook that pasta where're going to make a really beautiful cherry tomato flavoured sauce. So heat your pan up over a medium high heat and add in a good drizzle of Olive Oil.
Now we're going to start out by chopping an onion and that can go straight in to our pan. And we're going to slice up a couple of garlic cloves as well. These guys can go in with our onion and a little pinch of salt in with them as well. And now we're going to really thinly slice some red chilli and they can also go into your pan.
And you just want to give that a really quick stir. Now these beautiful tomatoes. All we're going to do is cut these guys in half. So we're going to add them in in two steps. So we're going to add one punnet now and one punnet just before you add your pasta. Just give them a gentle toss through that oil. So we're just going to chop the other half of our tomatoes. Just want these to cook down they're going to soften and lose that plump shape.
So what we want to do now is add in our second punnet of tomatoes. And now we're going to check on our pasta. It's ready to go and what you want to do is transfer your pasta straight in to that sauce.
Now I've got some ricotta here as well. Just crumbled it. Toss our ricotta, our pasta and our tomatoey sauce together. That looks perfect. Now some basil. Just really quickly and really roughly chopped. And we're going to add that in and we're going to turn the heat off.A nice grating of parmesan.
This delicious bowl of pasta can be on your table in under 15 minutes and you'll feed a family of four for under $20. I know you want the recipe so make sure you check out Coles and Co for this one and loads of other amazing recipes.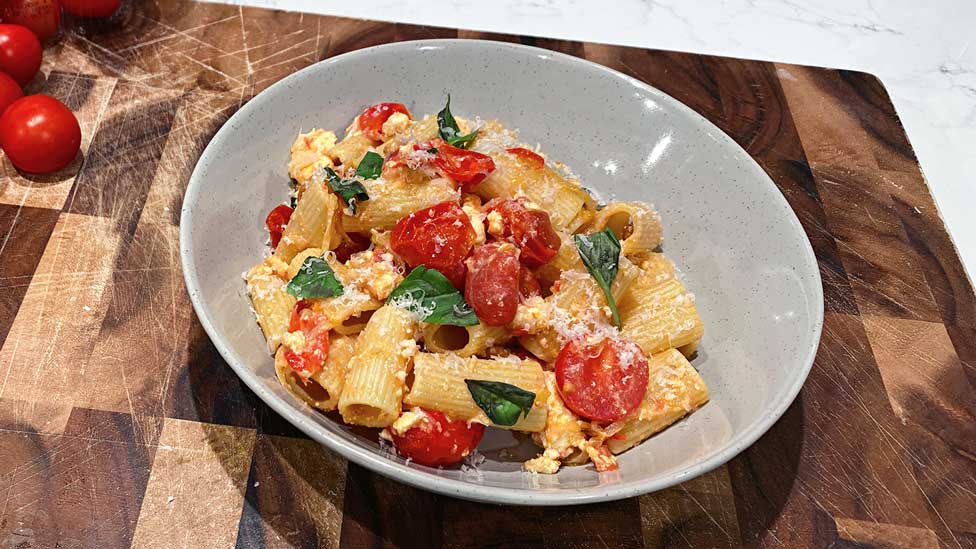 Ingredients
500g rigatoni
Olive oil, to drizzle
1 brown onion, thinly sliced
2 garlic cloves, thinly sliced
1 long red chilli, thinly sliced (optional)
2 x 200g pkts Coles Cherry Burst Tomatoes, halved
150g fresh firm ricotta, crumbled
1/2 bunch basil, leaves picked
50g finely grated parmesan
Basil leaves, extra, to serve
Finely grated parmesan, extra, to serve
Method
STEP 1
Cook the pasta in a large saucepan of boiling water following packet directions or until al dente. Drain well.
STEP 2
Meanwhile, heat a good drizzle of oil in a large frying pan over medium-high heat. Add the onion and garlic with a pinch of salt and cook until the onion begins to soften. Add the chilli, if using, and cook until chilli softens. Add half the tomato and cook, stirring, until the tomato begins to soften and collapse.
STEP 3
Add the remaining tomato and toss to combine. Add the pasta and ricotta and toss to combine. Remove from heat. Add the basil and parmesan and toss to combine. 
STEP 4
Divide the pasta mixture among serving bowls. Sprinkle with extra basil and parmesan to serve. 
Check ingredient labels to make sure they meet your specific dietary requirements and always consult a health professional before changing your diet. View dietary information here.